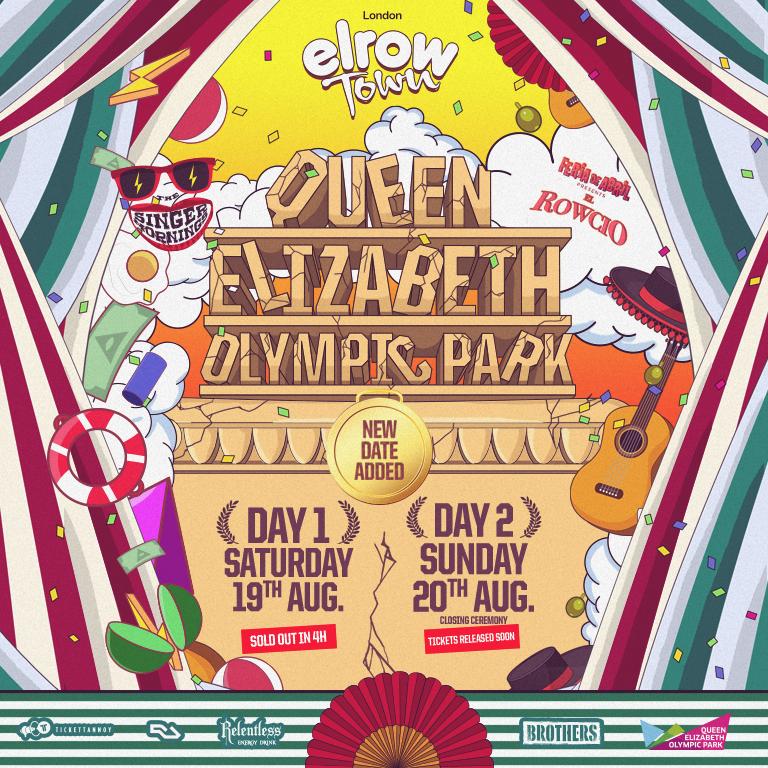 elrow Town London Announce Second Day Closing Ceremony
Following an unprecedented response to the launch, elrow Town London will now extend across two days at the Queen Elizabeth Olympic Park, with a 'Closing Ceremony' announced to take place on Sunday 20th August 2017.
With painstaking efforts invested to ensure that elrow Town London provides a truly breath-taking, immersive experience for London's elrowers, organisers have been working tirelessly to secure a second day in the park. This expansion will allow elrow to push the bar to dizzying heights and provide a second chance for their UK family to join them at the experiential spectacular taking place in August.
Whilst the lineup remains a closely guarded secret, tantalising details of olympic themed games and interactive activities have been released, as well as a fancy-dress parade for party-goers with prizes awarded to the best fancy-dress wearers.
elrow Town London's Closing Ceremony will be the last chance to catch elrow in London this year, with elrow Townsfolk waiting to welcome their family to the pop-up metropolis with all their shimmering, zany glory, bursting with laughter and confetti.
Priority tickets are available on Thursday 1st June with general sale tickets available from Tuesday 6th June. elrow Town London on August 19th sold out 15000 tickets in just 4 hours. Those wishing to attend are advised to register for access to priority tickets: www.elrowtownlondon.com
elrow Town London is a collaboration between between Spanish immersive party concept elrow and leading London events team LWE, hosted across two days at the Queen Elizabeth Olympic Park and combining three elrow themes in once space, with Singermorning, El Rowcio Presents: Feria de Abril and Rowlympics all set to feature.

ABOUT ELROW:
elrow is an award-winning experiential event concept and party series founded in 2010 by Cruz and Juan Arnau Lasierra; the sixth generation from a dynasty of entrepreneurs also responsible for creating Monegros Festival and legendary Club Florida 135 in Fraga, Spain. From their head-quarters in Barcelona, elrow have taken the world by storm with their unforgettable party style, pairing elaborate production, interactive performers and zany characters with the best electronic music, placing them as a global reference for circus inspired parties with tickets to the visual spectaculars usually selling out in minutes. A myriad of different themes and concepts makeup elrow's zeitgeist with sub-brands including 'Rowlympics'; their own take on the Olympic games, their Brazilian jungle carnival theme, 'Sambodromo de Brasil' and flag-ship theme 'Singermorning'.
With lauded residencies in Ibiza, Madrid, London and Amsterdam already in place, 2017 has seen a game-changing partnership with live entertainment platform, Providence-Superstruct, allowing elrow to push to new heights with a Shangai debut and their very own elrow Friends & Family Festival in Salou, Spain coming up this summer.
www.elrow.uk
www.elrow.es
www.facebook.com/ElrowSunday
https://twitter.com/elrow_
www.youtube.com/user/ElRowChannel
www.instagram.com/elrowofficial