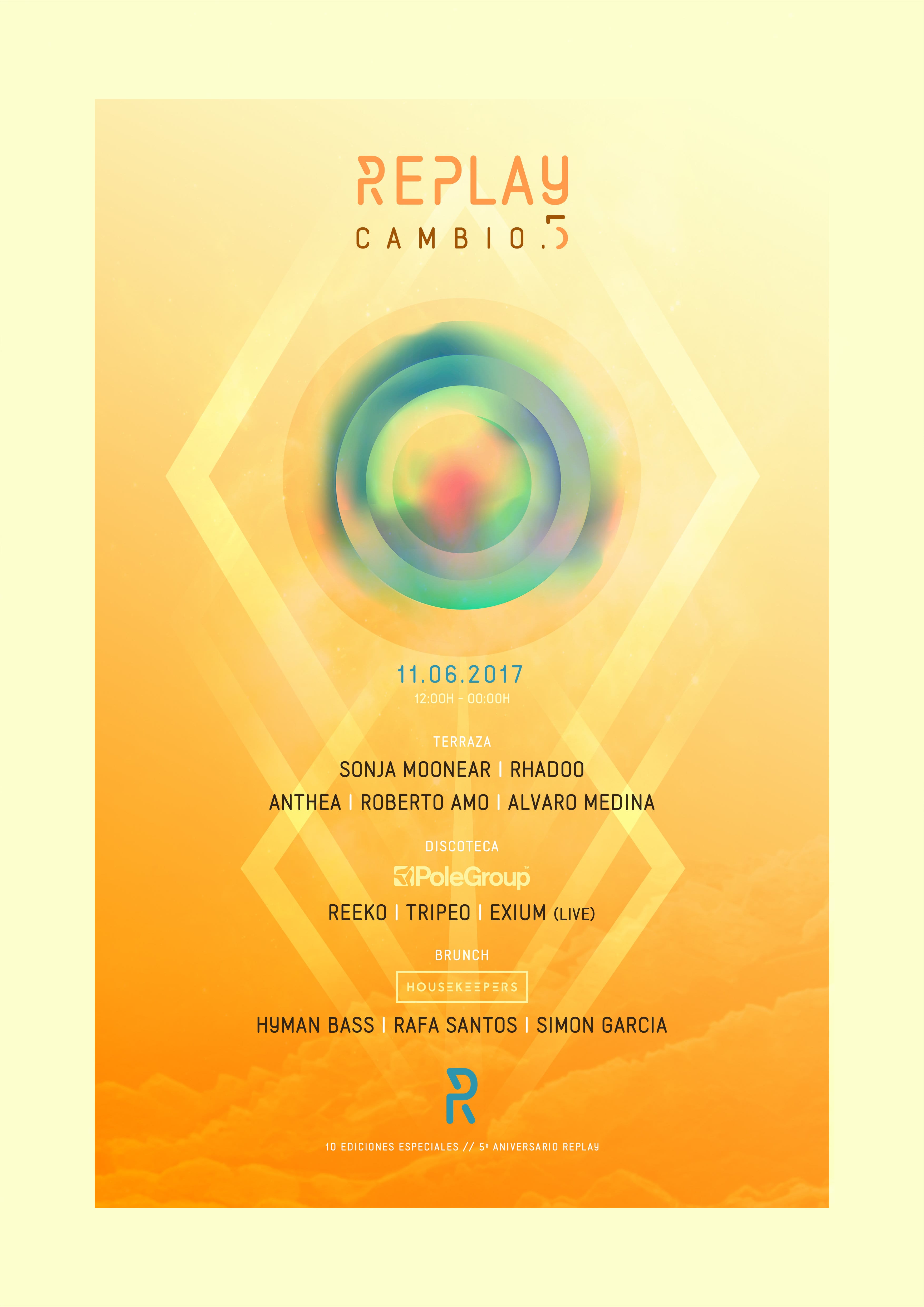 REPLAY in June with Sonja Moonear, Rhadoo, Polegroup, Housekeepers and many more.
Sunday 14th May REPLAY once again added a milestone to its impeccable trajectory. Its party STRENGTH was a success, every room was in full performance since the very first hour, Brunch included, and the quality of the music was excellent covering a huge range of styles from House to the best Techno. You could feel the same in every corner, the impression of being part of something transcendental, the sensation of belonging to REPLAY´s family.
The midway of the ten commemorative parties of Replay will be CHANGE,next Sunday 11th June,which will be the date that kicks off the summer season. As always, Replay will give the best of itself betting on a meticulous musical offer supported by the best sound system and with the Brunch zone and swimming-pool as perfect summer attractions.
Sonja Moonear´s performance will take place on the Terrace. This Swiss artist changed the piano for the mixing table when she was just a teenager and she has become one of the heavyweights in the Geneva´s underground scene; Rhadoo will perform there too, one of the figures that most stands out in the Romanian scene with a hypnotic style, perfect for REPLAY´s Terrace. They will be accompanied by the English Anthea, Roberto Amo and the resident Alvaro Medina. The protagonist in the Discoteque will be the label from Asturias, Polegroup, represented by Reeko,Tripeo and Exium live, who will let go of the best Techno. Simón Garcia will accompany the Madrilenian collective Housekeepers, formed by Hyman Bass and Rafa Santos who will secure the dances from the first hour, in the Brunch zone.
If this isn't enough, those who enter before 14:00 will have a free stamp, an open bar for beerand a tapas fair in the Brunch area. Tickets can be acquired for a special price of 12€ exclusively via Fever from 17th to 21st of May. The rest can be acquired on Resident Advisor, Entradas a tu Alcance and the network of post offices in Spain. As per usual, REPLAY can be reached using its official buses that depart every hour from Plaza de España.