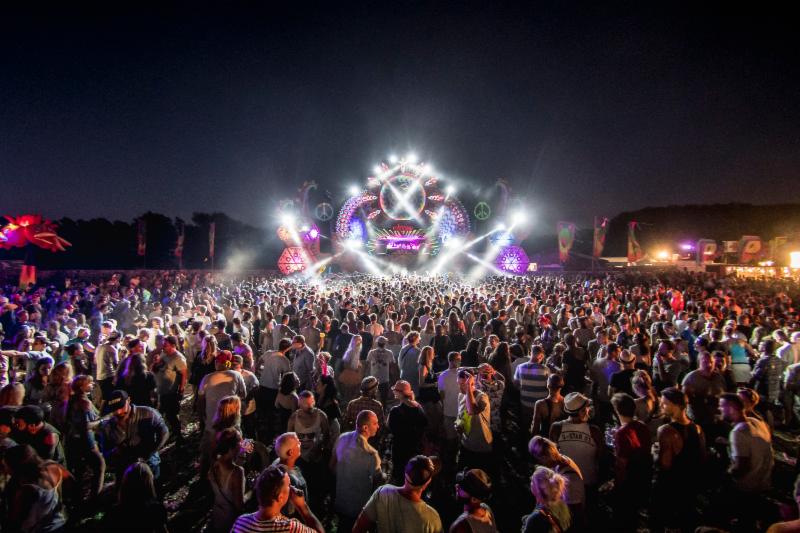 elrow Town Reveal Roller Disco Third Stage and Kaleidoscopic Production
elrow Town London details an eye-popping array of captivating features, extensive food programming and crazy characters for Saturday 18th and Sunday 19th August 2018.
Undoubtedly famed for its immersive production, elrow Town London will set the bar even higher for interactive, audiovisual festivals when it once again takes over the Queen Elizabeth Olympic Park.
A newly unveiled third stage in the form of the Absolut Pink Cathedral hosted by Bump, is a colossal, vibrant roller disco teeming with colour and confetti that invites town residents, yourself included, to exchange vows with your nearest and dearest. The upbeat arena will host all-day dancefloor sessions from Savage on Saturday and Little Gay Brother on Sunday.
Also found at elrow Town, the Relentless Park. The grounds of the park are open to all visitors to the town. At the gates, the Park Keeper will welcome you in to grab a drink from the Relentless bar and enjoy your new surroundings as you reside on the grass… or if you have some pent up energy – take part in some lively games with the park's resident pack of dogs!
Dive headfirst into the SmiLEE Pool to win exclusive prizes or marvel at the Arc de Rowomf, the archway that towers over the centre of town and acts as a meeting point for characters, with the Costume Factory, Flea Market and Beauty Salon all worthy of exploration. Nestled in the heart of elrow town, The Food Village will boast cuisine from across the globe, including Pad Thai from Bangwok, Deli Dogs gourmet hot dogs, fresh pizza straight from a wood at Hidden Pizza, Hobo Food's legendary fried chicken, mouthwatering Cuban sandwiches, Mr Whippy Ices and plenty more from elrow Town's resident chefs.
elrow Town London hosts two immersive themes: Psychedelic Trip and Sambodromo Do Brasil. The former transports townspeople to a hippy commune that's built on peace and love while the latter plunges you deep into the rainforest for hair-raising encounters with wild animals, lost explorers, samba dancers and stranded DJs.
Every corner bustles with townsfolk eager to assist you on your journey as the Town Policeman, The Town Mafia, The Pizza Deliverow Guy and the freewheeling candy dishing Lollipop Lady ensure no one forgets their day at elrow Town London.
For a taster of the madness, tune into the town's Rinse FM takeover featuring exclusive sets from Fatboy Slim, Steve Lawler, Richy Ahmed b2b Melé, The 2 Bears, De La Swing, Toni Varga, Tini Gessler, Andres Campo, Bastian Bux, Lord Leopard, Jonjo Jury (Savage) and Oliver Keens (Little Gay Brother) on 11th August 12pm – 2am.
LINKS & FURTHER INFO
www.elrow.com
www.facebook.com/elrowofficial
https://twitter.com/elrow_
www.youtube.com/user/ElRowChannel
www.instagram.com/elrowofficial