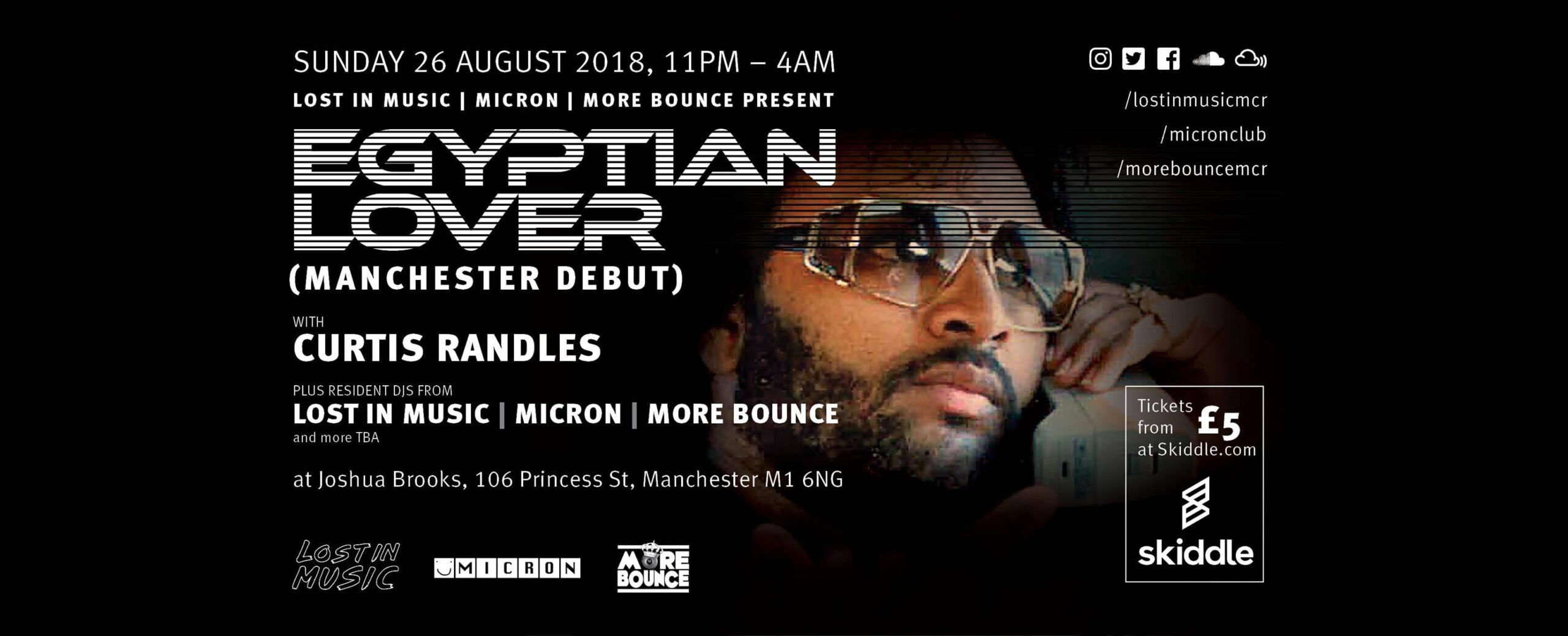 Manchester Welcomes An Electro Debut 35 Years In The Making
WEST Coast American electro pioneer the Egyptian Lover makes his long overdue Manchester debut on Sunday 26 August 2018.
Heralded as a pioneer of authentic electro and synonymous with the Roland 808 synthesiser, which forms the basis of his sound, the Egyptian Lover makes his Manchester debut on Sunday 26 August 2018 at Joshua Brooks (106 Princess Street, Manchester, M1 6NG) from 11pm to 4am. Courtesy of Mancunian clubbing brands Lost in Music, Micron and More Bounce.
An established and prolific producer, remixer and DJ, the Egyptian Lover first made his mark with his 1984 album 'On the Nile', which included the tracks, 'What is a DJ if he can't scratch' and 'Egypt, Egypt'. Over the course of the next 34 years he has released a further eight albums, three Eps and one compilation album and has toured across the globe.
He has also played a big influence on many of the electronic music tastemakers of the present day, not just from the electro and hip-hop scenes, but much further afield, most notably Andrew Weatherall, who featured not one, but two tracks ('Freak-a-Holic' and 'I Need a Freak') on his now legendary mix CD for the Fabric series back in 2003.
Lost in Music co-promoter and resident Marco Giannini, said: "Like many people I was first introduced to the Egyptian Lover from Andrew Weatherall's Fabric mix and from that point on we had to get him on in Manchester.
"Lost in Music's ethos is about bringing over artists who have not yet played in Manchester and you don't get much bigger a debut than an artist like the Egyptian Lover, who has somehow never played in the city over the course of his 35-year career.
"It's also important for our night not to become predictable with our line ups, so off the back of a series of disco orientated headliners, we wanted to throw a real curveball and go leftfield with our bank holiday party, so when the opportunity came along to team up with Micron and More Bounce, two nights better known for their techno and hip-hip music policies respectively, this was a perfect opportunity and highlighted his cross-over appeal."
Gareth Chubb, director of Joshua Brooks, co-promoter at Lost in Music and promoter for Micron, said:
"I'm so excited to be able to bring the Egyptian Lover to Joshua Brooks; Dan, Marco and I (Lost in Music promoters) talked about booking him for a good while and then on the morning that I confirmed the booking, I had a call from Glen (promoter for More Bounce) enquiring about booking him as well.
"From that point on it felt like fate and the three clubs got together to put this party on. This will be a rare appearance from a true great of the electro scene. Definitely one not to be missed."
Greg Broussard AKA the Egyptian Lover said about his Manchester debut:
"Manchester is a city steeped in musical history and it's been on my list of cities to perform in for a very long time.
"I can't wait to bring my electro sound to the city on the August Bank Holiday weekend. This is going to be a big party!"
Support on the night comes from Curtis Randles, as well as the Lost in Music, Micron and More Bounce residents and tickets are available now on Skiddle.
Tickets are available on Skiddle from the following link – http://bit.ly/LIMEgypt