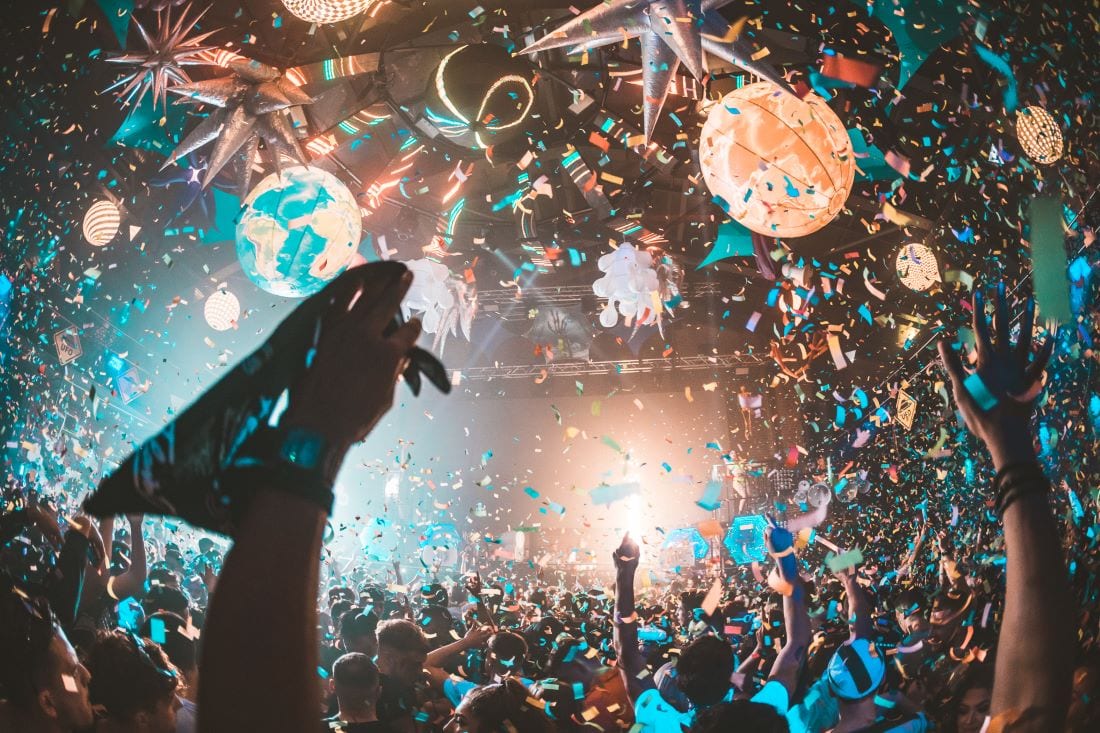 Endor, James Hype & More To Play Foreverland
Widely known as the UK's most magical club night, Foreverland, has announced the lineups for its 2020 'Cosmic Circus – Space Rave' tour. Spanning nine dates across the UK from 21st February to 27th March, headliners include Endor, James Hype, High Contrast, Macky Gee, Luck & Neat and Danny T as Foreverland continues to round up the best names in house, bass, garage and drum & bass.
Along with thousands of clubbers looking for more than just quality music, these DJs will be taken on a futuristic voyage with Foreverland's out-of-this-world decor, extra-terrestrial characters, walkabout alien performers, cosmic confetti explosions, intergalactic glitter stations and tonnes of space themed inflatables. This is a party to leave inhibitions at the door.
2020 marks a special year for Foreverland as it celebrates five years of bringing colour and chaos to dancefloors around the UK. Since its inception in Bournemouth, it's staged three back-to-back sell-out tours, each with its own surreal theme, full venue transformations, walkabout characters and hours-on-end of thumping tunes. It'll also host its debut 'Fantasy Fairground Festival' at Dreamland in Margate from 20th – 22nd June.
Each party features, on rotation, the tried and tested Foreverland residents DJs and MCs. Respected artists in their own rights, Taim, Bitr8, Bassic, Nancie are purist party starters, mashing up a plethora of genres to shake the dancefloor from open to close, along with FooR front man, Tyrone as host MC. This latest tour welcomes new residents – the up and coming DJ / production duo, Royal Hustle and the multi-talented DJ and MC, Varski.
Historically, Foreverland shows always sell out. Purchasing tickets in advance is essential to get the best possible deal and avoid missing out. Ticket prices range from £10-£27.50 and can be purchased from www.theforeverland.com. VIP packages are also available and include standard entry ticket, priority queueing to the venue, an official Foreverland t-shirt, and two LED rave batons (all collectable from the merch stand inside).
Through an evening of time travel, intergalactic exploration and light years-worth of confetti, expect one big celebration for Foreverland's 5th anniversary as hordes of clubbers unite across dancefloors where immaturity is strongly advised.
Tour dates:
Friday 21st February – Engine Shed, Lincoln with James Hype, Nancie, Taim, Royal Hustle, Tyrone
Saturday 22nd February – Digital, Newcastle with High Contrast, Varski, Taim, Royal Hustle, Tyrone
Friday 28th February – Motion, Bristol with Danny T, Nancie, Taim, Royal Hustle, Tyrone
Saturday 29th February – O2 Academy, Leicester with Macky Gee, Taim, Bassic, Royal Hustle, Tyrone
Saturday 7th March – VSA Warehouse, Cardiff with Luck & Neat, Taim, Bitr8, Royal Hustle, Tyrone
Friday 13th March – The Mill, Birmingham with Endor, Taim, Bitr8, Royal Hustle, Tyrone
Saturday 14th March – The Old Fire Station, Bournemouth with Danny T, Taim, Bassic, Royal Hustle, Tyrone
Saturday 21st March – Academy, Manchester with James Hype, Nancie, Taim, Royal Hustle, Tyrone
Friday 27th March – O2 Academy, Leeds with Macky Gee, Varski, Taim, Royal Hustle
Follow Foreverland
Facebook
Instagram
Twitter