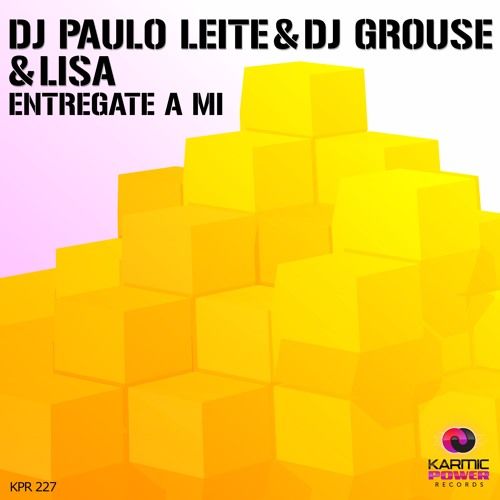 DJ Paulo Leite & DJ Grouse & Lisa - Entregate A Mi
This is a well done classy house music production. Perfect for the beach clubs of Rimini, Mykonos, St. Tropez and Ibiza. With the sounds of the sexy strings and bouncing bass this will keep your people drinking and toasting the day and night away . Dj Paulo Leite has been on the scene since the early 1980's and has worked for many famous dance labels, and Dj Grouse who is famous in his own right have now teamed up and worked very well together on this new single . Watch out there is more to come from this team.
Paulo Leite started his career as DJ in 1982, performing in the best clubs of Estoril/Cascais, Palm Beach, Boogie Woogie, KWA and Coconuts.
He also has been resident DJ in the best clubs of Lisbon, such as, Plateau, Gartejo, Trumps, Alcantara-Mar and Queens.
At that time he also worked with one of the major agencies of DJ´s and national events, X–Club, and was invited to perform in the best national clubs (continent and ilands), such as : Kremlin, Império Romano, Frágil, News, Kadoc, Locomia, Café do Teatro, Twins, República & Companhia, Pacha, Wolf, Kaxaça, Buddha Bar (Lisbon), Day After, Spy Club, Hacienda Klub, Roxy , among many others.
He also was engaged in performances with big names within the national dance music plan such as : DJ Vibe, DJ Luis Leite, DJ Jiggy, XL-Garcia, Mário Roque aka X-Man, A.Paul, Frank Maurel, Carlos Manaça, Pete That Zouk, Peter G, Miss Sheila, Kult of Krameria, as well as with international DJ's : Carl Cox, Green Velvet, Roger Sanchez, DJ Skull, Eric Powell, Les Ryder, DJ Sneak, Mr.C, Oscar Mulero, Eric Morillo, Eric Morel, Eric Powell, Trevor Rocklife, Mr. Mike, DJ Disciple, Andy Weatherall, Twitch, Tony Sapiano, JL Magoya, Mark Broom, John Creamer, Sandy Rivera, David Morales, Phats and Small, Lexicon Avenue and DJ Chus.
Refering to national events he participated in : X-Club presents The Ultimate Cream Tour 96 (Figueira da Foz), X-Club presents New Year's Eve Party 96 (Alcobaça), X-Club 2 ND Anniversary – Neptunus 97 (Algarve), Expo 98 (Lisbon), Exponor 98 (Porto), Prestige – Classic House Session (Alcantara-Mar), Lusidance – Portuguese annual festival of dance music, Paradise Dream 2001 (Figueira da Foz), Remember Alcântara-Mar, Remember Alcântara-Mar Session 2 and Remember Alcântara-Mar Session 3 at Club Vintage Lx.
When it comes to international events, he performed in: Joanesburg at Flyhouse Club (Beat the Christmas Rush 99–South Africa), in Corunha at Joislava with the project Leite Night Sessions, in Valladolid at Radiola Club, in Madrid at Marula Café, and in Geneve at Famhouse Connection.
Concerning projects, he is one of the elements of Leite Night Sessions (Luis Leite vs Paulo Leite) from which a CD was released with the same name and that makes part of a theme of his first Project of musical production, named Lisbon Connection.
In September 2002, a new musical production comes to life, the Project Shuffle Progression, featured by himself and Fernando Campos.
In 2003 Paulo Leite and Fernando Campos get together with Daveed and create another new project named T.T.S. (The Three Stoogez), from which it was released in 2006 a 12"inch by Tribo recordings sub-label of Stéreo Productions, called The Force (Can you feel …).
Actually he makes part of a news Projects like South Coast, Pure & Clear and Lisbon House Lovers.
Besides of all these projects, he also entered in contests with remixes such as; Beatport: Danny Tenaglia feat. Celeda – Music is the answer (D.G.X. & DJ Paulo Leite Deadline mix), Dance Fuel / Kaos: DJ Vibe feat. Ithaka – You (Lilas & DJ Paulo Leite Remix) and Defected records (Dig Out Your Soul): South Coast – Come With Me (DJ Paulo Leite & D.G.X. Rework).
He has edited several tracks on labels such as: Stereo Productions, Fatal Music, Afroboogie recordings, Mix Store records, System recordings, Azucar records, South American House, Loop 128 records, Kaos records, Cool Beat records, Goldbrain records, Fire Beat records, Filthy Groovin records, Tronic B7 records, Minar Records, Tanira Recordings, among others.