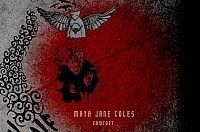 Maya Jane Coles – Comfort
After a massive year both musically and tour wise, the 25 year old British-Japanese, producer/DJ/vocalist is on the brink of her biggest release to date with debut full length album, "Comfort" on her own I/AM/ME label out July 2. The album features UK's Tricky, NYC's Kim Ann Foxman (Hercules & Love Affair), Alpines, Miss Kittin as well as Maya's own haunting vocals.
Maya's debut long player, Comfort, is an eclectic melting pot of sounds and textures drawing on everything from house and techno through to r&b and dub. It is clear that this is not just any dance record— it is a beautiful, subtle, pop laced full length that can stand up to her any of her contemporaries in either the pop, dance or indie world and go well beyond that.
After two sold-out Verboten shows this year and another on its way with the new StageONE Waterfront Series in Brooklyn, Verboten is proud to have Maya Jane Coles as one of the headliners on July 4th, where she is sure to be playing tracks off Comfort.
Check out the video for Everything feat. Karin Park.
Pre-buy the album on iTunes or the CD on Amazon