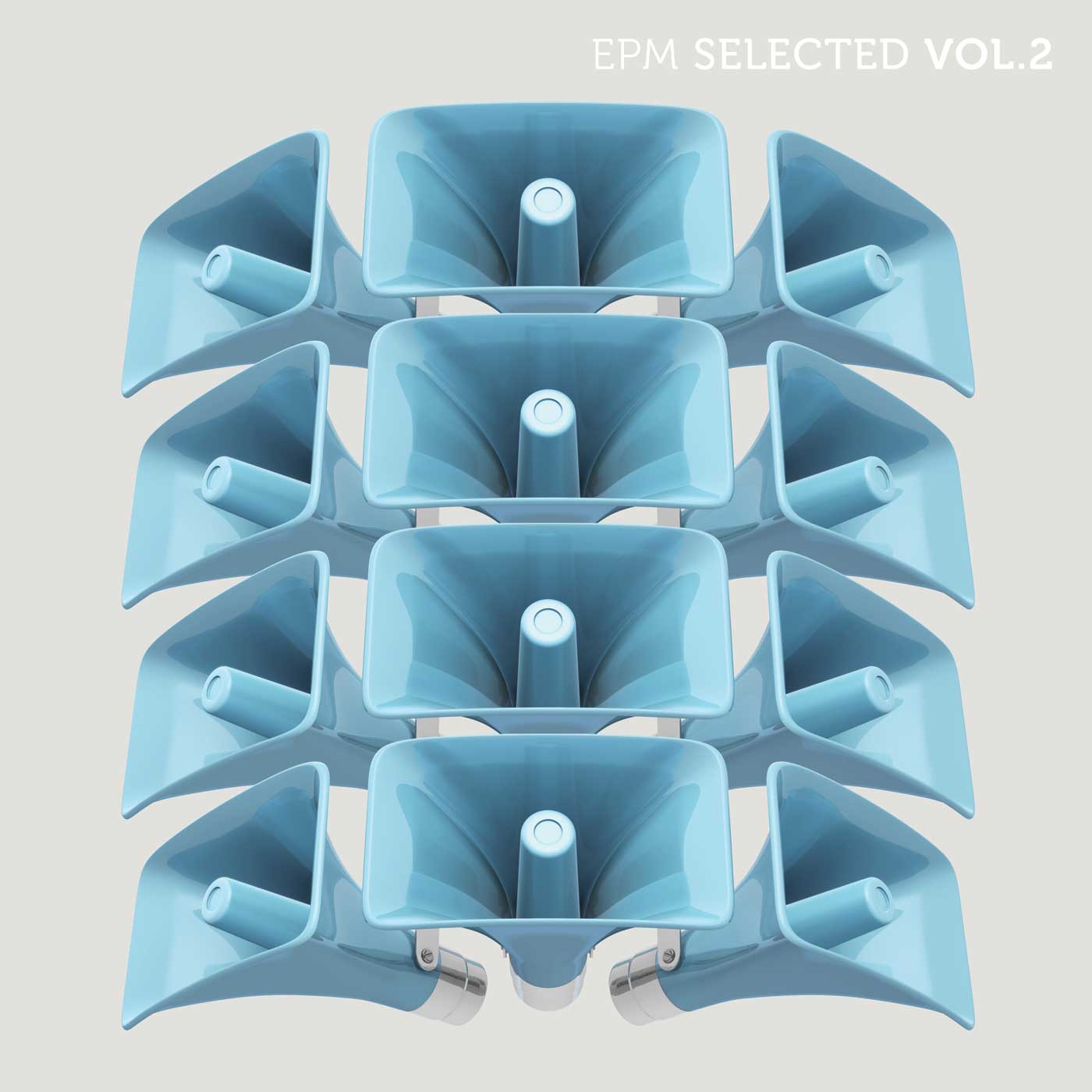 EPM SELECTED VOL.2
Now a fully-fledged music label with over 30 releases to it's name, EPM counts albums from Paul Mac, Carl Taylor, Kristian Heikkila, Lee J. Malcolm, Luis Martinez and The Third Man to it's ever-expanding roster. 'EPM Selected Vol 2' is the second label snapshot, focussing on the techno side of the label's output so far (with a couple of rare exclusives* thrown in for good measure).
As the album throws a spotlight on EPM's techno side its perhaps no surprise that the album kicks off with Swedish producer Kristian Heikkila's 'We Want Techno'. Vocalist Infy wants it 'intense, unclean, filthy, grimey and no strings attached'. He wants to sweat and with Mr. Heikkila behind the desk that's exactly what he does.
'The Driver' sees the pairing of two US mavericks as Abe Duque teams up with Paris The Black Fu from the Detroit Grand Pubahs with a building and brooding slice of eerie darkness and then Blueprint man James Ruskin gets to grips with not one but two Lee J. Malcolm tracks as he gets the oxy-acetylene torch out on 'One Star' and 'Applicant', turning them into one solid piece of mutant, industrial funk.
Carl Taylor's 'Perplexer' was the tenth release on EPM. Splicing together pulsating beats and tribal rhythms he infuses raw organic emotion into his music, making dancefloor techno with strength and feeling. Meanwhile Paul Mac's 'Old' (lifted from his EPM album 'Hotel Insomnia') shows the Essex based producer's deeper side whilst maintaining that all important dancefloor drive and rhythm.
Inigo Kennedy's 'Interaction' was originally released on EPM co-founder Oliver Way's Morpheus Productions label 13 years ago. Here we find Inigo's customary driving beats inter-shot with shards of chiming synths as the original gets a re-mastered dusting for 2013.
BPMF's 'T.I.T.S. – This is Techno Soul' is another sought after track hailing from 1996. Originally appearing on Freddy Fresh's Electric Music Foundation label, BPMF was part of the techno group Prototype 909 and has been making electronic music since 1982. 'T.I.T.S.' is a rare beast, managing to marry wigged-out Drexciyan funk to a tough industrial landscape. In other words, this most certainly is techno soul!
Orlando Voorn's 'Wiggle' first appeared on the EPM 10 compilation back in 2011 and it's nothing short of the classic driving Detroit style techno we have come to expect from the flying Dutchman. Does exactly what it says on the tin.
Kristian Heikkila returns in a more acid house vein with 'Acid Spore', lifted from the EPM and Bulletdodge 'Players Club' album whilst 'EPM Selected Vol.2' closes out on the gently building, Model 500-esque 'Sleep It Off' from in our minds, one of this years greatest electronic albums, 'Beyond The Heliosphere' from The Third Man. But then we would say that wouldn't we.
EPM 'Selected Vol.2' tracklist:

01. Kristian Heikkila – We Want Techno (feat. Infy)
02. Abe Duque & Paris The Black Fu – The Driver
03. Lee J. Malcolm – One Star / Applicant (James Ruskin Re-Work)
04. Carl Taylor – Perplexer
05. Paul Mac – Old
06. Inigo Kennedy – Interaction*
07. BPMF – T.I.T.S. This Is Techno Soul*
08. Orlando Voorn – Wiggle
09. Kristian Heikkila – Acid Spore
10. The Third Man – Sleep It Off