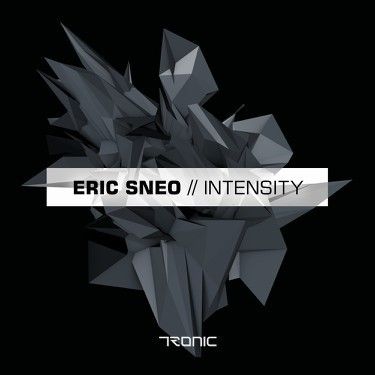 Eric Sneo – Intensity
If we had a groove swing-o-meter to hand Eric Sneo's music would be off the scale. "Intensity" isn't an album for way too serious beard stroking types, this is techno for people who quite simply – love dancing. Standing still isn't an option here as Eric joins forces with Christian Smith's excellent, forward-thinking Tronic label to unleash his masterful lesson in creating exhilarating techno that will set any dance-floor on fire.
Trained as a musician (drums, piano, accordion) from a young age before he graduated to the international DJ circuit, this super-talented German producer knows exactly what his mission is – to make people dance to exciting and inventive underground techno. By incorporating the playing of live instruments into his DJ sets, he is an unforgettable performer. Eric Sneo isn't trying to re-invent the wheel with this album, but he is supremely demonstrating the importance of a superb sense of rhythm and groove as the basis of creating great techno music.
"Intensity" exhibits a dynamic attitude that cannot be ignored. Eric is a master of loading an astonishing amount of swing into the grooves he creates – opening track "Hustle & Bustle" is a perfect example, with his use of infectious melodic percussion creating an almost effortlessly energetic atmosphere immediately. "Let It Roll" is another example with a highly infectious, percussion driven, fizzing powerhouse of a groove, while "Facility" utilises disorientating freaky melodic loops over a hissing percussive base to great effect.
But it is perhaps "The Flow", with its swirling anthemic attitude based on simple, entwined melodies and underpinned with a heavy dose of percussive swing, along with "Leaves In The Air" and its soaring, simple melodic progression, that will stand out for many. Simple hypnotic, repeated motifs are another of Eric Sneo's creative trademarks here and you have to look no further than the shifting, bass heavy frequencies of "Immediacy Of The Moment", the spoken vocal hook of "Cyberdellic", the freaky FX of "Metanoia", or the soaring snippets of melody in "Process Work", to see how effective these can be. The crazy slowed down and speeded up percussive sections in "Roulette", and the gloriously twisted, energetic finale of "Bongofreak", also demonstrate his innate ability to shift the vibe and thoroughly entertain with aplomb.
Eric Sneo's "Intensity" is an album that doesn't need any fillers, or over-clever interludes, or experimental tempo changes. "Intensity" is a focused creation consisting of eleven dynamic demons, strictly for dancers, which shows that the future of exciting techno music is in safe hands.