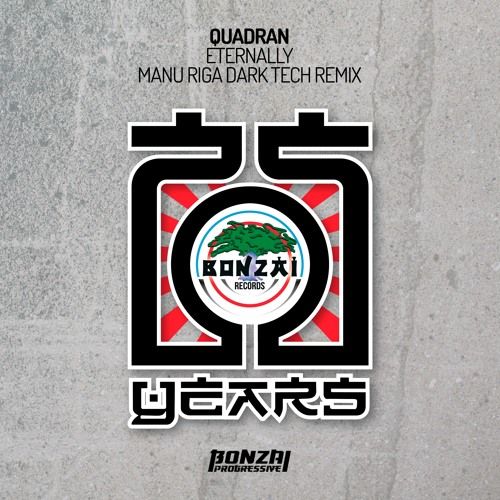 Quadran - Eternally (Manu Riga Dark Tech Remix)
Up next on Bonzai Progressive is another smashing remix of an early Bonzai classic. Manu Riga takes on a 'Dark Tech' remix of Quadran's 'Eternally'. The original was a pioneering effort which elevated Bonzai's trance/progressive label to new highs back in 1996. The remix begins with a lovely punchy kick drum and shuffling hi hat combi that gets the feet moving into a progressive fuelled banger. A deep rumbling bassline lurks on the low end adding depth while classic chord stabs fade in to the backdrop of that infectious vocal. This is for sure a rhythmically charged groove that will not disappoint.
Manu Riga has shown himself to be one of Bonzai Progressive's hardest working artists with an impressive portfolio of original cuts remixes that could easily fill a whole set all night long. His sound has a distinct progressive style, however recently he has slightly altered his style to be slightly darker, with a touch of tech which rumbles through the bass in this cut. This is a track definitely one to add to your playlists as it'll make you raise the roof wherever you go. There will be plenty more from Manu Riga in the months to come!
Available on Beatport
https://www.beatport.com/release/eternally-manu-riga-dark-tech-mix/2082744
Manu Riga Online
http://manu-riga.com
https://www.facebook.com/Manurigafanpage
Bonzai Progressive Online
http://www.bonzaiprogressive.com
https://www.facebook.com/bonzaiprogressive
https://soundcloud.com/marnikbonzai
https://www.youtube.com/user/bonzaiprogressive