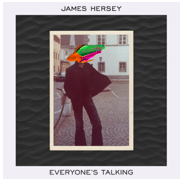 James Hersey - Everyone's Talking
Today James Hersey reveals 'Everyone's Talking', the latest track from his forthcoming debut EP. Co-produced by James alongside Ed Sheeran collaborator Will Hicks, 'Everyone's Talking' tackles the subject of what really connects us in this day and age.
A multi-talented singer, musician, songwriter and producer, Hersey has accumulated an astonishing 268 million streams to date with his music. His current single 'Miss You', which saw James named one of Annie Mac's 'New Names' late last year, has amassed over 75 million streams alone since its debut this past autumn and immediately shot up the Spotify Global Charts in 10 countries including the UK, U.S. and Canada. Soon after, the track received a stellar remix treatment from HONNE that catapulted the track up to #1 and #2 on the Hype Machine charts.
Despite 'Miss You' forming Hersey's debut single, his voice and lyrics are one many listeners may already be familiar with from 'Coming Over'. This was an originally penned track Hersey wrote as an ode to delayed desires. It caught the attention of the dance arena when it was remixed by Filous, and later reworked by Kygo & Dillon Francis, ultimately catapulting it to over 121 million streams combined.
Now based in Berlin, but born in Vienna, Hersey's roots in music stem from his childhood. He discovered the tunes of Bob Marley, the Beatles, and Run DMC early on, digging through his father's record collection. For Hersey himself, Michael Jackson became king. Utilizing that grounding in pop, rock, and crossover, Hersey's songs are able to work in different musical contexts because at the core of them lies classic songwriting. This is just the beginning for James Hersey; look out for his debut EP coming this spring…
Website: http://www.jamesherseymusic.com/
Facebook: https://www.facebook.com/jamesherseymusic
Twitter: https://twitter.com/JamesHersey
Instagram: https://www.instagram.com/jameshersey