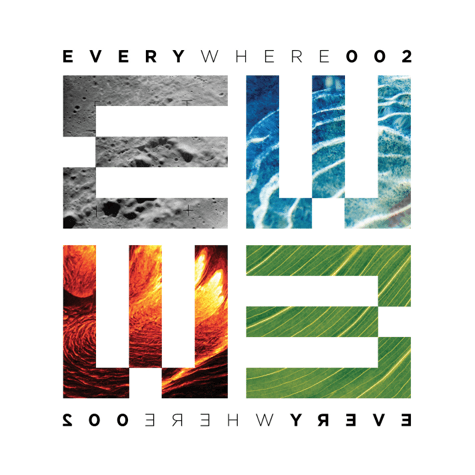 Everywhere Festival announces full lineup…
After selling out their inaugural event last year, dollop return with EVERYWHERE once again, taking place across a multitude of Nottingham's best venues on May 4th. Everywhere's sister event in London (ELSEWHERE) takes place in various Hackney venues on May 2nd – May 3rd.
As with parent night dollop, EVERYWHERE's commitment to showcasing the upper ranks of cutting-edge club music holds firm. In amongst the currently announced acts, some names stand out as legitimate crossover acts: mainstream infiltrators and some of the most in-demand DJs working today.
Amongst them, 90s house kingpin and recent claimant of a first UK no.1 single MK will be making a very welcome trip back to the city he played twice last year: once as a special EVERYWHERE 001 guest, and again as a dollop headliner. Marc Kinchen will be joined by another unlikely chart topper in the form of 21-year-old Route 94, a producer sure to bring his love to EVERYWHERE this year. Dubstep-gone-disco wildchild Skream – arguably Croydon's finest export since Kate Moss – returns to Nottingham after a triumphant set ringing in 2014 at dollop's New Year's Eve spectacular; Artwork, his partner in festival conquering supergroup Magnetic Man, joins us for the ride too.
Hudson Mohawke first started playing for dollop back in 2010 – since then the eclectic Scot has ascended to the peak of the US hip-hop game, working closely with the likes of superstars Kanye West, Daft Punk and R.Kelly; he touches down at EVERYWHERE in advance of a feverishly-anticipated new album. Mike Skinner is yet another global superstar on the lineup, having performed Nottingham multiple times as millions-selling, Brit-winning, 00s-defining project The Streets – here he plays a rare DJ set, sure to showcase the classic UK Garage sound upon which he built his legacy.
A glut of similarly respected veterans give EVERYWHERE an unmatched authority when it comes to familiar faces of underground electronic music. Paul Woolford's run of tech house releases over the past decade marked him as an under-the-radar favourite, but 2013 proved a long-awaited breakout year: "Untitled" ran out song of the summer, and his breakbeat dalliances as Special Request kickstarted the jungle revival. Multiple dollop headliner Scuba's legacy is equally assured: first instrumental in forging middle-ground between London dubstep and Berlin techno, his decision to explore brighter house music brought a flash flood of colour back to dancefloors, pushing the Hotflush head honcho onto peak-time festival slots the world over. Enigmatic producers Floating Points and Leon Vynehall make their EVERYWHERE debuts; both will bring record bags stuffed with dusty soul, rare disco and leftfield house.
dollop's resolute dedication to showcasing upcoming talent is in full effect at EVERYWHERE 002, where the cream of the (bubbling) crop are due to play: Bass-heavy club champions Paleman and Mak & Pasteman will join up with the daddy Loefah, founder of scene-defining labels DMZ, Swamp 81, School, and a dollop mainstay. 2013's EVERYWHERE headliners Disclosure will be pitching in from the periphery this year, given that stars-in-waiting Tourist and Lxury are stablemates on the brothers' Method label. A whole glut more of dancefloor-focused house talents pad out the bill: wAFF, Richy Ahmed, Hannah Wants, Karma Kid, Isaac Tichauer and many, many more. It makes for a faintly dizzying read; and, come Sunday May 4th in Nottingham, will make for a thoroughly head-spinning run of DJ sets at the second EVERYWHERE Festival.

https://www.facebook.com/events/373137909488697
https://www.facebook.com/EverywhereFestival
https://www.facebook.com/ElsewhereFestival
MAY 4th 2014
VARIOUS NOTTINGHAM VENUES INCLUDING:
Rock City, The Rescue Rooms & Stealth + more TBC
TICKETS AVAILABLE FROM:
http://www.alt-tickets.co.uk/alttickets/event_ate_18127a.html
LINEUP A-Z
Artwork
Blonde
Dense & Pika
DEVolution
Doc Daneeka
Dorsia
Floating Points
Hannah Wants
Hudson Mohawke
Isaac Tichauer
Josh Butler
Karma Kid
Kelela
Leon Vynehall
Loefah
Lxury
Mak & Pasteman
Mike Skinner
MK
Paleman
Paul Woolford
Richie Ahmed
Route 94
Scuba
Sei A
Skream
Snakehips
Tourist
wAFF
EVERYWHERE announces lineup…