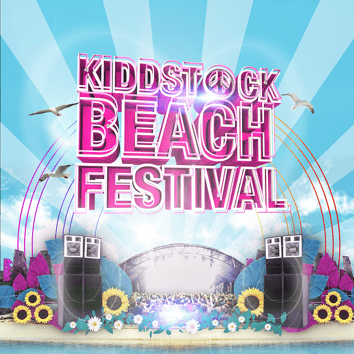 Exclusive 4-way B2B on HARD with STYLE Mainstage at Kiddstock Festival 2016
On Saturday August 6th, the UK's Biggest Hard Dance Festival which took place on Majuba Beach – Kiddstock Beach Festival – showcased an exclusive 4-way b2b set where Dutch and Italian hardstyle heavyweights Zatox, Wasted Penguinz, The Prophet, and Dr. Rude closed out the mainstage in a spectacular grand finale hosted by the legendary Dutch hardstyle imprint HARD with STYLE.

Kiddstock creates history
As the sun began to set after a day of 2000 hard dance partygoers raving on the beach, when the clock striked 22:30, four of the world's biggest names in hardstyle joined forces together behind the decks on the HARD with STYLE mainstage at Kiddstock 2016. After the success of last year's 4-way b2b with Alex Kidd, Isaac, Kutski, and Kidd Kaos, Kiddstock took it to the next level with an even bigger surprise back-to-back performance showcasing the entire spectrum of hardstyle to close out the festival. Partygoers united on the beach for a one of a kind performance that not only went down in Kiddstock history, but even more so in the history of hardstyle.

International hardstyle legends together in the booth
For the last half hour of the event, the Kiddstock faithful danced to the euphoric sounds of Wasted Penguinz, Dr. Rude's signature freestyle skills, along with a masterly blend of raw and hardstyle tracks from The Prophet and Zatox. Earlier that the day, Dr. Rude stepped into the booth opening his set with the official Kiddstock theme "Comin' your way" – which is now out on HARD with STYLE, the crowd became intoxicated with a taste of Holland's Wasted Penguinz uplifting hardstyle, followed by The Prophet showing us all why he retains his title as the Godfather of Hardstyle, leading up to Zatox warming up the decks in anticipation for the notorious endshow.

Kiddstock closing set goes viral
On Saturday night, Kiddstock's notorious 4-way b2b set dominated the Facebook feeds and fan pages of hardstyle icons Zatox, The Prophet, and Dr. Rude. This unplanned and unadvertised performance sparked massive reactions and support from fans world-wide. Through the power of social media, the DJs were able to give devoted fans a taste of the UK's Biggest Hard Dance Festival's most sought after climax, the surprise b2b closing set. A rare and quirky spectacle to end the night where hardstyle heavyweights show the world what hardstyle music is all about: uniting together for the love of music.
About Kiddstock
Kiddstock was created in 2007 by Hardstyle and Hard Dance DJ/Producer Alex Kidd. Now it is considered part of the UK's hard dance history and is always a highlight for the calendar of the harder styles. Travelling across all corners of the United Kingdom and Ireland, the infamous UK's Biggest Hard Dance Festival will celebrate their 8th edition of August 6th at Majuba Beach, the second event staged at this sought after venue.

Kiddstock Festival socials
http://www.kiddstockfestival.com/
https://www.facebook.com/KiddstockFestival
https://twitter.com/kiddstock
Alex Kidd socials
http://www.djalexkidd.com/
https://soundcloud.com/djalexkidd
https://www.facebook.com/djalexkiddmusic
https://www.instagram.com/djalexkidd/
https://twitter.com/djalexkidd