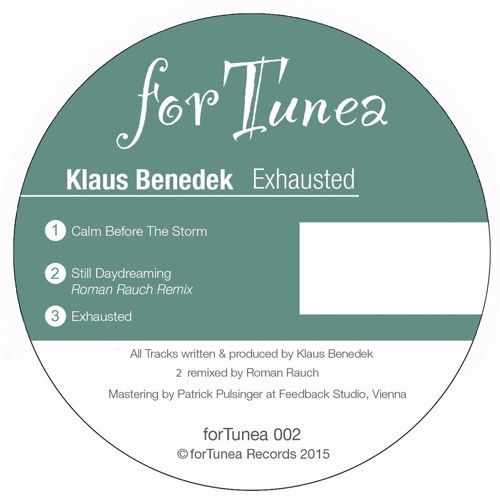 Klaus Benedek - Exhausted
Following critical mass around the forTunea vinyl release of Klaus Benedek's Exhausted EP, the Austrian label has now released its digital version. Leading track "Calm Before the Storm" is a 9-minute magic carpet ride weaving plush deep house rhythms with breakbeat underpinnings as a hand drum-laden slow percussive build gives way to a smooth string chorus.
The original Benedek track "Still Daydreaming" is re-imagined by MPC wizard Roman Rauch (Philpot, Quintessentials, Secret Crunch, Tenderpark) with hard-edged minimal syncopation, while the EP's title track "Exhausted" bounces with a hypnotic filtered hookline to plunge the listener from new depths to unmatched heights.
Benedek's "Exhausted" is replete with dance-worthy hooks sure to be a lethal weapon in any DJ arsenal. Give it a spin and add it to your stockpile of house music slayers.
Label and Artist Links:
http://fortunea.bandcamp.com
www.facebook.com/Klaus-Benedek-303617619743671/