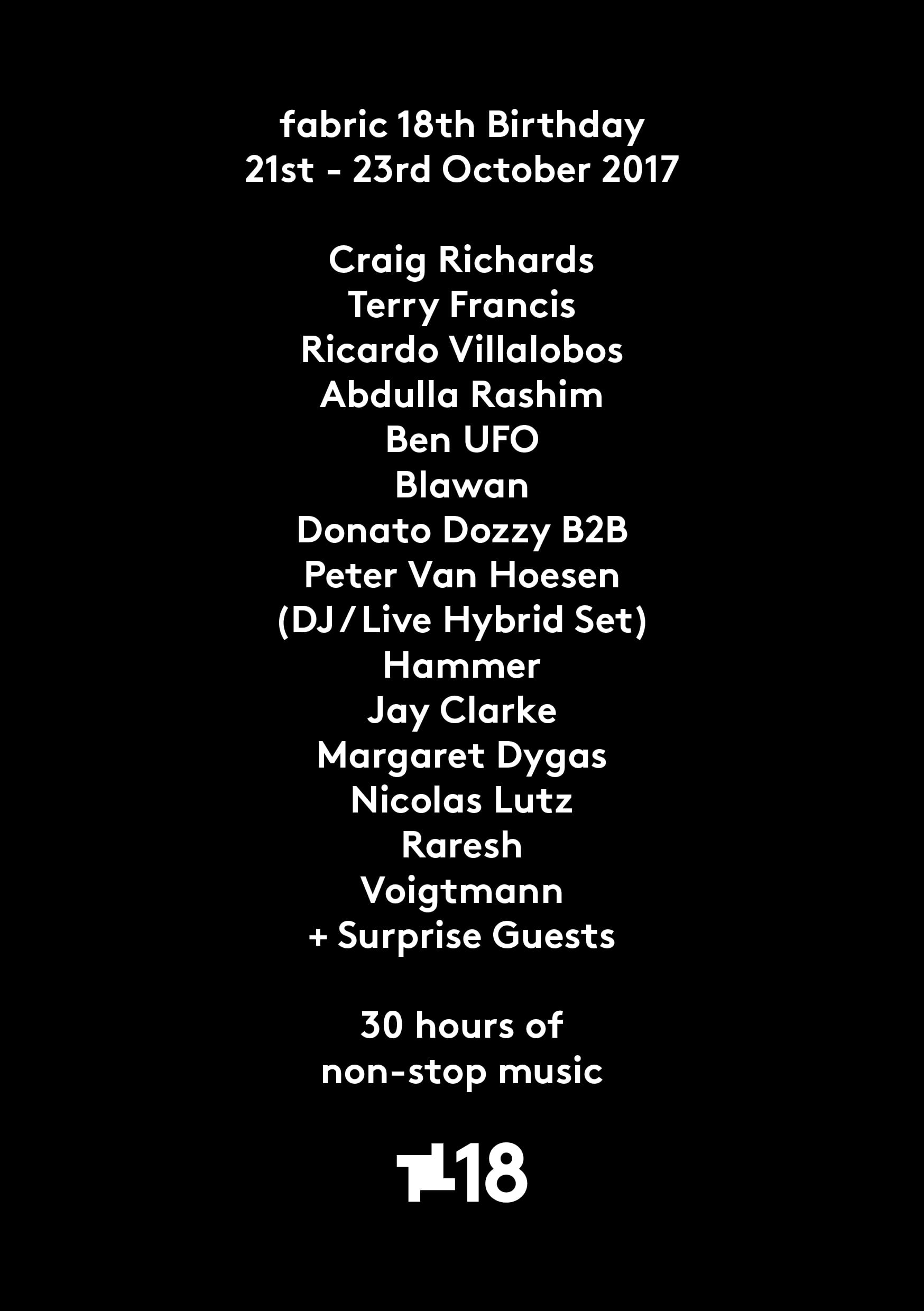 fabric 18th Birthday Update – New Line Up Announcement
It gives us a huge amount of pleasure to be able to release the final names for the Saturday – Monday segment of our 18th Birthday weekend today. We say final, but there are a couple more surprises to come nearer the time and at the event itself.
fabric 18th Birthday Update # 1: Announcing the line for FABRICLIVE on our 18th birthday weekend – featuring DJ Hype, Hazard, Kahn & Neek and many more.
Today we're happy to present the line-up for the FABRICLIVE leg of our 18th Birthday weekend leaning in with the return of Hype and Hazard. After what was a 15 year residency the two main figures of Playaz, Hype and Hazard return to RM1 for the first time since our reopening to deliver what will be a lesson in how to roll out the energy in DNB. Punchy rollers and sharp lines then come from two of the scene's funniest but also more importantly, most musically on point duos Dub Phizix & Strategy.
There are also three massive back to backs in store from DNB's most lauded. First up, original junglist Randall goes head to head with fellow originators of the sound Total Science. Then, two of Low Down Deep's leading selectors Logan D and Voltage prepare to go back to back harnessing the full weight of the collective's raw-edged and high powered aesthetic. The final B2B union comes from Hospital Records' Hugh Hardie and Med School's Keeno where we can expect the pair's soul inflicted and liquid tastes to riff off each other.
Room Two covers the dub weighted spectrum of sound as Bandulu Record's Kahn & Neek head up Room Two to take full advantage our Pioneer Pro Audio system's sub capabilities. Chimpo will be in the house too, with an exclusive 100% dubplate set where he's primed to drop some more than exclusive weapons. Deep Medi's newest signee Egoless will be performing live too, showcasing his heady and heavy dubwise constructs. Another of Deep Medi's lead names Kaiju will be in the place with his massive sound system ready collection. Plus Chonk Mob, a newly formed collective of Samba, Sepia, Chokez, Koma and Rygby land for the first time in Farringdon. They say they are simply "5 friends who get drunk, post memes in a group chat and make music" but we know in all earnest, they will be coming loaded with a bag full of weighty drops.FABRICLIVE residents Skankandbass and Blazey Bodynod will also be in the house after nearly a year bedding in with their reliably killer selections.
fabric 18th Birthday: First Line-up Announcement
The 18th birthday is the coming of age event. On our home turf in the UK it's when you can legally buy yourself a drink, have your say in the merry-go-round of British politics and play your part in the criminal justice system on jury service. In fact, most societies around the world see their offspring as mature enough to leave their adolescence behind and become bonafide adults when they hit the magic number of 18.Beyond the the context of human personal development, amidst our mass of bricks, sound systems and lasers we're reaching this landmark age in October.
Between now and 1999 there has been an epic amount of hard work, love, sweat, tears, support and campaigning that have brought us to where we are now. We're all the more grateful to be here after missing our 17th birthday last year and are ready to make up for lost time at our 18th, washed down with a pitcher of gratitude.Today we announce our line-up for the Saturday through Monday chapter of the 18th Birthday events. This year we have lined up a stellar troupe of artists who have been part of our story, that have helped build our heritage and define the sonic identity of our space for the whole 30 hour long celebration. And it feels that bit more special to be doing this at home, in EC1.
Our resident dons Craig Richards and Terry Francis will both be in the house for the celebrations as per tradition. Also performing will be the Chilean master of dancefloor dramatics Ricardo Villalobos, Romanian minimal figurehead Raresh, Nicolas Lutz with his rave washed blends, and one of our new regular faces Toi Toi founder Voigtmann. Covering the techno sphere of the party's programming one of the UK's most energetic and unrelenting artists Blawan will also be joining us along with the sub-aquatic timbres of Anthony Linell's moniker Abdulla Rashim. Finally Jay Clarke – a talent on the rise who we've made a more regular fixture in Farringdon over the last year – will also perform.
Plus there will be more artists that are yet to be announced and FABRICLIVE as per will be hosting the Friday night section of the weekend. The line-up for that will be dropping next week with a full on drum and bass tear up guaranteed.

fabric 18th Birthday Weekend
20th – 23rd October 2017
Friday
Doors: 11pm -7am
£14 early bird tickets, £16 first release, £20 second release, £10 after 3am advance, £25 on the door, £18 student on the door, £17 fabricfirst on the door
FABRICLIVE…
Room One:
DJ Hype
Hazard
Dub Phizix & Strategy
Randall B2B Total Science
Logan D B2B Voltage
Hugh Hardie B2B Keeno
Skankandbass
MCs:
Skibadee, GQ, IC3, Bassman, Ruthless
Room Two:
Kahn & Neek
Chimpo (Dubplate Set)
Egoless (Live)
Kaiju
Chonk Mob
Blazey Bodynod
Saturday – Monday Doors: 11pm Saturday – 5am Monday
£30 advance weekend tickets, £35 on the door, £27 fabricfirst on the door, £28 student on the door (price includes wristband for re-entry)
£20 advance Sunday tickets, £25 on the door, £17 fabricfirst on the door, £18 student on the door (valid from Sunday 10am, no re-entry)
Rooms To Be Announced:
Craig Richards
Terry Francis
Ricardo Villalobos
Abdulla Rashim
Ben UFO
Blawan
Donato Dozzy B2B Peter Van Hoesen (DJ/Live Hybrid Set)
Hammer
Jay Clarke
Margaret Dygas
Nicolas Lutz
Raresh
Voigtmann
+ Surprise Guests

Tickets and more information at www.fabriclondon.com