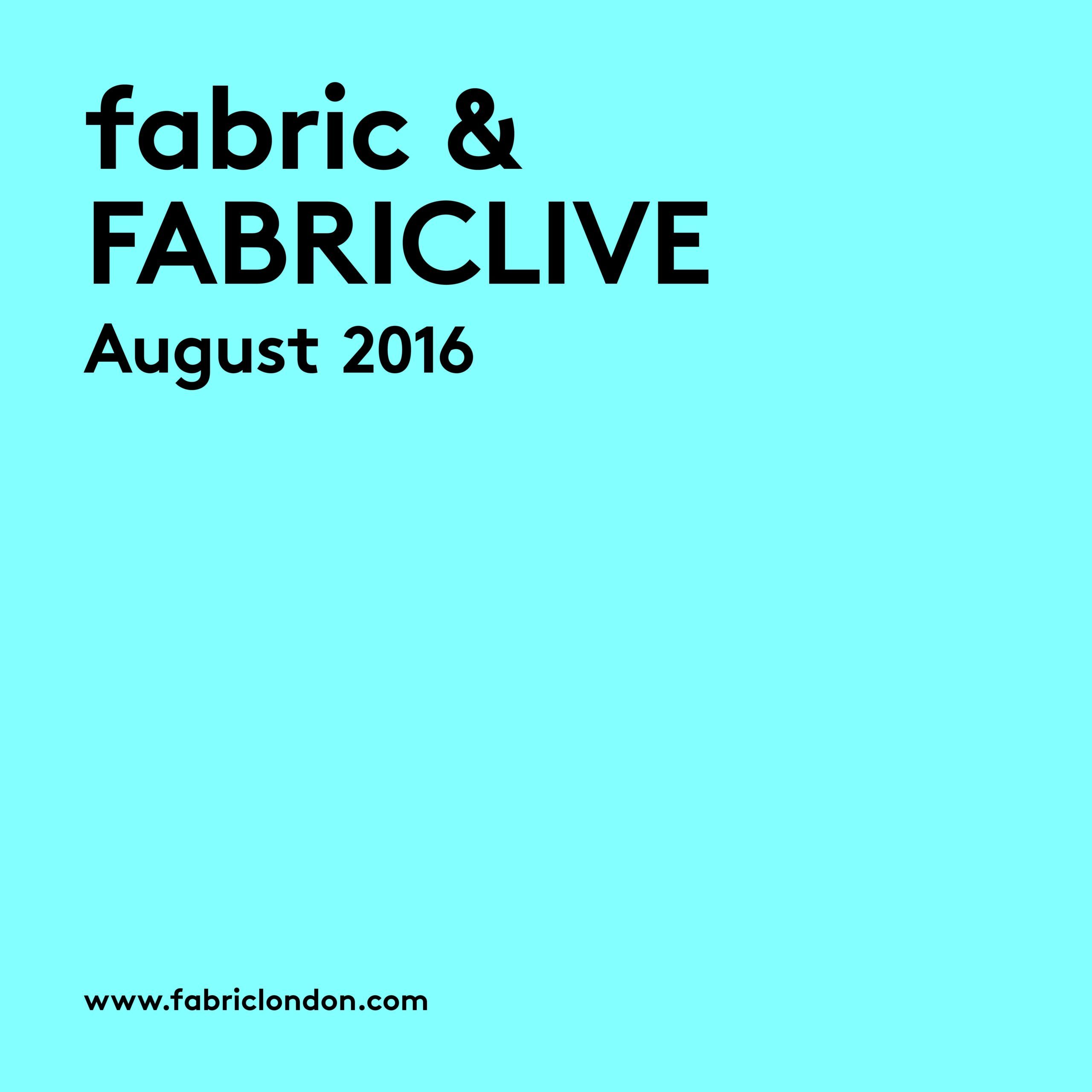 fabric announces Our Line Ups For August 2016
As we have just put our last August event on sale for this summer, we felt it a good time to wrap up what we have planned for FABRICLIVE and fabric for that end of summer month and share our latest listings.
Fridays begin the month by linking with Red Bull Studios London who are at the helm in Room One, inviting Ms. Dynamite while we program Room Two with Micky Finn heading the bill.
The second weekend in August then sees us take to the Thames with Critical Sound for a one of boat party before returning to EC1 where the pioneering drum n bass imprint will install in Room Two while Paleman hosts Special Request and more in Room One. There's just a handful of tickets left for the boat party (which includes entry to the club) so we advise anyone who wants to join us to act fast to secure their ticket.
Then, on the 19th August we welcome Youngsta's Contact to host Room Two and Room One sees a flush of drum n bass royalty come to the floor with LTJ Bukem, Dillinja, Ed Rush and Artificial Intelligence all in tow.
For the final Friday of the month and bank holiday weekend of the year, Playaz returns off the back of a stand out session for DJ Hype's integral drum n bass platform's 20th Birthday just last week for the annual carnival special bringing along with them the lead figures of their roster and extended family.
Coming up on Saturdays Hot Flush boss Scuba leads us into August appearing alongside two talents from his label back catalogue – Phil Kieran and Shall Ocin – while Steve Rachmad ventures to Room Two alongside Mr Jones.
Parisian DJ trio Apollonia return for their second outing of 2016 on the 13th, complemented by the far reaching collections of Anthony Parasole and L.I.E.S. boss Ron Morelli over in Room Two.
On the 20th, Guy Gerber is set to represent the breadth of his Rumors label inviting Thugfucker, Acid Mondays and Echonomist to Room One. Daniel Avery is then set to bring his Divided Love banner to Room Two for its first 2016 date in EC1 inviting Abdulla Rashim for a live set alongside DJ sets from Lucy and Volte-Face.
Finally, the Bronx's The Martinez Brothers return to Farringdon heading Room One with Phil Moffa appearing live for Bank Holiday while Tiefschwarz take over Room Two to mark the 10th anniversary of their Souvenir label.
And let's not forget, our residents Craig Richards and Terry Francis will invariably be in the house nearly every weekend.
Full listings can be found below and tickets are now available from www.fabriclondon.com
_____________________________________________________________________________
fridays
FABRICLIVE.
05 AUGUST
ROOM ONE:
RED BULL STUDIOS…
Ms. Dynamite, Shift K3Y, Foundation (UKG All Stars) aka Sticky & Scott Garcia, Conducta, Nastee Boi
ROOM TWO:
FABRICLIVE…
Micky Finn, Serial Killaz, Majistrate, Heist, Pleasure
MCs: Eksman, Fatman D, Texas
12 AUGUST
ROOM ONE:
Paleman, Special Request, Headhunter, Lamont, Forest Drive West
ROOM TWO:
CRITICAL SOUND…
Enei, Kasra, Sam Binga, Ivy Lab, Hyroglifics, Foreign Concept, Total Science, MCs: GQ, Redders, Mantmast
19 AUGUST
ROOM ONE:
LTJ Bukem, Dillinja, Ed Rush, Artificial Intelligence, OneMind, Hugh Hardie
MCs: GQ, Lowqui, Visionobi
ROOM TWO:
CONTACT…
Youngsta (2 Hour Set), dBridge, Swindle, Truth, Nomine, Cato
MCs: SGT Pokes, SP:MC, Koast
26 AUGUST
PLAYAZ CARNIVAL SPECIAL…
ROOMS TBA:
DJ Hype, Hazard, Harry Shotta Show ft Scruffizer & Doctor, Annix b2b Teddy Killaz, Sub Zero, Nicky Blackmarket b2b Kenny Ken, Taxman, Potential Badboy, Tyke, Pascal
MCs: Skibadee, IC3, AD
saturdays
fabric
06 AUGUST
ROOM ONE:
Craig Richards, Scuba, Phil Kieran (Live), Shall Ocin
ROOM TWO:
Terry Francis, Steve Rachmad, Mr Jones
13 AUGUST
ROOM ONE:
APOLLONIA…
Dan Ghenacia, Dyed Soundorom, Shonky, Stephane Ghenacia & Thomas Roland
ROOM TWO:
Terry Francis, Anthony Parasole, Ron Morelli, Low Jack (Live)
20 AUGUST
ROOM ONE:
RUMORS LABEL SHOWCASE…
Guy Gerber, Thugfucker, Acid Mondays, Echonomist (Live)
ROOM TWO:
DIVIDED LOVE…
Daniel Avery, Abdulla Rashim (Live), Lucy, Volte-Face
27 AUGUST
ROOM ONE:
Craig Richards, The Martinez Brothers, Phil Moffa (Live), Jesse Calosso
ROOM TWO:
10 YEARS OF SOUVENIR…
Tiefschwarz, Locked Groove, CYRK (Sierra Sam & Pascal Hetzel) (Live), Cesare V Disorder