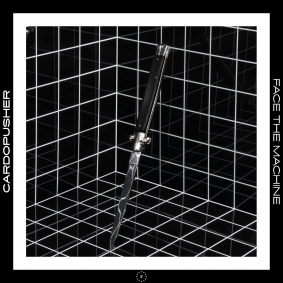 Cardopusher - Face the Machine
Zone Records and Cardopusher continue their on-going relationship with 'Face The Machine', a new EP that comes after last year's well received five tracker, 'Left to Believe In'.
Cardopusher is a true electronic legend from Venezuela. His dizzyingly diverse sound takes in rave, acid, electro, techno and house influences and distils them into hugely raw and energetic new forms. They come on labels like BNR and Zodiac 44 and this latest offering is another visceral and arresting release from this singular producer.
Opener 'All Fall Down' is a rugged and ragged electro track with darkness in the bass. Slapping hits are crunchy and textured while molten acid lines bubble throughout and will twist the floor for the duration.
The standout 'Return to Forever' is even more raw and in your face, with sheet metal hits, wild acid lines and corrugated drums that are all off kilter. It's a big, attention-grabbing track with plenty of guts, while 'The Power to Forget' is more paired down, with menacing drums and hurried bass, freaky filtered vocals and chattering claps that all add up to real analogue paranoia.
Last of all, 'Existentialist Diatribe' is a dark donning affair with no drums but whirring machines, fractured vocal sounds and a post apocalyptic tension that really draws you in.
Few producers can make music with the impact of Cardopusher, and this latest EP confirms that once again.
Cardopusher's 'Face the Machine' is released on Zone Records on 6th September.
Tracklist:
1. All fall down
2. Return to forever
3. The power to forget
4. Existentialist diatribe