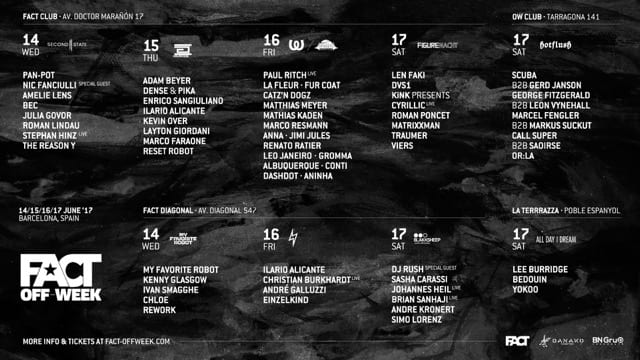 FACT announce 9 OFF Week Parties…
Once again during OFF Week, the celebrated FACT team will be putting on some essential events at FACT Club, OW Club, La Terrrazza and FACT Diagonal, all in Barcelona.
FACT are known for their colourful and atmospheric events in London, Ibiza, and other places round the world. As well as this they host plenty of OFF Sonar events with their famous parties bringing the biggest and best labels and artists to town.
The events kick off on Wednesday June 14th and run every day until Saturday 17th, often at different clubs at the same time on the same day. The series will host parties in collaboration with Hotflush Recordings, Blakksheep, All Day I Dream, Warung, Watergate, Flash, My Favorite Robot, Drumcode, Second State and Figure Nacht.
Key figures from those labels will all play and include DJs like Pan Pot, Adam Beyer, Dense & Pika, Ilario Alicante, Paul Ritch, La Fleur, Catz´n Dogz, Matthias Meyer, Mathias Kaden, Renato Ratier, Len Faki, DVS1, Matrixxman, Scuba b2b Gerd Janson, George Fitzgerald b2b Leon Vynehall, Marcel Fengler b2b Markus Suckut, Call Super b2b Saoirse, Kenny Glasgow, Ivan Smagghe, Chloe, My Favourite Robot, DJ Rush, Johannes Heil, Lee Burridge, Bedoin, Yokoo and many more.
LINE UP:
June 14: FACT OFF WEEK · Second State
Pan-Pot / Nic Fanciulli (special guest) / Amelie Lens / BEC /Julia Govor / Roman Lindau / Stephan Hinz Live / The Reason Y
June 14: FACT OFF WEEK · My Favorite Robot
My Favorite Robot / Kenny Glasgow / Ivan Smagghe / Chloé / Rework
June 15: FACT OFF WEEK · Drumcode
Adam Beyer / Dense & Pika / Enrico Sangiuliano / Ilario Alicante / Kevin Over / Layton Giordani / Marco Faraone / Reset Robot
June 16: FACT OFF WEEK · Watergate x Warung
Watergate: Mathias Kaden / Fur Coat / catz n dogz / Matthias Meyer / La Fleur / Marco Resmann / Jimi Jules
Warung Beach Club : Paul Ritch Live / ANNA / Renato Ratier / Leo Janeiro / Albuquerque aka Borgman / Conti / Dashdot / Aninha / Gromma
June 16: FACT OFF WEEK · Flash
Ilario Alicante / Christian Burkhardt (Live) / André Galluzzi / Einzelkind
June 17: FACT OFF WEEK · Figure Nacht
Len Faki / DVS1 /KiNK pres. Cyrillic Live / Matrixxman / Roman Poncet / Traumer / Viers
June 17: FACT OFF WEEK · Hotflush
Scuba b2b Gerd Janson / George FitzGerald b2b Leon Vynehall / Marcel Fengler b2b Markus Suckut / Call Super b2b Saoirse / Or:la
June 17: FACT OFF WEEK · Blakksheep
DJ Rush (Special guest) / Sasha Carassi / Johannes Heill Live / Brian Sanhaji live / Andre Kronert / Simo Lorenz
Link: https://www.facebook.com/FACT.WORLD.WIDE/
Link: https://www.fact-worldwide.com/en/