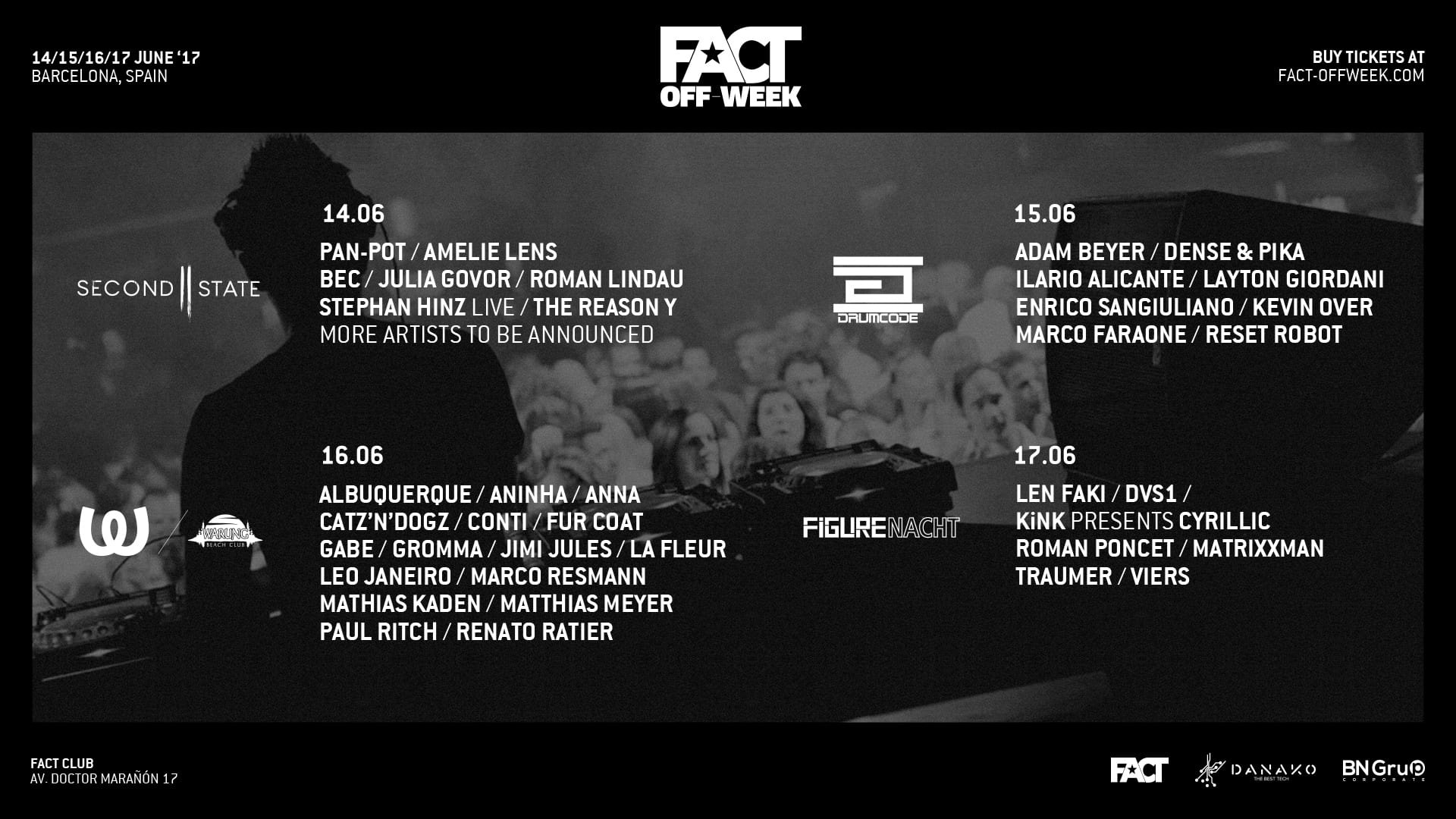 FACT JOINS FORCES WITH THE MOST IMPORTANT LABELS DURING THE OFF WEEK, AND MORE TO COME…
To create unique and special experiences in which electronic music is the protagonist regardless of fashions, trends and borders. This is FACT's objective and looking at the presence and international relevance that this promoter has achieved in recent years there is no doubt that it will be fulfilled with imagination and dedication as foundational pillars.
To the events scheduled during 2017, there have been added the first 4 special parties that will take place in their club in Barcelona during the Off Week, from Thursday June 14th to Saturday 17th. The main incentive is the association between FACT and the most important brands in the electronic industry worldwide.
On Wednesday, June 14th, the protagonists will be Second State, label considered as an authentic institution of Techno in the German scene, and its owners, Pan-Pot. Drumcode, Adam Beyer's imprint which has managed to be at the top of the world Techno scene, will take over on Thursday 15th with performances from its creator, amongst others. Watergate x Warung will be on Friday 16th. On this occasion, the official label of one of the most recognized institutions in Berlin joins Brazilian most important beach club Warung under the protective wing of FACT. Whilst Watergate brings Mathias Kaden and CATZ'N'DOGZ, Paul Ritch will be one of the big names representing Warung. And finally, Len Faki's Berlin based label: Figure Nacht, will be in charge of closing the series on Saturday 17th with performances from its founder along with DVS1,KiNK presenting his new live act Cyrillic and Hessle Audio collective in the second room with Matrixxman, Traumer and Viers.
And this is only the beginning, there's still much more to be announced! Thanks to FACT and their passion for electronic music, this year the city of Barcelona will enjoy a week in which Techno will be the protagonist. Stay tuned for all the events and complete lineups of the FACT Off Week!