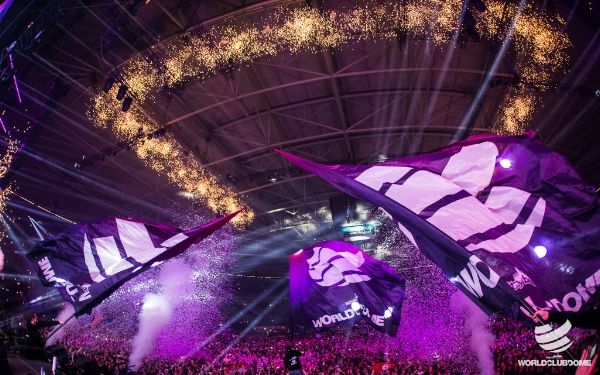 World Club Dome Korea add Oliver Heldens, Kygo, Felix Jaehn, Grandtheft + more
EDM superstars such as Kygo – his debut Korean performance – Oliver Heldens, Felix Jaehn and Grandtheft joined the line-up
22nd-24th September 2017
Munhak Stadion
Incheon, South Korea
For the first time in its short history the BigCityBeats WORLD CLUB DOME is heading to Asia's secret paradise –Korea!

With its port installations and international airport, the city of Incheon in the metropolitan area around Seoul is fast becoming a festival hotspot on the Asian continent. As such it is the ideal location to spread the BigCityBeats philosophy of a "perfect week of clubbing". Beach parties on the shore of the Yellow Sea, entire islands taken over by partying crowds and the BigCityBeats WORLD CLUB DOME as the crowning event, hosted on and around a variety of stages erected in the Munhak stadium and the outlying area. The result: a Korean WORLD CLUB DOME that forms the oriental pole on the European-Asian axis of electronic music!

Having grown over a short five-year period to become one of the largest and most fascinating club-music events on the European continent, the BigCityBeats WORLD CLUB DOME is now poised for its Asian premiere. With one of the biggest firework displays in club music history planned and a line-up to end all line-ups, the event will be the ultimate way of rounding off a season of festivals.

The initial phase of preparations saw the first group of EDM superstars in the form of Afrojack, Armin van Buuren, Dimitri Vegas & Like Mike, DJ Snake, Don Diablo, Le Shuuk, Lost Frequencies, Marshmello, Robin Schulz, Steve Aoki, Sven Väth and W&W sign up for the event.
Now a raft of other iconic acts have declared themselves: Bakermat, Bassjackers, Bingo Players, Coone, Frontliner, Grandtheft, Oliver Heldens, Hucci, Felix Jaen, Kayzo, King Arthur, Kygo, Mija, Nakadia, Noisecontrollers, Ummet Ozcan, Quintino, Sigala and Zatox. One of the biggest draws is sure to be Kygo, who will be making his BigCityBeats WORLD CLUB DOME debut and playing his tropical house beats from the main stage. The Frankfurt media and event label is bringing the superstar to Korea for the first time.

A source from MPC Partners, the host company and BigCityBeats Asia, said that "VIP tickets are being almost sold out in China and that they will bring as many overseas tourists as possible to 'World Club Dome Korea', which will be featuring 20 stages for 150,000 visitors for 3 days, bringing them via club jets, club ships across Asia. BigCityBeats using helicopters to pick up world clubbers and DJs heading to the "biggest club in the world" for partying in South Korea".

'World Club Dome Korea' will be hosted by MPC Parters, with the sponsorhip from Incheon City, Korea Tourism Organization, Incheon Tourism Organization, having SBS Contents Hub as a media partner and SSGPAY as the official payment partner. Limited amount of 1-day, 2-day and 3-day tickets are currently on sale on Interpark, the official ticket agency and on KLOOK.COM, the official oversea ticket sales agency.
After the success of BigCityBeats 5 day mediterranean WORLD CLUB CRUISE, which took place earlier this year on 25th-29th April, the ultimate electronic party cruise set sail around prime destinations; Mallorca, Barcelonaand Ibiza with a string of music pinoeers from the likes of; Robin Schulz, Dimitri Vegas & Like, Felix Kröcher and Le Shuuk. You can view the official WORLD CLUB CRUISE Aftermovie 2017 here : https://youtu.be/KfZwJoUW-NU for a sneak peek of this world-encompassing brands prodigious events.
Event Details:
22nd / 23rd / 24th September 2017
BigCityBeats WORLD CLUB DOME Korea
Munhak Stadion
INCHEON
South Korea