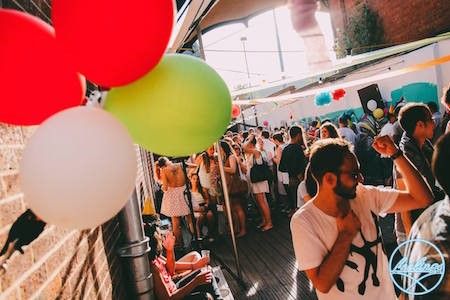 Feelings takeover Oval Space with Elecxploration party
East London party crew Feelings have been bringing a flavour of the Balearic sun to the city since embarking on their mission to revive one of the pioneering movements of electronica – balearic disco. November sees Feelings head to Oval Space armed with a solid gold line-up full of talent old and new, headlined by LA legend Egyptian Lover and ghetto groove king Detroit in Effect, plus support from eclectic boogie selector Kasra V, The Menendez Bros and the much-loved residents – Ryan Winters and Karl Fuller.

Egyptian Lover, aka Greg Broussard has been at the heart of the funk and electro movements since the 70's, producing intergalactic dancefloor dynamite fusing hip-hop with electro. Showing no signs of slowing down, Egyptian Lover is seven albums deep, with his eighth '1984' set for release October 30th. Recorded with 100% analogue equipment, 1984 is 100% pure old school electro. Check 'Freaky Deaky Machine' here: youtube.com/watch?v=xB0oVkgr5OM and get in the mood for journey through time.

Another artist at the forefront of shaping club music, Detroit in Effect joins for a rare UK set with his usual infectious blend of ghetto groove and bass-heavy sleaze. Detroit in Effect will bring it to the dance in the way that only he knows how. Cool kid Kasra V also plays, the NTS selector who's recent 'Atlantis' EP was a mystifying blend of purist house and funky disco with a middle Eastern edge, plus double trouble comes from historic house purveyors The Menendez Brothers. And on top of all this, Feelings' top boys and residents Ryan Winters and Karl Fuller will be on rotation.

Feelings ethos is all about exploring genres, artists and movements by using heritage and current acts, and recreating that atmosphere in unusual settings – from strip clubs and terraces to churches and festivals. Past guests include Ron Trent, Andres, Nicky Siano and DJ Alfredo repping the old-skool and The Black Madonna, Tevo Howard, Dan Shake, Francis Inferno Orchestra, Kasra V and more on the nu-skool side. Feelings discos are electronic adventures of a sonic level – 20th century dance music for 21st century people.