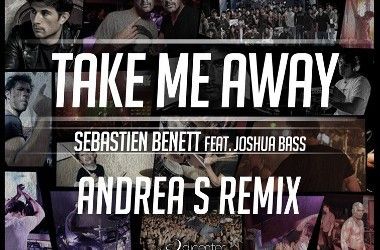 Sebastien Benett ft. Joshua Bass – Take Me Away
In 2006, Sebastien Benett is revealed through a web radio and created his own podcast « House From Ibiza ». There was such a craze over it that it quickly reached the top most downloaded podcasts around the world, establishing Sebastien as a reference for the electronic scene. By public demand, he launched his official parties « House from Ibiza » where thousands of people come to see him on stage performing live as he dares to impose his unique pop rock electro style, his true musical signature letting the public fall under his charm, asking for more!
Sebastien is also known to have remixes with prestigious artists such as Laurent Wolf, Rinocerose, Joachim Garraud, & Nirvana. Dj or Rockstar? Sebastien Benett's love for music comes from playing drums when he was younger as he used to tour in pubs and bars with his band which may be one of the reasons that his live sessions look like true concerts. Behind turntables, Sebastien's charisma and energy make it for a real show. As a show man, he has seduced thousands of fans around the world. Sebastien is an accomplished artist as he knows how to impose his unique and easy to identify electronic sound. Combining mix and production, he is now known to be a growing success.
Now after audiences have been taken away and wanting for more, Sebastien Benett's hit release featuring the talented Joshua Bass, "Take Me Away" comes back now with a banging REMIX like no other by ANDREA S on DJ Center Records, one of the French leading Dance Music record company based in Paris! Hit your parties with this massive release from this amazing all-star DJ as Sebastien Benett ft Joshua Bass release, "Take Me Away (Andrea S Remix)" on DJ Center Records!
Out now on Beatport exclusive release : http://btprt.dj/1cGcrEJ
Out now on iTunes: http://bit.ly/14kxvPm
Available on all Platforms:July 1, 2013
Genre : EDM/ Progressive House