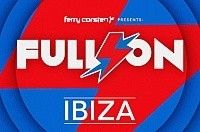 Ferry Corsten presents Full On: Ibiza
It all began with a series of highly successful events called "Full On Ferry" that the Dutch deckmaster hosted for three years in his home country The Netherlands. In the summer of 2012 Ferry introduced the concept to Ibiza together with an all-star line up of international DJs. This summer will see the return of Ferry Corsten to the Balearic Island where his Full On concept is set to reach new levels. This new compilation "Ferry Corsten presents Full On: Ibiza" represents Ferry's one of a kind residency, featuring the music that will dominate the season.
Throughout the Ibizan summer, Ferry will host his Full On nights at the legendary club Eden – every Sunday, from July 7th until September 22nd. With guest appearances from fellow forerunners like John O'Callaghan, Solarstone, Aly & Fila, Giuseppe Ottaviani, Sied van Riel and many others, Eden will be the focal point of this year's Full On takeover, all of it overseen by Ferry Corsten.
"Ferry Corsten presents Full On: Ibiza", a double-disc mix compilation, includes tracks and remixes by Dragon & Jontron, Roger Shah, JES & Brian Laruso, Cosmic Gate and George Acosta with Ben Hague; all present with brand new or exclusive titles. Ferry Corsten himself features with his new hit single "F The Bull$h1t", including a unique remix by Dimitri Vegas & Like Mike of "Rock Your Body Rock", not to mention of course his collaborations with Bassjackers on "Collision" and Duane Harden on "Love Will".
Other high-ranking names that supplement the release are Jesse Voorn vs. Strobe, Airscape, Giuseppe Ottaviani & Eric Lumiere, John O'Callaghan & Ronski Speed and many, many more. "Ferry Corsten presents Full On: Ibiza" is the super charged compilation that stands for luscious sonic pleasure without constraint and will bring smiles of ecstasy to those who anticipate his upcoming residency!