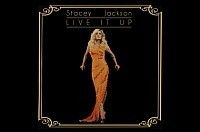 Stacey Jackson – Live It Up
Stacey Jackson is an electronic dance music artist and this is her first album release following the recent success of her recent single Pointing Fingers which went to into the top five dance chart in both UK and USA.
Stacey has now had four top ten dance hits on both sides of the Atlantic and this album is a collection of her hit club tracks. It's an upfront four on the floor feel-good album and singles have gone down well in the UK clubs with remixes by Wayne G and David Aude.
All 11-tracks on the album are pretty high tempo energetic tracks but they move from electro pop – Pointing Fingers, to new-style high-energy on I Am A Woman, through to a powerful dance version of Whitesnake hit Is This Love, to Live It Up her collaboration with rapper Snoop Dogg. All in all, It's a unashamedly upbeat collection of club and party tracks.
Stacey's background is certainly very different to most other dance music artists: She's a 44-year-old mum of four who lives in Chelsea. She's glamorous and stylish but doesn't look much different to the other yummy mummies doing the school run in the morning. Except that she is now making it big in dance music – and recently recorded a track with Snoop Dogg.
She was introduced to Snoop after one of her remixes went top ten in the UK dance chart. Stacey was invited to work in the studio with the internationally renowned rapper and he performed on her track Live It Up.
In her words:
"Live It Up is a summer feel-good dance album and I'm going to be performing tracks for the album over the summer in the UK – I'm playing most of the Gay Pride events and the response to the record so far has been amazing. Everyone finds it amusing that I'm twice the age of most dance acts but I'm not phased by it.
"I had been a professional singer in my 20s but had let it slide after the birth of my first child, but now 20-years and four kids later I decided to go back to music after my father died two years ago. He had always told me to go for my dreams and I felt after he passed away that life is short and you should make the most of it. So that's what I'm trying to do."