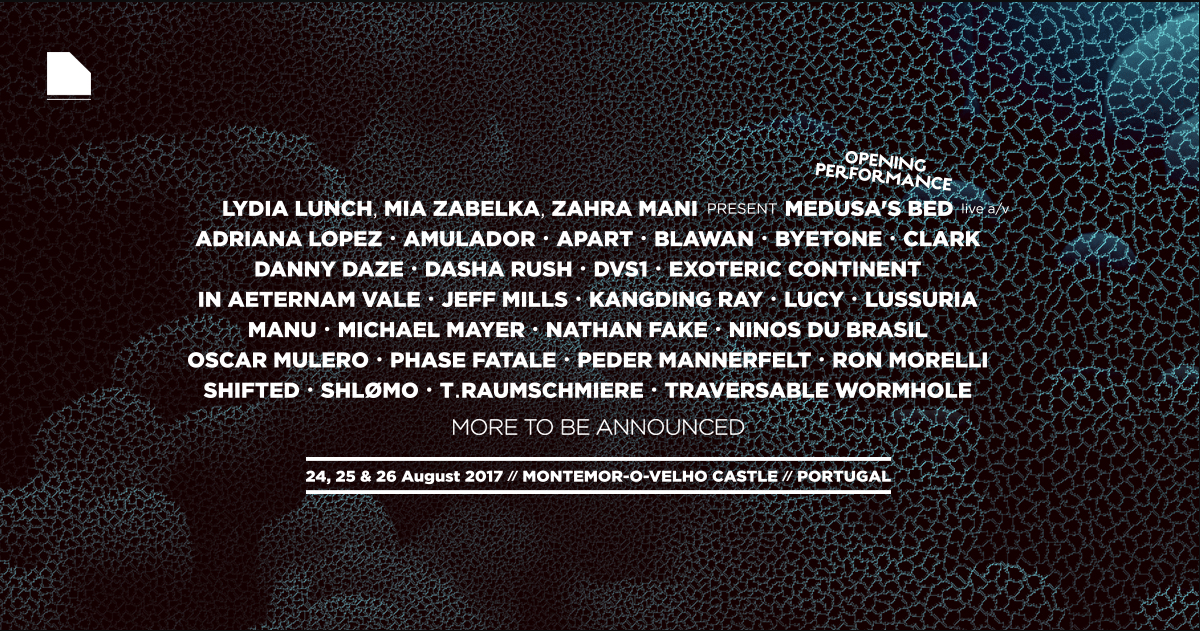 Festival FORTE announces a new round of acts for their 2017 edition 
Adriana Lopez, Amulador, Apart, Blawan, Byetone, Clark, Danny Daze, Dasha Rush, DVS1, Ex Continent, In Aeternam Vale, Jeff Mills, Kangding Ray, Lucy, Lussuria, Manu, Michael Mayer, Nathan Fake, Ninos du Brasil, Oscar Mulero, Peder Mannerfelt, Phase Fatale, Ron Morelli, Shifted, ShlØmo, T Raumshmiere, Traversable Wormhole, Jaygo Bloom . Olga Studio

Four years ago Festival Forte was launched. Since then, the festival has taken the world of electronic music and art by storm and has included numerous incredible performances, unique collaborations and timeless moments.
Inside the unique Castle of Montemor-o-Velho, Festival Forte promises to be better than ever before, hosting a mix of true techno icons and a lineup of the freshest international acts around.
Prepare to be seduced by darkly beautiful, restless visuals, immersive audiovisual performance and large-scale generative artworks in one of the most spectacular locations in the world. Enter a 360 degree festival experience, spiraling and spinning out of control, where boundaries between performance and audience coincide and explode. Experience the unique spaces that are made for social encounters, the adventures and discoveries that lie within, where the festival and its people come to life.
For the opening show of 2017, Festival Forte proudly presents 'Medusa's Bed'Lydia Lunch, Mia Zabelka & Zahra Mani with a highly rare 2017 AV act from a legendary poet of the underground revolution, who has collaborated with other highly acclaimed figures such as Nick Cave, Sonic Youth, Einstürzende Neubauten and Michael Gira.
'Medusa's Bed' fuses Mia Zabelka's avant violin stylings to Zahra Mani's psycho-ambient soundscapes, creating an otherworldly surround, the perfect illustration for the nocturnal spoken word vocals of Lydia Lunch. 'Medusa's Bed' is reminiscent of a murder mystery or a hypnotic late night tale (evocative, simultaneously suspenseful and implicating something devious), crawling out of the dark, as sharp as a knife edge and whispering to your shadow.
Adriana Lopez is one of techno's most prominent and in demand female artists, performing sets that are technically outstanding and which explore a wide range of powerful basslines with hypnotic, driving, rock solid techno beats.
ShlØmo, the Parisian Taapion boss, balances feel and function – lifting techno from mere emotion with his finesse for detail and attention. He will be presenting his live show that only takes to very special occasions.
As an original pioneer, Adam X is highly respected in the techno scene. His naked panels of sound have created a basilisk like effect; converting many listeners to the dark side of electronic music. Each progression becomes a distorted simulacra of the latter – a constant modulation between crisp and heavy that unearths ancient appetites. Back in the 90s (New York City), Adam X teamed up with his brother Frankie Bones to run the first all-techno record shop in America 'Groove Records (later named 'Sonic Groove Records'). For Festival Forte 2017 he brings forth his ultimate project, Traversable Wormhole – a manifestation of subterranean lows and pragmatic, rhythmical formulas that promise to enlighten any techno pilgrim. Be prepared for his data-farm of sonic intricacies to flood the festival with a sensation of existential bliss.
The darker side is tainted with soundscapes and collages, featuring Ex Continent, Lussuria and Phase Fatale, that all coexist in the domain of Hospital Productions.
Ex Continent is a solo project of Barcelona based artist Arnau Sala Saez, defined by synthesis and magnetic tape collage that draws upon social and political issues to materialize ideas.
Lussuria is an ambient industrial project formed in 2007 by Jim Mroz. Heavily inspired by early dark ambient and industrial music, Lussuria's atmosphere is created through a combination of sound collage, sampled loops, and deconstructed musical sections.
Phase Fatale is an artistic endeavour that serves as an outlet for his own interpretation of darker and industrial-influenced techno. Brutal productions confronted by sinister atmospheres create a sound imprint that has mutated into a new electronic identity. Phase Fatale released two outstanding EPs last year on Jealous God, the label co-run by Regis, Silent Servant and James Ruskin. While this year so far, he has debuted with an EP on Unterton, the sublabel of Berghain's in-house Ostgut Ton.
The prominent Danny Daze maps a unique and varied journey through the spectrum of electronic music, resonating with an eclectic selection of floor filling sounds. Heavily praised for his versatility, DJ and producer Danny Daze smashes expectations driven by freeform selecting and mercurial mixing guarantees the only thing audiences can expect is a musical experience where everything is up for grabs.
T.Raumshmiere, started his musical career as an inventor. First, he invented a framework and then himself. May 2017 sees Cologne's Kompakt releasing his new, epic solo album called Heimat. Back to the roots – but also into heaven!" This new full-length presents another side of T.Raumschmiere, which has always been present, but rarely heard: the artist, the author, the composer with the crystal-clear sound.

Kompakt's co-owner Michael Mayer, returns to play the defining closing act for Festival Forte 2017, a slot that he truly deserves as the icon figure that he is. As the last vestige of sunlight sinks into the distance, magic shall occur once again with the best possible finale to a memorable event.
Amulador and Manu are two of the most remarkable Portuguese DJs at the moment, they will be in charge of warming-up the castle. Apart presents his new live act, switching intense melodies broken by powerful forces that develop enigmatic and seductive environments.
Digital dreams and video visions of epic proportion will be brought to you by a very special visual team: Jaygo Bloom, lead AV developer at Festival FORTE for the Generative Garden and Olga Studio for the main stage.
Jaygo Bloom is the talent behind GABBA.TV. Resident VJ for Luke Slaters Planetary Assault Systems and regular collaborator with Festival FORTE. Jaygo has a profile that spans performance and media art at an international level, creating digital encounters that blur the boundaries of the analog and the digital and that utilize networks, colourfields, mapped constructions, video synthesis, intrusive entertainments and banging digital AV performance.
Olga Studio is a crossmedia studio based in Lisbon defining the intersection of concept, movement and visual techniques. Experts in the production of visual content and video mapping, Olga Studio presents a versatile communicating path through visual content that catches the audiences with sensory experiences driving them to a memorable and unique world of moving images.
Here are the explorers, the place-makers, the creative, culture engineers.
Driven by a desire to fill the void left by an over-saturated world of normalization, fusing, music, art, nature and code. Open your ears to new soundscapes and escape from the boredom of the real world. Join in the epic moments of Festival FORTE. See you in the castle!
MONTEMOR-O-VELHO CASTLE
24 . 25 . 26 AUGUST 2017

Opening A/V Show
Lydia Lunch, Mia Zabelka & Zahra Mani present 'Medusa's Bed'