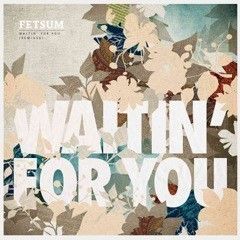 FETSUM – Waitin' For You
The man is taking the US by storm right now. His debut album "The Colors Of Hope" and particularly its first single, "Letters From Damascus" respectively are for instance on heavy rotation on the best radio station in the word, KCRW from Santa Monica.
Now FETSUM goes even one better. The second off-shot single, "Waitin' For You", arrives in a masterfully wrapped up triple pack. In collaboration with FETSUM Sonar Kollektiv proves again that it has a knack for choosing the right remixers for a specific track. Three adaptions that couldn't be more diverse – but impressively illustrate how genre-crossing the possibilities of interpretation of "Waitin' For You" are.
Over the last few years Till Von Sein and Tigerskin have gathered an enormous output of own productions (f.e. on labels like Morris / Audio, Dirt Crew, Get Physical and Dessous) or remixes (f.e. for Soul Clap, Heiko Laux or Kasper Bjorke) – together or separately. This is cumulative club experience and the will to do things differently from time to time. This way the two Berlin based producers turn "Waitin' For You" into a downright funky dance floor burner with contagiousness.
Paskal & Urban Absolutes have a bit more restrained take on things – but not less sensitive that is. The remixing duo of the moment breathe even more soul into the song than it already has in the first place. And the buoyant drum programing lets the sun in through the louvered blinds.
Oliver Frost is a dinosaur in the Berlin reggae scene. As one half of the duo Frost & Wagner he already remixed the likes of Jan Delay, Eva Be, Tosca and Clara Hill for Sonar Kollektiv. What he does now to FETSUM's "Waitin' For You" is another milestone in his eventful curriculum vitae. It's not just a swiftly manufactured dub rework, but a beautifully arranged mix of pop, Rhythm & Sound dub and Modern Soul. A class of its own!