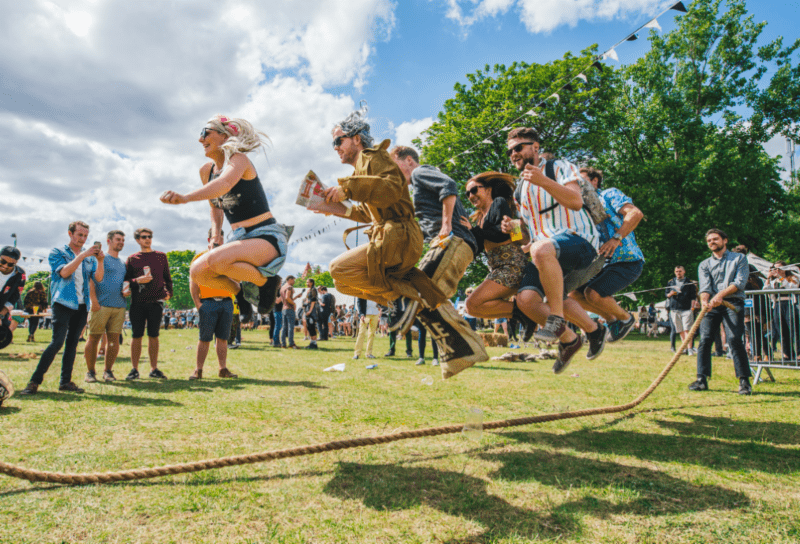 Field Day Announce Central Saint Martins Partnership
Field Day are delighted to reveal the new line-up additions that will be joining headliners James Blake and PJ Harvey, and previously announced artists including Yeasayer, The Avalanches, Beach House, Daphni, Motor City Drum Ensemble, Skepta, NAO, Mura Masa, Roman Flügel, GOAT, John Grant and Air on Field Day Saturday 11th & Sunday 12th June.
Field Day Saturday 11th June
Field Day are excited to welcome the extremely talented singer/song-writer Astronomyy to the Field Day Saturday line-up. Describing his sound as 'surf rock', the mysterious producer's debut, 'Don't Need U' is filled with spine-tingling beats entwine with nocturnal slide-guitars and nullifying percussion.
Also appearing on Field Day Saturday 11th June will be Doug Hream Blunt. Doug learnt to play music at the age of 35, by taking an evening class in the Golden Gate neighbourhood of San Francisco in the late 1980s. In the years to come, Doug wrote and self-pressed an album called "Gentle Persuasion". The funk outsider has since been championed by the likes of Ariel Pink and previously announced Field Day Saturday artist Dean Blunt, who also took his name.
Incredible new UK duo Let's Eat Grandma made up of Rosa and Jenny will also be on board. Backed by BBC Introducing, the barely out of school pair have been best friends since they were 4 years old. Snapped up by Transgressive, the duo will release their debut album this summer, despite their menacing moniker, Let's Eat Grandma have a rather soothing, palatial sound.
We are delighted to welcome back BBC Radio 1's Huw Stephens and BBC 6 Music's Tom Ravenscroft to play mesmerisingly eclectic sets over the weekend.
Field Day Sunday 12th June
Field Day Sunday 12th June welcomes London based pop trio Kero Kero Bonito, who's name comes from the Japanese words for frog onomatopoeia and a type of fish. With their sound largely influenced by J-pop, dancehall, and video game music, they write many of their songs using a Casio SA-45 mini-keyboard, with lead vocalist Perry rapping in both Japanese and English.
Following their debut track 'Living Alone' which received radio spins from Zane Low, Phil and Alice and Huw Stephens at Radio 1 last year, 5 piece band from Bath Bad Sounds make their Field Day debut. Hailing from Sheffield, the rising three piece band Baba Naga will also be on board, with their first release already being supported by 6 Music and Radio X.
Field Day will also welcome London based quartet Arthur Beatrice, who'll bring their bold and radiant pop sound to Victoria Park this June, in addition to former tribes frontman Johnny Lloyd. Johnny's new EP is due to drop in May, featuring new song 'Hello Death', which was produced by Jamie T at his studio in Hoxton.
Field Day are also excited to announce Psychemagik, the UK duo known for their beautiful production work, prolific remixing skills, obscenely vast record collections and transcendent mixtape journeys. Moxie, the DJ who has played an integral part in the evolution of NTS Radio will also be present on Field Day Sunday 12th June, in addition to London DJ and Producer Kiwi.
The ever cool singer, songwriter, producer and musician Royce Wood Junior will also be play a special DJ Set at the event, whilst maverick funketeer Doug Hream Blunt returns for day two of the Festival. DJ's Harry James and BBC 6 Music's Georgie Rogers will also be on board.
The tenth addition of Field Day will also see a new dance stage added to Sunday 12th June. – SNAP, CRACKLE & POP – will be headed up by the previously announced Daphni and Optimo, they'll also be be joined on the stage by Harry Love, Kiwi, Moxie and Psychemagik.
Central Saint Martins & Shacklewell Arms Partnership
Field Day and Central Saint Martins are delighted to announce their new collaboration for 2016. Central Saint Martins will be running a number of different projects on site and students are getting involved behind the scenes too.
Central Saint Martins will be partnering with the Shacklewell Arms stage, volunteering with Shelter and showcasing students' work in the Village Mentality area on Saturday and Sunday afternoon; look out for Metaphonica on Saturday lunchtime a mini art and music festival that has grown out of the Fine Art programme at CSM, it'll be a real treat.
Dr Rebekka Kill, Associate Dean for Student Experience at CSM said, "At the heart of this partnership is a genuine sense of shared values, especially in terms of creativity and a real commitment to developing the next generation of artists working in a whole range of media."
Shacklewell Arms SATURDAY 11th June Line-Up
Coves / Dilly Dally / Fickle Friends
Gillbanks / Girl Band / Meilyr Jones /Metz
Wild Nothing / Yorkston Thorne Khan / Youth Lagoon
Shacklewell Arms SUNDAY 12th June Line-Up
Baba Naga / Beach House / Blossoms / Cass McCombs
Fat White Family / Formation / GOAT
Royce Wood Junior DJ set
+++
FULL FIELD DAY 2016 LINE-UP
Field Day Saturday 11th June 2016
James Blake
Anna Meredith / Astronomyy / Ata Kak / Avalon Emerson / Baio (DJ set) / Bicep – Live
The Black Madonna / Champion / Coves / Danny L Harle / Dean Blunt / Deerhunter
Dilly Dally / DIIV / DJ Koze / Doug Hream Blunt / Dusky – Live / Fakear / Fickle Friends
Floating Points – Live / Four Tet / Frisco / Gillbanks / Girl Band / Gold Panda
Greco-Roman Soundsystem / Hattie Whitehead / Holly Herndon – Live
Huw Stephens / Jackmaster b2b Gerd Janson / Kelela / KINK – Live
Let's Eat Grandma / Little Simz / Loyle Carner / LUH / Lxury / Mabel / Meilyr Jones Mentsh (GRSS) / Metz / Moscoman / Motor City Drum Ensemble / Mount Kimbie DJ Set
Mura Masa / Nao / Nicholas Allbrook (Pond) / Nimmo / Novelist / Opal People
Orchestra Baobab / Paradise Bangkok Molam International Band / Plastician
Real Lies / Red Axes – Live / Rejjie Snow / Roman Flügel / Roots Manuva
Shock Machine / Siobhan Bell / Skepta / Sleaford Mods / Slimzee / Special Request Tale Of Us / Tirzah / Tom Ravenscroft / Wild Nothing / Wooden Wisdom & Dj Fitz Yeasayer / Yorkston Thorne Khan / Youth Lagoon
Field Day Sunday 12th June 2016
PJ Harvey
Air / The Avalanches
Arthur Beatrice / Adam Green / Baba Naga / Bad Sounds
Beach House / Ben Watt Band feat. Bernard Butler / Blossoms
Brian Jonestown Massacre / Cass McCombs / Daphni / D.D Dumbo / Declan McKenna
Doug Hream Blunt / Empress Of / Fat White Family / Formation
Georgie Rogers (DJ Set) / GOAT / Harry James / John Grant / Johnny Llyod
Junior Boys / Kero Kero Bonito / Kimmo Pohjonen Skin / Kiwi / Mbongwana Star
Mind Enterprises / Molly Nilsson / Moon Duo / Moxie / Mystery Jets / Optimo
Parquet Courts / Psychemagik / Royce Wood Junior (DJ Set) / Shearwater
Steve Mason / Tangerines / The Temper Trap / The Thurston Moore Group / Tourist
TICKETS:
fielddayfestivals.com/tickets
FOR MORE INFORMATION PLEASE VISIT:
www.fielddayfestivals.com
FIELD DAY IMAGES & PRESS ASSETS:
fielddayfestivals.com/press-assets
CENTRAL SAINT MARTINS
www.arts.ac.uk/csm