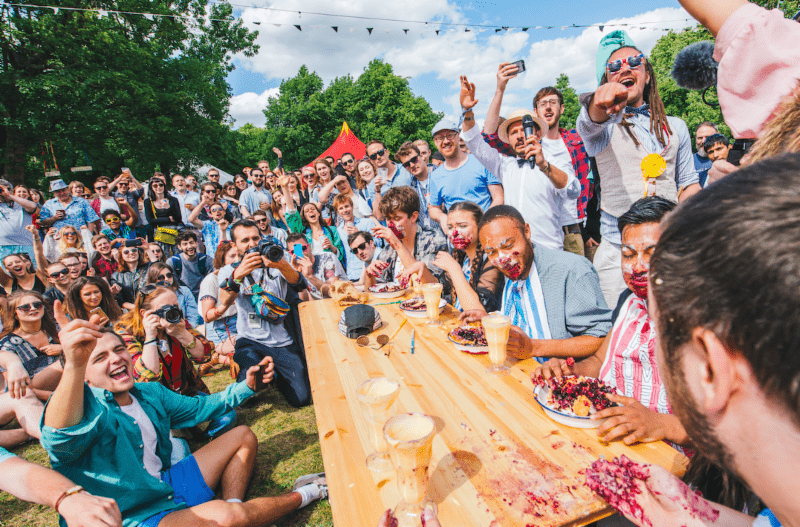 Field Day to create signature ale!
Field Day and The Five Points Brewing Co launch Ten Points beer – a festival exclusive celebrating Field Days 10th Birthday. While the Village Mentality eating competition invites punters to eat their way through 10 years of eating contests from carrots to winkle picking, nettles to blueberry pie, plus brilliant food stalls from Street Feast and Venn Street Market.
The creative forces behind Field Day and the Five Points have collaborated to design and brew an exclusive limited edition beer, using British malts, and American and Australian hops, they have created a juicy, tropical and full bodied 'Extra Pale Ale'.
Field Day's 10 Points will be available around EastLondon in the likes of the MOTH Club, Shacklewell Arms, Adam & Eve, Three Crowns andChesham Arms, Dundee arms, Sebright arms, Crate, Clapton Craft and many others in the run up to the event and at Field Day.
Ed Mason, Founder of The Five Points says: "We wanted to brew something a bit special in honour of Field Day's Tenth Birthday. Pale Ale is a really popular style right now, and we've taken that to the next level with an ultra pale colour and an extra juicy hop quotient, but we haven't gone crazy with the ABV. This will be an easy drinking extra pale ale but full of flavour which we have named Field Day 10 Points…."
"As a proudly independent East London brewery, it feels a natural fit to work with East London's independent music festival of choice, Field Day for their 10th anniversary. This is an exciting collaboration that will produce the perfect beer to enjoy in both beer gardens, and the glorious surroundings of Victoria Park while seeing your favourite bands and DJs."
Street Feast & Venn Street Market
Street Feast, London's pioneering night street food market, will return to Field Day to deliver a feast of culinary delights. Having launched in May 2012, they bring together London's best street food traders, chefs and restaurants for a quite unique eating experience in the heart of the Village Mentality area. Traders on board this year include Anna Maes, BBQ Lab, Born & Raised, Luardos, Petare, Rola Wala, Smokestak, White Men Can't Jerk and Meringue Girls.
Venn Street Market from Clapham Common are back for their sixth consecutive year and upping their game each time, bringing the most delicious international flavours from around the globe. New to the Market this year are Bangwok, Bleecker Burger, Dorshi, Iberico Jack, Le Bao, Mother Clucker & The Orange Buffalo, Shippo, Sub Cult and The Cauldron – all well known to London street foodies. Venn Street Market will be found all over Field Day with two central islands where you can find your favourites Bad Brownie, Butchies, Churros Bros, Comptoir Gourmand, Crabbie Shack, Good & Proper, Happy Maki, Holy Cow, Liberty Cheesesteak, Makatcha, Voodoo Rays and Tim Burgess' Tim Peaks Diner and many more!
London Brewers Market
Over and above the array of craft beer available across the site we have the special addition of the London Brewers' Market joining us this year, with a beer festival to celebrate the very best of the capital's craft brewing scene. Ten of London's cutting edge craft brewers will join us to showcase their beers and sell their brews direct to the customer here at Field Day. You can chat with the teams behind great local breweries, taste some incredible brews and learn about the lively independent brewing scene based right here in London Town Featured breweries will include the following, with more tba:
The Five Points Brewing Company (Hackney) The brewery behind London Brewers' Market, The Five Points have been brewing bold, flavourful beer in the heart of Hackney since early 2013. Their Pale Ale has become an iconic beer in East London and beyond. Expect to be able to sample some sneak previews of brand new beers.
Beavertown (Tottenham) The folks at Beavertown have an incredible reputation for brewing phenomenal beer the world over. From brew-pub origins in De Beauvoir, Hackney to increasing world-domination, Beavertown beers all pack a flavour punch. Keep an eye out for their popular core range as well as exciting seasonals.
Partizan (Bermondsey) Distinctive beers with equally distinctive and eye-catching labels, Partizan have been brewing in a railway arch in Bermondsey since the end of 2012. Not ones to really stick to a core range, their artisan agglomeration of beers have been featured on the bar in craft beer hubs the world over, and you can go straight to the source of tastyface beers on most Saturdays–a highly recommended excursion.
One Mile End (Whitechapel) Brewing a dynamic range of inventive beers in The White Hart Brewpub in Whitechapel, One Mile End are fine East London fixtures on bars throughout the UK. Launched in October 2014, they are a brewery to watch as their capacity is due to grow this year when they move out from beneath the street and into a large brewery.
Redemption Craft Brewery (Tottenham) An award-winning urban craft brewery based in, established in 2010, Redemption brew a range of craft beers using subtle twists on traditional recipes and age old production methods which is reflected across a core range of seven cask beers. They place a particular emphasis on the provenance of their suppliers and ingredients are sourced from the very best suppliers in England.
Gipsy Hill Brewing Company (Gipsy Hill) The masterminds behind Gipsy Hill are focused on brewing "no nonsense, medium-strength beer" which is big on flavour, but not on ABV. Their sessionable beers have been a popular feature of previous London Brewers' Markets, and their tap house is a great place to visit when you're in Gipsy Hill.
Hackney Brewery (Hackney) Another quality East-London brewing outfit, Hackney Brewery were the first for decades to set up shop in Hackney back in 2011. Creating an ever-expanding range of cask ales as well as a seasonal and craft range, Hackney Brewery are a hive of activity in their railway arch near Hoxton Station.
Village Mentality
Now a tradition in itself, Village Mentality returns to the village green to celebrate 10 years of Field Day. And what could be a more fitting theme for the 2016 Games than ageing itself?
A decade holds a lot of changes but we're in it for the long haul, from nappies to zimmers, raves to riches, reminisce, fast-forward and then slowdown with a clutch of friends in a transient mix of classic team games and new transgressions that channel the spirits of a school sports day and a village fete; with a cap doffed and an eyebrow raised.
From the Nappy-wearing Relay Race, to a Stag and Hen themed Tug of War, Mid life crisis Pogoing to Buggy Wars. All accompanied to the strains of a real Brass Band and the cheer of a Real Ale Tent.
As ever there will be lovely prizes big and small to be had (Field Day tea towels, free drink and lots more) with the cherry on the cake being the perennial eating competition where true to form we will be celebrating the 10th anniversary of Field Day Saturday by asking our contestants – like latter day hungry caterpillars- to literally eat their way through 10 years worth of our eating contests. In 10 minutes they will chew the gauntlet of: carrot eating, onion peeling, blindfold sweetcorn husking, cucumber sandwich mountain, winkle picking, nettle eating, a Meringueathon, beetroot and celery guzzling, one hands-tied blueberry pie face off – with a slice of 10th birthday cake to finish. Timeless fun
FIELD DAY 2016 LINE-UP
Field Day Saturday 11th June 2016
James Blake
Anna Meredith / Ata Kak / Avalon Emerson / Baio (DJ set) / Bicep – Live
The Black Madonna / Champion / Coves / Danny L Harle / Dean Blunt / Deerhunter
Dilly Dally / DIIV / DJ Koze / Dusky – Live / Fakear / Fickle Friends
Floating Points – Live / Four Tet / Frisco / Gillbanks / Girl Band / Gold Panda
Greco-Roman Soundsystem / Hattie Whitehead / Holly Herndon – Live
Jackmaster b2b Gerd Janson / Kelela / KINK – Live / Little Simz / Loyle Carner / LUH Lxury / Mabel / Meilyr Jones / Mentsh (GRSS) / Metz / Moscoman
Motor City Drum Ensemble / Mount Kimbie DJ / Set Mura Masa / Nao
Nicholas Allbrook (Pond) / Nimmo / Novelist / Opal People / Orchestra Baobab
Paradise Bangkok Molam International Band / Plastician / Real Lies / Red Axes – Live
Rejjie Snow / Roman Flügel / Roots Manuva / Shock Machine / Siobhan Bell / Skepta
Sleaford Mods / Slimzee / Special Request / Tale Of Us / Tirzah / Wild Nothing Wooden Wisdom & Dj Fitz / Yeasayer / Yorkston Thorne Khan / Youth Lagoon
Field Day Sunday 12th June 2016
PJ Harvey
Air / The Avalanches / Adam Green
Beach House / Ben Watt Band feat. Bernard Butler / Blossoms
Brian Jonestown Massacre / Cass McCombs / Daphni / D.D Dumbo / Declan McKenna
Empress Of / Fat White Family / Formation / GOAT / John Grant / Junior Boys
Kimmo Pohjonen Skin / Mbongwana Star / Mind Enterprises / Molly Nilsson
Moon Duo / Mystery Jets / Optimo / Parquet Courts / Shearwater / Steve Mason Tangerines / The Temper Trap / The Thurston Moore Group / Tourist
TICKETS:
www.fielddayfestivals.com/tickets
FOR MORE INFORMATION PLEASE VISIT:
www.fielddayfestivals.com