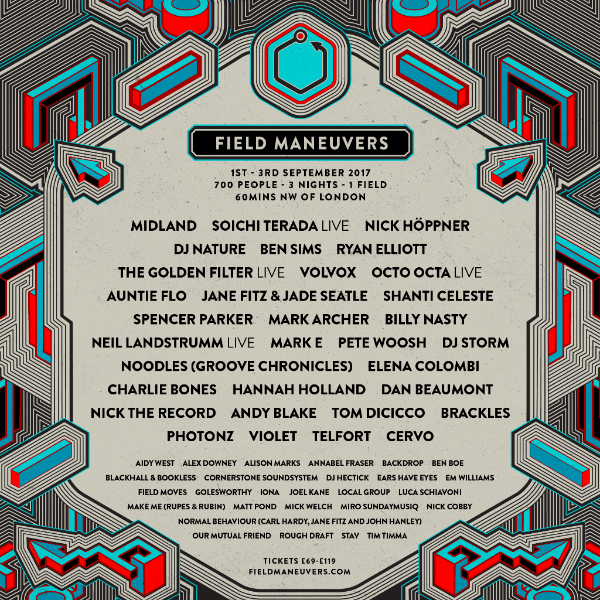 Field Maneuvers add more acts….
Across the first weekend in September, one (secret) field plays host to three stages, over 30 incredible artists, and 700 party goers, ready to take on the world class sound systems and a festival full of debauchery. In addition to the stellar roster of residents (including Ben Sims, Ryan Elliot, and Brackles), the Field Maneuvers family have pulled out all the stops for their fifth edition. Joining the bill will be the likes of live shows from Soichi Terada, The Golden Filter, and DJ Nature PLUS Jane Fitz and Jade Seatle reveal the line-up for their Night Moves arena.
Widely know for bringing his energetic vibe to every set, Soichi Terada will be heading to Field Maneuvers for a live show, alongside London VIA NYC duo and Optimo affiliates The Golden Filter, who add hazy electronic to the FM rave, in addition to the Sunday night headliner: the excellent DJ Nature, set to bring ample amounts of his signature sultry grooves – not to be missed!
NTS family are representing in full effect with the likes of Elena Colombi, and breakfast show championCharlie Bones in attendance. Bristol's finest Golesworthy makes a welcome return to the Field Maneuvers fold, as does versatile and vibrant selector Em Williams. More family members set to bring healthy doses of vibes, dubs, disco and funk include Tim Timma, Stav and the iconic Cornerstone Soundsystem.
Jane Fitz and Jade Seatle return to carefully curate their very own Night Moves stage across FM 2017, bringing their own motley crew of family, friends and fabulous selectors.
"At Night Moves HQ, we've been getting revved up about our Field Moves tent at Field Maneuvers.
The Field Moves 2017 line-up will see some DJs from the previous years returning as well as some exciting new names. Combine the DJs, the killer sound system, the African fabric interior, the gong light show and yet again we are set to envelop you in waves of sensory magic. And as always, we look forward to uniting behind the decks for our Friday back2back session in the main tent.
We've had so much fun and made so many great memories over the last 4 years in that field, we can't wait to do it all again this summer with the FM family. Hurry. Up. September." Jane Fitz & Jade Seatle
Night Moves, presented by Jane Fitz and Jade Seatle once again bring a hugely exciting range of artists to their tent at Field Maneuvers this September. Vinyl Underground affiliate Aidy West and Freerotation resident Alex Downey, join Alison Marks, and MCR native Annabel Fraser. Expect serious crate digging from collector and Those That Know boss Ben Boe, Backdrop DJs, abstract explorations withLuca Schiavoni, and Deep Systems founder Matt Pond, who are all set to cause mayhem across the three day rave. Rounding off the Night Moves stage are Elektrosouls boss man Mick Welch, LDN regular Miro SundayMusiq, non-normal selections from the infamous b2b extrodinaire crew Normal Behaviour, PLUS sets from the head honchos themselves Jane and Jade.
All of this is in addition to the HUGE bill of the likes of Midland, Nick Höppner, Octo Octa (live), Groove Chronicles, as well as the incredible residents roster featuring Ben Sims, Ryan Elliott, Brackles, Auntie Flo and more – full line-up below.
Run by a group of passionate lovers of music and a good knees up – Field Maneuvers has it all, a line-up to love, world class sound systems installed, and a family feel. Emulating the structure of old school free parties, FM are 100% not for profit, bringing the highest calibre of artists to a tiny set of institute faithful ravers ensuring guaranteed hands in the air moments for all involved. Key to this is the unspoilt ex-free party site location, which is revealed to ticket holders closer to the time, its an easily acceptable hour from London. Well equipped camping space is included in the ticket price, tickets are disappearing fast, and are already on tier FIVE, so snap one up quick time via RA: http://bit.ly/2kN1NHU
COME JOIN OUR 'DIRTY LITTLE RAVE'
Field Maneuvers 2017
Location TBA – 1-3rd September
Tickets: http://bit.ly/2kN1NHU
RESIDENTS:
Ben Sims – Ryan Elliott – Auntie Flo – Jane Fitz – Jade Seatle – Mark Archer – Mark E – Andy Blake – Brackles – Local Group – Pete Woosh
FULL LINE-UP (ALPHABETICAL):
Aidy West – Alex Downey – Alison Marks – Andy Blake – Annabel Fraser – Auntie Flo – Backdrop DJs – Ben Boe – Ben Sims – Billy Nasty – Blackhall & Bookless – Brackles – Cervo – Charlie Bones – Cornerstone Soundsystem – Dan Beaumont – DJ Hectick – DJ Nature – Ears Have Eyes – Elena Colombi – Em Williams – Field Moves – Golesworthy – Groove Chronicles – Hannah Holland – Iona – Jade Seatle – Jane Fitz – Joel Kane – Local Group – Luca Schiavoni – Make Me (Rupes and Rubin) – Matt Pond – Mark Archer – Mark E – Midland – Neil Landstumm (Live) – Nick Höppner – Nick Cobby – Nick the Record – Normal Behaviour (Carl, Jane, John) – Octo Octa (Live) – Our Mutual Friend – Pete Woosh – Phontonz – Rough Draft – Ryan Elliott – Shanti Celeste – Soichi Terada – Spencer Parker – Stav – Storm – Telfort – Tim Timma – The Golden Filter – Tom Dicicco – Violet – Volvox – Woosh
+ MORE TBA
Resident Advisor – "2016 has been one of the grimmest years in recent memory for the UK club scene… The good guys seem to be being crushed by the reality of British licensing, while parties run by teams of venture capitalists go from strength-to-strength. This is why festivals like Field Manuevers feel important. The whole weekend you're overcome by just how much love the team puts into what for them is their dream party."