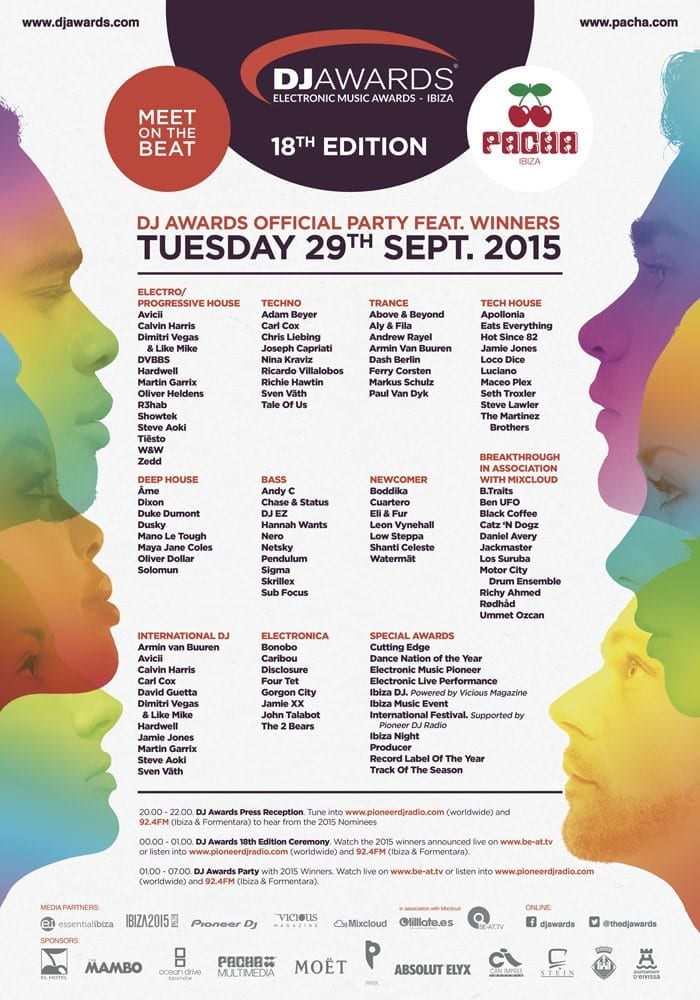 FINAL COUNTDOWN TO 18TH EDITION DJ AWARDS
It is now less than a week until the world of electronic music unites for the 18th Edition DJ Awards, the annual ceremony dedicated to the electronic music culture. On Tuesday,September 29th at Pacha Ibiza, Des Paul and Lucy Horobin will be presenting dance music's finest with the prestigious green Kyptonites, against the backdrop reflecting our theme "Meet on the Beat", signifying how music unites everyone.
Des Paul is at this point a stalwart of the ceremony with 2015 marking his 8th year as presenter. He knows his music having started his career working with pirate radio DJs from London before moving into mainstream radio with the legendary Capital FM in London.

Lucy Horobin is a UK radio & TV presenter and a self professed Ibiza addict. She currently co-presents the 'Getting you Home' show on Heart London, and Saturday breakfast across the entire UK network of Heart stations, reaching an audience of up to 9 million people each week.

Pacha Ibiza resident and Seamless Recordings main man Graham Sahara will be providing the soundtrack to the proceedings to this invite only affair. Graham has been playing at islands most influential venues as well as touring globally. He is the content director of Pioneer DJ Radio and is highly regarded for his musical knowledge and abilities to play set across every genre.
There will be 21 awards presented on the night in front of an invited audience, 10 DJ Categories which are voted on by the public as well as 11 Special Industry Awards that are selected by a panel of electronic music professionals. There will be a live PA of one the anthems of Ibiza 2015, Marvinello by Michel Cleis & Klement Bonelli featuring Martin Wilson.

Directly after the gala ceremony doors open to the public for the Official DJ Awards Party with a stellar lineup featuring some of the 2015 winners.

For those who cannot make it, the ceremony and party will be broadcast on Pioneer DJ Radio and Be-At-tv.

The schedule will be as follows:

20.00 – 22.00 – DJ Awards Press Reception. Tune into Pioneer DJ Radio worldwideand 92.4FM in Ibiza & Formentera to hear from the 2015 Nominees

00.00 – 01.00 – DJ Awards 18th Edition Ceremony. Watch the 2015 winners announced live on BE-AT.TV or listen into Pioneer DJ Radio worldwide and 92.4FM in Ibiza & Formentera.

01.00 – 07.00 – DJ Awards Party with 2015 Winners. Watch live on BE-AT.TV or listen into Pioneer DJ Radio worldwide and 92.4FM in Ibiza & Formentera.
All press wishing to attend must be accredited prior to the event.