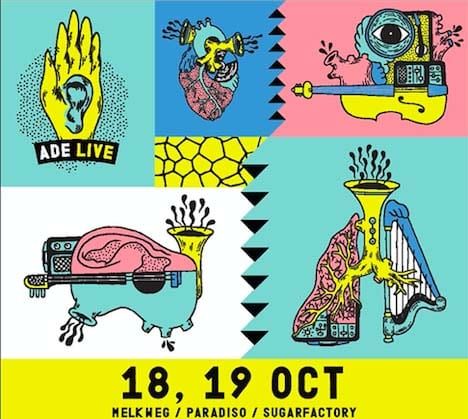 First Acts Announced For Ade Live
After a sold out first edition, ADE LIVE returns to Paradiso, Melkweg and Sugarfactory to showcase the best live electronic music artists. For the second year in a row, the Amsterdam venues join forces with Amsterdam Dance Event (ADE) to offer live electronic music a serious spot within the biggest club festival in the world. Among the first artists that will perform on ADE's Wednesday, Thursday and Friday are Fatima Yamaha, Hercules & Love Affair, Anna of the North, Phlake and Vessels
The first edition of ADE LIVE proved that electronic live acts an exciting and growing part of the dance music scene. Adventurous fans and professionals saw talented artists like RÜFUS, HVOB, SUUNS and Jesssy Lanzy burn the house down. They built the foundation for a prominent place within the biggest club-festival of the world. We pick up where we left off, with even more ambition: more venues, more artists and more to discover. In addition to the OZ and Upstairs, Melkweg will open their biggest hall Max and Sugarfactory will also be showcasing on the first night, in addition to the second. Paradiso only used the small room last year, but this year they open up all doors. A statement that shows ADE LIVE deserves to get bigger and the acts more recognition. Expect dark-romantic electro-funk from Fatima Yamaha, also known as Bas Bron, who amassed a cult status with 'What's A Girl To Do' and recently made a comeback with his latest EP 'Araya'. The nu-disco, house and drop of Techno of Hercules and Love Affair, Arjunadeep's Cubicolor and the jazzy electro of Marian Hill are just a few of the names we released and know there's still a lot more to come!
Check the full line up below.
Wednesday October 18 Paradiso:
Sugarfactory
Fatima Yamaha (NL)
Palmbomen II (NL)
Bruxas (NL)
Wednesday October 18 Sugarfactory:
(presented by PIAS nights)
Anna of the North (NO)
Vessels (GB)
Thursday October 19: Melkweg / Sugarfactory
Hercules & Love Affair (US)
Cubicolor (NL)
Marian Hill (US)
Phlake (DK)
Nambyar (NL)
ADE LIVE is supported by the Performing Arts Fund NL.
The Amsterdam Dance Event takes place from the 18th to 22nd of October, 2017.
About ADE
Since its inception in 1996, ADE has grown into a globally renowned platform for the international dance and electronic music scene. The festival is the perfect place to spot the latest musical trends and emerging talents, as well as hearing the most recent work of both electronic music pioneers and current superstar acts. In addition to the extensive line-up of the ADE Festival, the ADE Playground offers music enthusiasts a large and varied daytime program including exhibitions, in-store promotions, pop-up stores and film screenings all over the city center. The business aspect of the event (ADE Conference) is recognized as the most important of its kind, presenting a broad range of conferences and networking opportunities that focus on music and technology, VJs & visuals, sustainability, dance & brands, harder dance styles, new talent and the education of students.
For more information about ADE: www.a-d-e.nl
The Amsterdam Dance Event is organised by the Amsterdam Dance Event Foundation, an initiative of Buma.