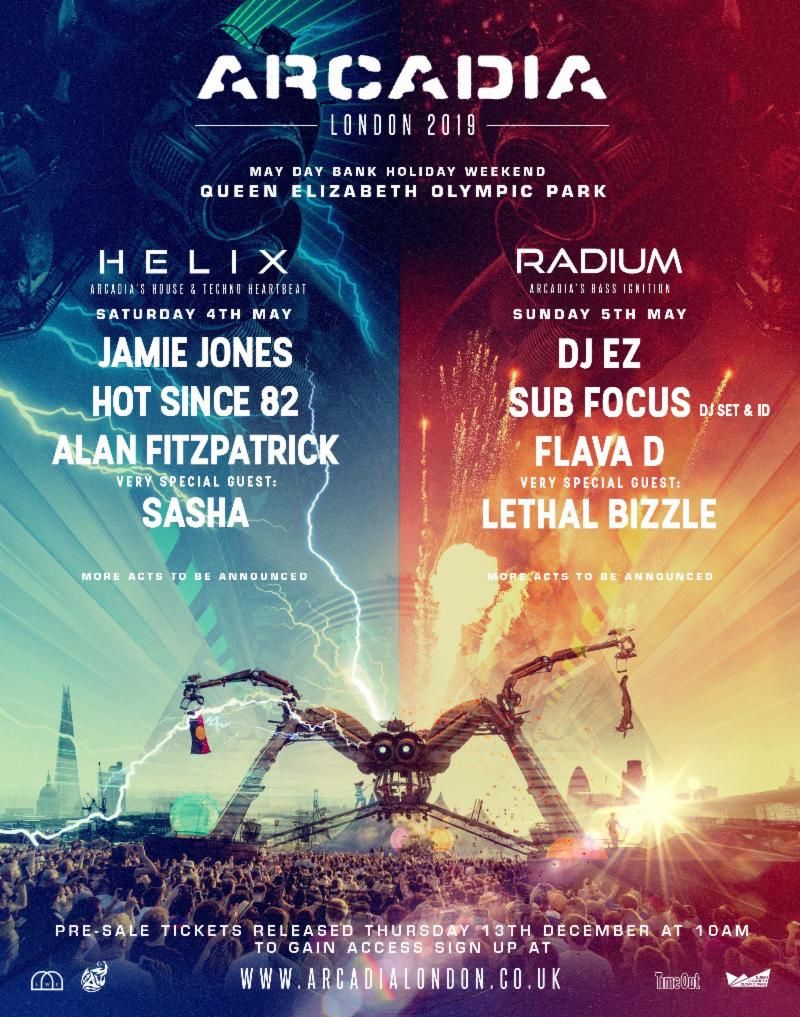 First Acts Announced for Arcadia London
As the mighty Arcadia begin weaving a whole new web of immersive magic at London's Queen Elizabeth Olympic Park for the Spider's only UK show next May Day Bank Holiday – the first wave of artists has now been unleashed.
The twin Arcadia worlds across the two day festival are already beginning to cast their spells with Saturday'sHelix pulsing to a house and techno heartbeat while Radium's Sunday's bass ignition triggers an eruption of roots, colour, energy and fire.
Helix is an all engulfing journey through the primal power of 4 to the floor rhythm with an extraordinary series of artists stepping up to code its DNA. Fresh from his ground breaking Barbican show, DC10 alchemist Jamie Jones is deep in the lab synthesizing a vivid new soundscape of heaving bass, tribal depth, uplifting peaks and magnetic emotion for his signature set of the year.
What can you say about Sasha – transcendental since the dawn of acid house with mercurial, otherworldly frequencies surfing an eternal beat while Alan Fitzpatrick slams out the heavyweight bangers on a runaway freight train and Hot Since 82, riding high on the runaway global success of his Knee Deep and Labyrinth events, slings down party starting rhythms, peak time euphorics and melodic soul.
Radium sees the bass heavy pressure fly with EZ pitting his full turntablist arsenal against the Spider's full spectrum of mayhem. One of the world's most adventurous and flamboyant DJ's on a real time rollercoaster through three deck cutmaster mixing combined with giant flame bursts, flying creatures, and a whole new collaborative set of SFX. This is EZ as you've never seen him before.
Joining him is laser guided bass weapon, Sub Focus whose drum n bass earthshakers fuse a whole panoply of musical influences into a sonic cyclone while ID steps up on the mic to ride the storm. Hot off the back of her XOYO residency and on a serious roll comes Flava D to tear up the dancefloor in her first major festival appearance of the summer, while special guest Lethal Bizzle takes over the Olympic Park with rampaging hip hop, cutting edge grime and sun soaked uproar……. Colour, riddim, roots and soul – the Radium is glowing red.
Each artist will be bringing their own pulse and their own magic to the immersive Arcadia ecosystem, working with engineers, performers, SFX specialists and visionary nutters to take the only UK Spider show to a whole new level.
The May Day Bank Holiday weekend will see the iconic Spider's only UK stop, the only event held at Queen Elizabeth Olympic Park in 2019, the only UK performance of the evolving Metamorphosis show, a brand new incarnation of The Reactor – Arcadia's 360 degree immersive indoor experience, the 6 wheeled amphibious Bug rolling out the carnival spirit, new sculptures, new installations and a fresh wave of ground-breaking performance alongside these ten artists to be announced soon.
East London will be transformed into a mythological landscape for an accelerating future with a giant party at its centre. As strange creatures converge on Stratford, giant flames erupt across the skyline, lightning bolts crackle through the city, animatronic sculptures glint against the skies and technology's cutting edge is unleashed through the Reactor, Arcadia harness energy in its most visceral forms to create unforgettable experiences.
Pre-sale tickets released this Thursday 13th December at 10am. To gain access register at www.arcadialondon.co.uk