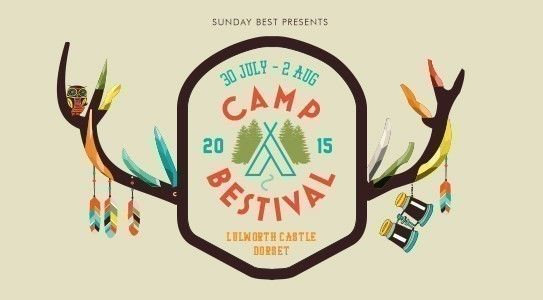 First Acts for Camp Bestival 2015 Announced
It might be cold outside but things are really hotting up at Camp Bestival HQ! It's all coming together for what is destined to be the wildest Camp Bestival yet, and boy do we have a gargantuan line-up announcement planned for early January. But because we're just a bit too excited, and because it's Christmas, we want to give you a tempting taster of what's to come announcing two pretty special headliners and just some arts fun that will be gracing Camp Bestival Goes Wild this 30th July – 2nd August at Lulworth Castle on Dorset's stunning Jurassic coast.
Rob da Bank says: "Here we go again, my wild and wonderful friends! It's all getting pretty festive down at Camp Bestival HQ, and whilst we were sat in front of a blazing fire eating too many chocolates we thought why not spill the beans on just a smidgen of the acts that will play Camp Bestival 2015… So, without further ado, let's intro Clean Bandit as our Friday night headliner who are gonna knock it out the castle with their string led electronic knees up, moving onto Saturday and our special guests will be the riotous Kaiser Chiefs and closing it all down in spectacular fashion one of my favourite acts of all time, Underworld, who are a blistering live act 20 years on from dubnobasswithmyheadman. Prepare to get Born Slippy and pretty wild! Have a fantastic Xmas all my Camp Besti buddies".

Yes indeed, the Caste stage will be bouncing this summer at our fest-holiday jamboree with a headline performance from techno gods Underworld who have recently been celebrating the 20th anniversary of their seminal dubnobasswithmyheadman release with what we can only describe as utterly mind-blowing live shows, and we just can't wait to see them!
Underworld said of their show closing headline set: "We're really excited to be making our debut at Camp Bestival in 2015. We'll be bringing a show for acid house veterans and festival first timers alike, so see you there next summer".
Baroque pop giants Clean Bandit will also be playing a brilliant headline set for us! Fusing lush classical motifs with deep house and electro pop, they blew us away a couple of years ago, and now they're back at the top of the bill to do it all again! Ace. And finally for now, we can announce our very special guests, the ultimate sing-along mob, Kaiser Chiefs! We predict a riot of mums and dads singing at the top of their voices on Saturday night. And don't forget, there are a host of new acts, old faves, and way beyond still to announce!
There will, as ever, be a thrilling mix of theatre, shows, attractions, activities, poets, authors and talks for all the family, including some incredible new shows like The Cat in the Hat. Yes! We're ridiculously excited to say that Dr Seuss's best-loved creation will be rocking the tots (and let's face it, everyone else) in Lulworth with us this summer. If you can find a more joyous and lively kids theatre show we'll eat our hats! And back by extremely popular demand were delighted to say Dick V Dom Go Wild in the Ring will see our favourite duo unleashing their unstoppable madness for everyone to enjoy. Anyone who's seen them before will know that they're unmissable, so make sure you're there! There's so much more arts, theatre, shows and more to announce, from the most beautifully enchanting to the sublimely silly, so watch this space when we tell all in January.
And we'll also have an adventurous mix of truly wild fun and games throughout the weekend, including Explore Your Inner Beast, which will be all about bushcraft, den building, foraging, survival skills and wild cooking, and Woodland Adventures, which will maximise the wild times with mud kitchens, campfires, nature hunts, mass sleep outs, daily picnics and falconry. There's loads more Wild action happening, so look out for lots more info in the New Year, plus we'll have the return of The Den and so much more. We can't wait to tell you all about it!
If that's whetted your appetite suitably then why not guarantee yourself a nature fuelled summer and treat your loved ones to some tickets with our amazing Camp Bestival Christmas offer? As well as entry to Camp Bestival, all tickets ordered before 19th December also get a super-festive and exclusive Camp Bestival Christmas card and a souvenir ticket.
Tickets for Camp Bestival 2015 (July 30th to Aug 2nd) are on sale now via: Ticketline / 0844 888 4410
WEEKLY PAYMENT PLAN:
You can use our 30 week payment plan to purchase your tickets meaning that an adult ticket can now be bought at a payment of around £5 per week over 29 consecutive weekly payments following an initial deposit payment. Book online via Ticketline only: select 'Camp Bestival 2015 – Weekend Payment Plan'.
Once you have signed up to the payment plan, which basically means giving your agreement by ticking the bank mandate form on Ticketline's website, they will automatically debit your card on a weekly basis. More info here .
NB: Booking fees and a deposit (£25 per adult ticket) will be charged with your initial transaction.
CAMP BESTIVAL 2015 WEEKEND TICKET PRICES:
Adult Weekend Ticket (inc. camping from Thurs or Fri) – £195*
Student Weekend Ticket (inc. camping from Thurs or Fri) – £180*
Age 15 to 17 Weekend Ticket (inc. camping from Thurs or Fri) – £113*
Age 11 to 14 Weekend Ticket (inc. camping from Thurs or Fri) – £88*
Age 5 to 10 Weekend Ticket (inc. camping from Thurs or Fri) – £20*
Age 4 & Under Weekend Ticket (inc. camping from Thurs or Fri) – FREE (but ticket required)*
*NB: please refer to the Camp Bestival Ticket Terms & Conditions
Car Parking – £15 advance
Campervan Ticket – £72 per vehicle – please read Campervan T&Cs here before booking
Caravan / Trailer Tent Ticket – £83 (One car only per caravan/trailer tent – no exceptions) (available via Ticketline only) – please read Caravan / Trailer Tent T&Cs here before booking
All Tickets – will incur a booking fee.
CAMPING PLUS: Camping Plus plots cost £125.00 (max of 2 adults and 4 children per plot) and are perfect, not only if you know you won't be arriving as soon as the gates open, but also if you just want the comfort of knowing that you've got your camping space sorted. Book now.
HOSPITALITY CAMPING: Hospitality Camping offers luxurious creature comforts in a beautifully designed, spacious campsite with fast access to the heart of the main Castle Stage arena. With premium toilets, hot showers, free yoga sessions, private parking and a meet and greet concierge service, Hospitality Camping is the place to stay for the ultimate high-end family festival experience. Head here for more info