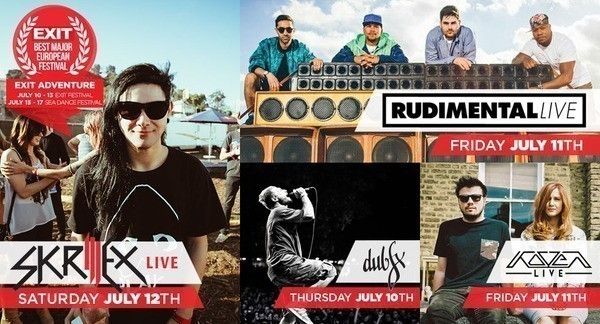 First Acts for EXIT Festival: Skrillex, Rudimental, Dub FX, Koven
Brace yourselves: EXIT's biggest adventure is coming! After last year's X-Bass Main Stage success, the award winning festival is set to go event further and get even louder! Prepare yourselves for a once-in-a-lifetime event that spans two countries and features some of the most exciting names in electronic music, to celebrate the festivals 15th edition in style! The first of a long list of exciting live acts promising to blow up the EXIT backline are none other than SKRILLEX, RUDIMENTAL, DUB FX and KOVEN!
Making his EXIT Festival debut in 2014 will be SKRILLEX, one of the most inspirational figures for the new generation of electronic music fans and is one of the most wanted DJs in the world. With a genre-defying armoury that includes Scary Monsters and Nice Sprites and Bangarang, he's not only won the audience's hearts, but also six Grammy awards, including Best Dance Recording and Best Dance/Electronica Album as well as MTV Video Music Award. In July 2012, he reached the top of the Billboard Social chart – with over 14 million followers on Facebook, and over 3 million on Twitter. Currently in the midst of planning a brand new live show for summer 2014, Skrillex is guaranteed to rock EXIT festival to pieces with never-seen-before special effects and previously unheard audio. Make no mistakes: Skrillex's appearance at EXIT will go down in festival history.
RUDIMENTAL also promise to shake the fortress walls down to their very foundations. Breakthrough Act Of The Year in 2013, as voted by more than half of million fans on UK Festival Awards, RUDIMENTAL, have taken the British and European music scene by storm. Bursting out of London's underground music scene Rudimental are coming to EXIT with their amazing live show. A pioneering melting-pot collective championed for their uncompromising approach to music-making whilst avoiding rigid classification. This act reached number one in the UK Official Charts with their single Waiting All Night in April 2013, beating even Daft Punk to the top spot. Two weeks later, their album Home debuted at number 1 on the UK Albums Chart. No other act stirs a musical melting pot with as much flavour or thunder as Rudimental… And EXIT Festival can't wait to have them on board!
An addition to the powerful bass lineup comes in the form of Benjamin Stanford, aka DUB FX. Set to performing on Thursday, July 10, Dub FX has developed a remarkable following through a wholly DIY approach. Everything he does is created with his own voice and serious loop-technology wizardry. His video for "Love Someone", recorded in the streets in 2008, serves as the perfect example of his unquestionable talent. A veritable postmodern messiah, he will present his third studio album "Theory of Harmony" to the EXIT audience. Released only a month ago, it's a unique manifesto of his philosophy: peace, positivity, joy and healthful pursuits. Something we can all relate to and embrace!
We can also confirm the appearance of white-hot bass-burning duo KOVEN. Creators of one of last year's hottest singles "More Than You", they will be performing at EXIT's Main Stage on Friday, July 11. You can expect the full package from these dubstep youngsters, especially their live set all infused with grinding bass combinations and effortless musicality. From the moment of their arrival to the bass scene, they became favorites of many stars, including The Prototypes, Borgore and Hadouken.
Watch the live announcement here…
EXIT was crowned 'Best Major Festival' at the 5th annual European Festival Awards, which took place at Groningen's De Oosterport in The Netherlands on January 15th. More than 360 festivals from 34 different countries applied to take part in this year's European Festival Awards, and over 620,000 festival fans all over the world voted.
EXIT will once again be the 'Fortress of Bass' with a second year partnership with the world renowned bass music champions UKF. With a truly international event pedigree, and over 7 million subscribers regularly tuning into their channel, UKF will once again be taking full responsibility for the Main Stage night time line up from 1am right the way through to EXIT's iconic fortress sunrise. Our festival goers deserve a mind-blowing after party… And we know UKF are going to deliver that with their next-level line-ups and their on-point explosive vibe. All will be revealed very soon.
So are you ready for the ADVENTURE? This summer will be marked with the sign of EXIT ADVENTURE which will take us to EXIT, held from July 10th to 13th at the Petrovaradin Fortress in Novi Sad, continuing at SEA DANCE FESTIVAL, held from July 15 to 17 at the beautiful Adriatic Jaz Beach in Montenegro. Get ready for an unforgettable road trip and enjoy a diverse range of artists, for seven unforgettable nights spent with your best mates in the sizzling hot Balkan sunshine. Sounds good? It's time for EXIT ADVENTURE!
TICKETS, TRAVEL & ACCOMODATION
EXIT FESTIVAL regular 4 day ticket £95 / 110 Euros + b/f
EXIT ADVENTURE (EXIT + SEA DANCE FESTIVAL) tickets £105 / 125 Euros
Camping tickets for EXIT and SEA DANCE will be available at the price of £25 / 30 Euros each +b/f each.
Buy tickets here: www.exitfest.org/en/worldwide
Getting to EXIT is easy! The nearest airport is Belgrade, with flights from the UK with JAT and Wizz Air and many others with all European carriers. Belgrade is only one hour from Novi Sad and you easily can take a taxi or shuttle bus. EXIT Trip is the Official Travel and accommodation service for the EXIT Festival with the lowest prices guaranteed! Travel packages from only £115 / 139 Euros including festival ticket, transfers and accommodation. More information on packages, tickets, travel and accommodation here www.exittrip.org
EXIT IS A NON PROFIT ORGANISATION:
As well as the Music, EXIT never forgets its beginnings and aims to evolutions the revolution it started more than one decade ago with several key topics to improve initiative, engagement and further development of young people. EXIT is the only music festival to be created as an effect of youth activism and aims to continue to mobilise the public opinion and thought leaders in the field of youth development on a regional and a global level.
On the opening day of the festival, and the birthday of Nikola Tesla, one of the greatest scientists and inventors of all time, an initiative for Serbia's (re)branding took place with EXIT taking a leading role in promoting positive changes and the image of Serbia and Balkan region to the world and boost its tourism and economy development.
An agreement with the cooperation of the University of Novi Sad and EXIT was signed, with a goal to promote the importance of culture, science and education among the youth and the society in general. A special tribute was paid to one of the biggest scientists and inventors of all time, the brilliant Nikola Tesla, whose name was featured on the name of the festival's main stage, as well as the Tesla Corner, named after the famous Tesla Corner in New York City, where the visitors had the opportunity to interact with various experiments.
Through a series of public discussions, media articles, workshops, lectures by successful startups, Exit is encouraging young people to take destiny in their own hands and start their own start up business. Several workshops took place on festivals were mentors were giving free lecturing about various topics including; how to create/produce electronic music.
The leading European eco-conference Go Group in cooperation with the European Festival Association was also held, alongside a large number of socially responsible actions that were created during the festival, and whose results will come to life during the next edition of the festival.
Other projects EXIT are involved with are promoting positive role models for young people in the region and highlight all those young, talented, creative people who work hard everyday to make positive change in their own life and their community. Exit donated hundreds of free tickets to the best students, youth activists, young artists and young humanitarian workers.
EXIT. Where hedonism meets activism.
www.exitfest.org