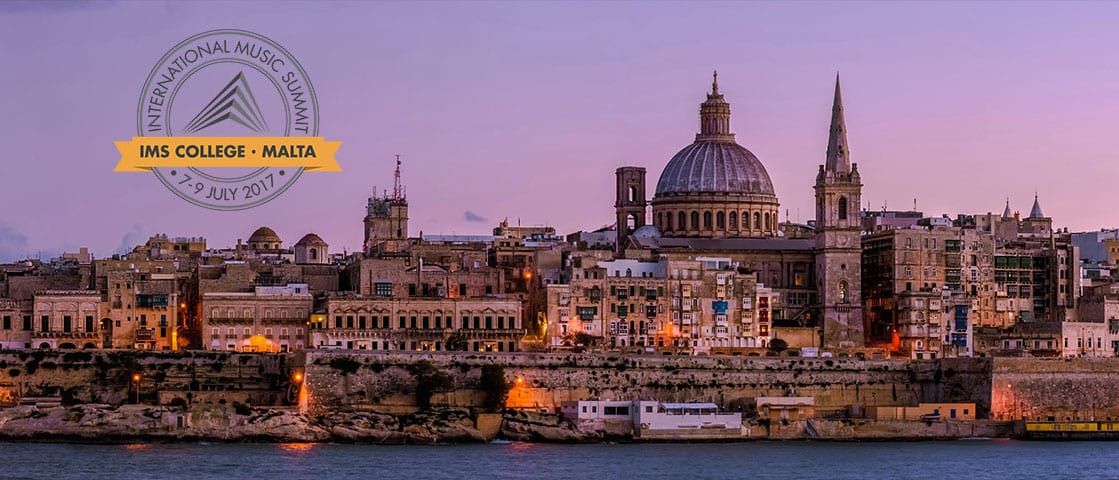 First speakers announced for IMS College-Malta announced.
The team behind International Music Summit (IMS) Ibiza extend their global reach with the second annual IMS College – Malta (SUMMER CAMP). A curated educational initiative aimed squarely at the emerging music industry professional and next generation of artists from around the world.
Returning for the second year to the Mediterranean island of Malta on July 7-9, attendees will learn by day and party by night during the two-day, three-night program. Developed to inspire and help cultivate the next generation of business leaders and creative minds in the electronic music industry, the summer camp will provide key tools and knowledge to help develop careers, via an intensive and highly practical learning experience.
IMS College – Malta has identified four pillars of music education to help break into the industry:Performance, Production, Promotion and Publishing. From the first chord played in the studio to the final encore onstage, from launching a label to forging a career in artist management, IMS College – Malta will break down all the significant areas into a foundation master class for all that attend.
Partnering with leading music production institute Point Blank Music School and Berklee College of Music to provide experienced instructors, masterclasses and hosts.
The aim of the IMS College series is to provide a 360-degree, face-to-face learning experience, constructed with a curated program of panels, keynotes, networking sessions and workshops from key industry figureheads from across many sectors of the electronic music industry.
In addition to his DJ performance by night, the legendary Sven Väth will provide a special and intimate Keynote Interview to give a rare insight into his extraordinary and well-celebrated career spanning over 30 years. French techno connoisseur Agoria will bring his vast technical knowledge to a production master class with Point Blank Music School. One of the key driving forces in thoughtful-electronic music, fellow Parisian Technasia, will bring his experiences of production, live performance and label endeavors to a keynote address. Also speaking will be Spain's UNER, an artist known for his energy and creativity both in and out of the DJ booth. Mia Amare will share her experiences as an up coming DJ, how she achieved millions of YouTube views and her rapid fan base growth.
IMS College – Malta will include Stuart Knight, founding partner of Toolroom Academy, who has used his extensive experience to build the Toolroom empire embracing singles, compilations, artist development, live touring and their own educational format, the Toolroom Music Academy.
Carly Hordern, of Point Blank Music School brings her discerning musical ear and background as a DJ and producer, joined by colleagues Creative Director JC Concato and Content Development Manager Ski Oakenfull in co-curating and hosting day one of the summer camp.
Berklee College of Music, from their Valencia output, will bring their expertise to a technical production workshop, led by broadcaster and label head Nacho Marco, one of the most respected DJs and prolific producers on the Spanish electronic music scene.
Attendees will also hear from Ralf Kollmann of Mobilee Records and the Associaton for Electronic Music's CEO Mark Lawrence; whom both recently spoke passionately about the future of the electronic music industry at IMS Ibiza. Mark Brown, founder and CEO of CR2 Records, will be sharing his decades of experience and insight into how to get your music signed, heard and the inner workings of an independent record label. Also contributing is Renaat Vandepapeliere, founder of R&S Records, a true pioneer who has run one of electronic music's foremost labels for over 37 years and has signed everybody from Aphex Twin and James Blake to Tale of Us.
There will be a host of local speakers also debating the changing landscape of Malta, its DJ culture and its new position as a leading nightlife destination with contributors Ziggy, Carl Bee, DJ Ruby and Daniel Blade.
It is not all work at IMS College – Malta throughout the weekend attendee will enjoy performances from world leading artists; beginning on Friday night with Sven Väth, the pioneering founder and figurehead behind Cocoon who will be joined by leading French DJ Agoria. Saturday brings Todd Terry, one of House music's biggest names and one of the founding fathers of today's sound; closing the weekend isRichy Ahmed, the talented British house music producer, Hot Creations DJ and artist of the moment.
IMS co-founder Ben Turner states "After celebrating ten years of our flagship event IMS Ibiza, now we give back to the next generation in Malta – one of the hottest emerging music destinations in the world. We are very proud of this new format and the knowledge and wisdom being shared at our second event is simply an opportunity not to be missed if electronic music is your vocation in life!"
Nicolas Spiteri from local Maltese partner 365 Entertainment Group comments: "356 Entertainment Group is looking forward to the second edition of IMS college here in Malta. Our aim is to keep pushing boundaries and putting Malta in the International map as a destination for youngsters. IMS College is the perfect platform for this".
ARTIST SPEAKERS
Agoria (Artist, France)
Mia Amare (Artist, Russia)
Sven Väth (Artist, Germany)
Technasia (Artist, France)
UNER (Artist, Spain)
INDUSTRY SPEAKERS
Carly Hordern (Point Blank, Presenter/A&R, UK)
Jack Bridges (Beatport, Director of Artists, Labels, Sounds, Berlin)
JC Concato (Point Blank, Creative Director, France)
Mark Brown (CR2 Records, CEO, UK)
Mark Lawrence (AFEM: Association for Electronic Music, CEO, UK)
Nacho Marco (Berklee College of Music, Professor of Music Production, Technology & Innovation, Spain)
Olivia Bowlby (International Music Summit, General Manager, UK)
Ralf Kollmann (Mobilee, Co-founder, German)
Renaat Vandepapeliere (R&S Records, Founder, Belgium)
Ski Oakenfull (Point Blank, Content Development Manager, UK)
Stuart Knight (Toolroom Academy, Director, UK)
Badge prices:
€70 for two day conference and three evening events
€25 for two day conference for Maltese residents