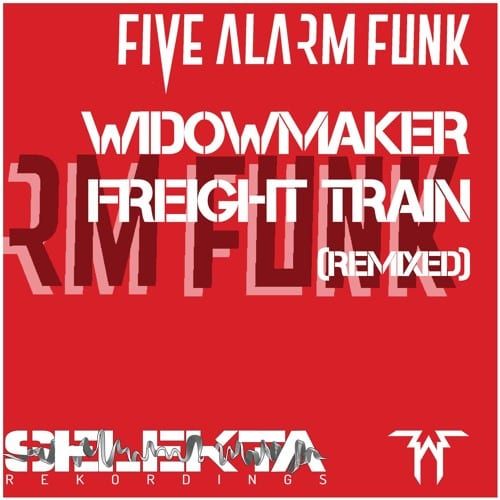 Five Alarm Funk Widowmaker / Freight Train (Remixed)
Selekta Recordings returns with the serious grooves of Five Alarm Funk, an 8 piece 'gypsy-rock, afro-funk, latin' band from Vancouver. With six fiery albums under their belt, the band lends two rousing cuts — "Freight Train" and "Widowmaker" — to the label for late night remix treatments.
The two original songs confirm the talent, die-hard rhythms, and wall of sound that Five Alarm Funk are known for. Loads of percussion, in-your-face horns, and slinky bass and guitar beam these sounds straight into the boogie zone. And then — the quality remixes come fast and furious. Italian producer and sound engineer Max Paparelladelivers a suave nu-disco version of "Widowmaker," rolling at a glorious spacey pace to add class anywhere it's played. Selekta mainstay Statedlife surprises with a breakbeat mix of "Freight Train," giving the dance-floor b-boys a reason for freaky footwork. And NYC house music veteran Dirty Dan totally turns the tables on "Freight Train," dropping a deep and chuggy four-on-the-floor remix that's perfect for 4 AM warehouse moments. Feel the funk!
Label and Artist Links:
www.selektarecordings.com
www.fivealarmfunk.com/