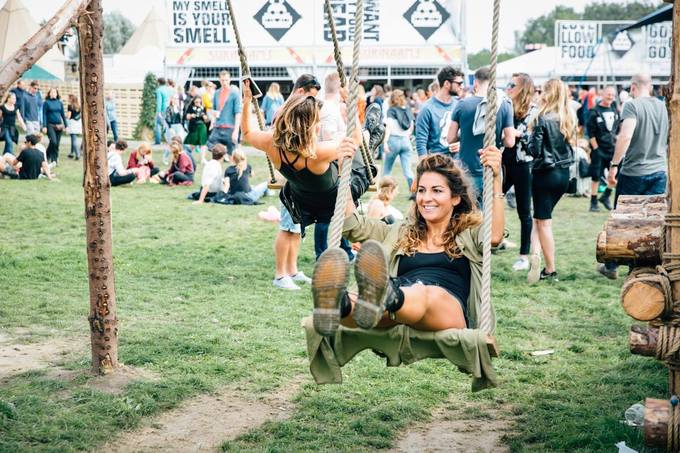 Five reasons not to miss Lowlands Festival 2018
Lowlands is one of Europe's most famous weekenders that's been a Dutch rite of passage since 1993, with a greater number of foreign visitors arriving every year. It lives up to its full name – A Campingflight To Lowlands Paradise – as Holland's best all-rounder festival with one of the most eclectic lineups in Europe.
Set in the northern rural area of Biddinghuizen (try saying that after a few beers), it's also one of the easiest European festivals to plan, with the site roughly an hour on the train from Amsterdam Schipol Airport. With hundreds of performers on site you'll find something to get lost in, from hip-hop and indie on the main stages, to snarly early-hours techno tents. This year a few big draws are Kendrick Lamar, Stormzy, Gorillaz, NERD, De La Soul, The War On Drugs, Patti Smith, James Bay, Nile Rodgers, Richie Hawtin and Kiasmos, but the list goes on. It's no wonder it's sold out already!
Here's five reasons to take a flight to Lowlands Paradise…
It's a proper lost weekend
The Dutch are proud of their work hard, play hard ethic, and Lowlands is maybe the biggest collective letting off steam caper of the year. You can't buy day tickets – once you get your wristband on Thursday you're in it for the long haul, no annoying Sunday newbies gatecrashing the party.
Organiser Eric van Eerdenburg says: "If you come to Campingflight you come in on Thursday and leave on Monday, there are no fresh virgin spirits coming in! On Sunday, people may be going berserk, but people are connected all over the field — it's a dream place."
No queues
Every UK festival punter has horror stories of missing their favourite band while they're standing cross-legged at the portaloos for half an hour, or they're 12 deep at a bar run by sloths. Queueing can knock the wind out of any festival experience, but there's no reason it should be some attainable holy grail. Lowlands has a capacity of 55,000 but your wait for a beer is as stressful as ordering a pint at your local on a Sunday afternoon – no queues. How did these Dutch geniuses solve this eternal puzzle? Eh, simple arithmetic: hire enough bar staff, have enough bars and enough toilets. And their 'Munten' token system is a breeze too – just buy tokens from dozens of vending machines around the site and use them at bars and food stalls so there's no waiting for change. Oh, and there's no queues for the token vending machines either.
Campsite community
We're setting the bar pretty low here, but punters at Lowlands don't set the campsite on fire – a bit of a tradition at UK festivals when things get a little bit feral. The Lowlands campsite is a picket-fence suburb compared with the skid row UK version. There's an abundance of toilets, showers, food stalls, art installations and bins – there's virtually no litter. And you don't see any belligerent messy drunks, everyone's sound – even the lads last year in the camper van flying a Jagermeister flag like a Jolly Roger.
Not just about the music
Festivals have to stop pretending they're 'boutique' as soon as they add a comedy tent, a yoga session and a van selling ostrich burgers with a handful of rocket leaves for a tenner. Most festivals these days offer other artistic alternatives from the music, but Lowlands has a spectacular alternative programme if you fancy taking a time out from the music stages. This year you can attend poetry and literature readings, the Dutch National Ballet, philosophy debates, outdoor theatre, cult movie specials and science seminars. And if you want something a little more daft, last year there was a giant washing machine that turned into a foam party.
You wont get wet (much)
Let's not kid ourselves here – northern Holland is not exactly the south of Spain so you're not always promised scorchio weather. You could be caking on sunscreen one minute, then ducking out of a lightning storm the next. Luckily you've somewhere to escape if it rains. Being Dutch and hyper-efficient, the Lowlands crew make sure all stages are covered – whether that's the big top tents, the hangar-like Alpha main stage or the various pop-up clubs around the site. Beats standing in the muck at the main stage with a Pound Shop poncho billowing around your face.
Lowlands runs from August 17-19 at the Walibi Holland Event Center in Biddinghuizen, with camping from Thursday 16th. See lowlands.nl for details.
Full Line Up:
Gorillaz, Kendrick Lamar, N.E.R.D, The War On Drugs, Dua Lipa, James Bay
Bonobo, Dropkick Murphys, Gavin James, Gogol Bordello, Grizzly Bear, Jacob Banks, De Jeugd van Tegenwoordig, King Gizzard & The Lizard Wizard, Nick Murphy, Nile Rodgers & Chic, Nils Frahm, Patti Smith, Rag'N'Bone Man, Richie Hawtin Close, Spinvis, De Staat, Stormzy, The Tallis Scholars, Tom Odell, $uicideboy$, Âme II Âme, Bazart, Ben UFO, Bicep (live), Blaudzun, The Blaze, Børns, BROCKHAMPTON, Charlotte De Witte, Daniel Avery, David August, Death From Above, De La Soul, DeWolff, DMA's, Fatima Yamaha, Floating Points (solo live), George FitzGerald (live), Ho99o9, Jarreau Vandal, Jordan Rakei, Kiasmos, Lauv, Little Simz, Louis The Child, Max Cooper, Maribou State, Miles Kane, Motor City Drum Ensemble, Mr Carmack (dj set), Peggy Gou, Protoje & The, Indiggnation, Protomartyr, Red Axes, Rhye, San Holo, Sevdaliza, Sofi Tukker, Surgeon, Tom Trago (presents Bergen live), Warhaus, The Wombats, Yaeji, ZHU, 47Soul, Agar Agar, ALIKA & Nueva, Alianza, Amber Run, Amenra, Amyl & The Sniffers, Arp Frique & Family, Avalon Emerson, Born in Flamez, Cabbage, Carista, Cartiez, Chase Atlantic, Christeene, Confidence Man, David Vunk, Dinamarca, Dr. Rubinstein, Eefje de Visser, Employed to Serve, Ezra Furman, Faisal, Ferocious Dog, The Fever 333, Gaika, Jacin Trill, Jade Bird, Jayda G, Job Sifre, Joost, Kamaal Williams, Kumbia Boruka, La Inédita, Leafs, The Lemon Twigs, Lorenzo Senni, Luwten, Lyzza, Mahalia, Mario Batkovic, Marlon Williams, The Mauskovic Dance Band, Metrik, Moose Blood, Nakhane, Oceanic, Phlake, Portico Quartet, Pythius, Rolling Blackouts Coastal Fever, Sam Fender, Sons of Kemet, SOPHIE, Torus, Trixie Whitley, Tshegue, Thunderpussy, Txarango, Volvox, YONAKA, Yung Feurich, Zeal & Ardor.
Connect
Website: www.lowlands.nl/english
Facebook: www.facebook.com/LowlandsFest
Twitter: @Rapid_Razor_Bob
Instagram: www.instagram.com/lowlands_fest/