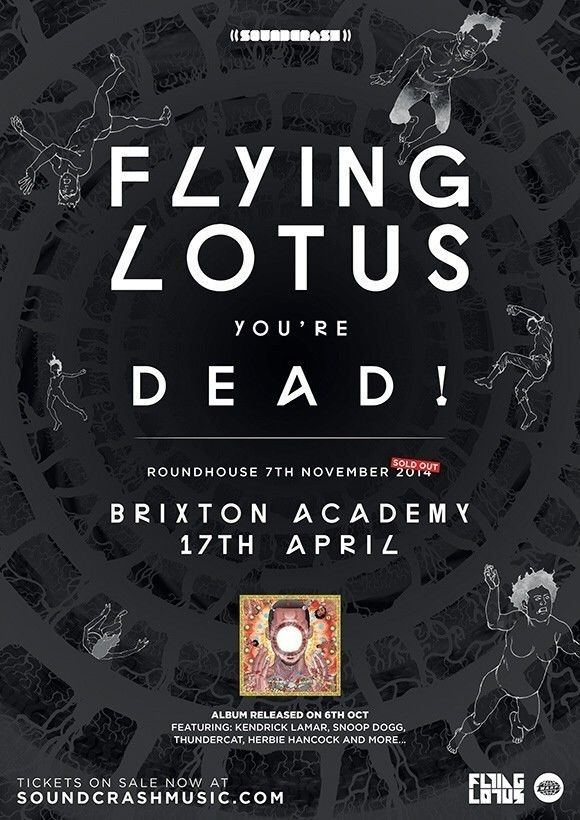 Flying Lotus
Flying Lotus. The name on everybody's lips. After the immense success of the sold out Roundhouse show, we are exceptionally proud to announce a new FlyLo date at O2 Brixton Academy in April 2015… and FlyLo brings with him the Hyper-Cube.
Widely regarded as the worlds most groundbreaking producer Flying Lotus' staggering creative input saw him evolve in a short number of years from a relatively unknown figure in the LA beat scene to one of the most talked about artists across a wide spectrum of the global musical landscape. The Hyper-Cube will once again take his live shows to whole other dimension.
This new announcement also coincides with the release of You're Dead!
The incredible return of Flying Lotus on Warp. You're Dead! Sees producer Steven Ellison taking us on a transcendal voyage into the afterlife. A wholly immersive, psychedelic journey, it's a virtuoso performance from one of the decade's most talented and inventive artists. Featuring contributions from Kendrick Lamar, Snoop Dogg. Thundercat and lots more…
Flying Lotus is the centre of a musical web that stretches far from the vibrant sprawl of Los Angeles, and joins so many like-minded individuals – whether it's Earl Sweatshirt joining him on-stage at Coachella, fellow Oddfuture oddball Hodgy Beats collaborating on mixtapes or FlyLo spending some serious studio time with Black Hippy's inimitable SchoolBoyQ. We're proud to bring that journey to London for a huge date at Brixton Academy. See you, and everybody else there.