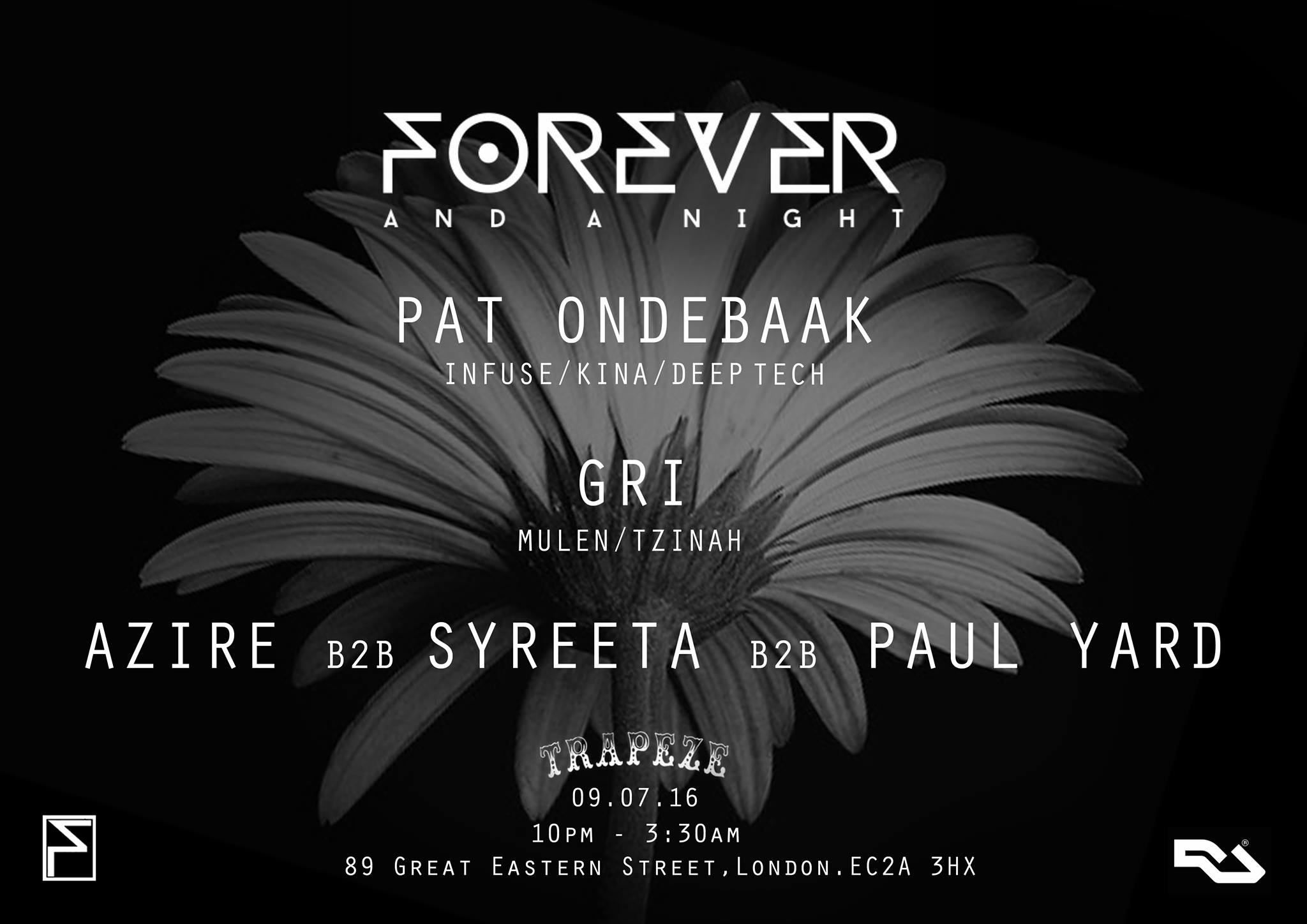 Forever and A NIGHT w/ Pat Ondebaak, Gri , Azire b2b Syreeta b2b Paul Yard
● Pat Ondebaak ☾Infuse / Kina / Deep Tech☽
● Gri ☾Mulen / Tzinah☽
● Azire B2B Syreeta B2B Paul Yard
This time last year we sowed our seeds and invited some incredible producers and artists to join our Family.
We are opening 2016 with an intimate limited capacity party in the heart of Shoreditch East London & fully focused on delivering the best experience and will be inviting some more incredible producers and artists who are passionate about their craft and delivery of their art. With music supported from crews & labels like [a:rpia:r] , Fuse London and alike we are in for a treat and good opening to 2016.
● Pat Ondebaak – His music has been picked up by the likes of tINI, Enzo Siragusa, Rossko, Chad Andrew & Ittetsu among others and regularly features releases on Fuse London's digital label Infuse . Also recent releases on Kina, Deep Tech, Draft & Rooted have seen Pat expand his following across the globe.
Influenced by drumming lessons from his father from an early age Pat's tracks are heavily percussive, Pat believes in making empty techno mixing tools. The emptiness allows the listener to create their own grooves within the space of the track.
Pat's focus is mainly on producing as this is where he feels most creative but inevitably as a result he has been picked up by the countries leading techno nights and asked to share his music. He has also been a resident for Blackdot @ Nextdoor in Birmingham. Since opening the club last year it has quickly become the must play place for the worlds top techno DJ's such as tINI, Guti and Enzo who Pat has been a support act. Djing at Exit festival in Serbia last year was a high point in this short but up and coming career.
Less words, more music…
● Gri – Is a Romanian producer. The project started back in 2007 when after a long musical journey and lots of parties attended he started to develop his own. Since then, he experimented different genres of music trying to not be limited to a certain style. In the last few years he's giving peculiar attention to the production side of the project trying to be more focused on creating than playing. All in the name of improving his sound. In terms of his sound, his tracks are full of emotion and positive energy trying to be out of particular patterns or genres. His Music is currently supported by fellow countrymen Rhadoo, Raresh, Praslea, Petre Inspirescu & artists alike from the [a:apia:r] label.
● Azire B2B Syreeta B2B Paul Yard – We are excited to have secured the talents of Azire, his productions are of high quality and have been making a lot of noise abroad in Ibiza and here at home. Its only right for our opening party we have the energy and sparkle that make these parties vibe on a different level so we welcome Back Syreeta & Paul Yard who will bring their infectious high energy rolling selections to the basement and going on a triple B2B session with Azire, We are chomping at the nails excited for this 2hr high energy groove fest!
We Can't wait to open 2016 as this is all about the music and taking you on a musical journey being surrounded by like minded people who love to party and have fun.
Photo I.D. is Essential, No I.D. No Entry.
More info: [email protected]
Forever And A Night
House & Techno Curated with ♥