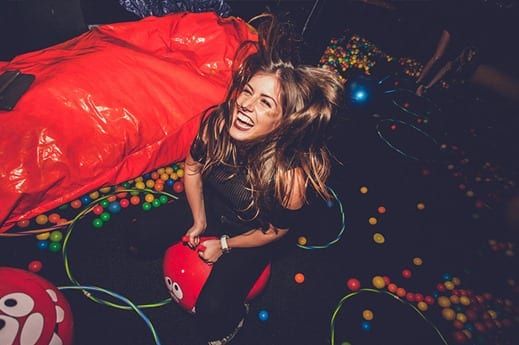 Foreverland Announces Dates Across The UK
The world's most magical club night takes its spectacular live performers, immersive adult playground, and rising stars of bass, grime and UK garage, to fifteen cities around the UK. Kicking off on 7th October at Lakota in Bristol and moving on to Brighton, Manchester, Bournemouth and more. Foreverland is the realm of the surreal where your inner child can come out to play… immaturity is advised.
Foreverland has announced dates for a national tour across eight major cities, launching at Lakota in Bristol on 7th October, with a further seven to be announced. Event-goers can let their inner child come out to play as they enjoy the world's most magical club night, a spectacular circus, set to a killer soundtrack selected by rising stars of bass, grime and UK garage. With previous DJ and live performers including, Stormzy, My Nu Leng, Monki, Preditah, Blonde and more, quality music is guaranteed. Featuring stunning, immersive, themed décor, incredible circus acts, theatrical displays and an adult playground with giant inflatables and games, Foreverland promises a magical adventure through music, time and space, where you can grow old without growing up. Immaturity is advised. Tickets are available for just £10 – £15 in advance from www.theforeverland.com
Foreverland is the realm of the surreal where your inner child can go wild. Since launching in Bournemouth just two and a half years ago, Foreverland has quickly developed a reputation as one of clubland's most enthralling and enjoyable events. Mixing up and coming DJs with eye-popping circus acts, it creates a world designed to embrace immaturity, a place of magical escapism where partygoers can let go. Nothing else out there can prepare you for a trip to Foreverland.
Foreverland creator Connor Scanlon comments, "We can't wait to take Foreverland on tour. Our production is going to be bigger and better than ever. When you step into our world you step back into the magic and wonderment of childhood, and of course we throw in a healthy shot of fun, debauchery and a quality soundtrack to make a trip to Foreverland something you'll never forget."
Quality music underpins the entertaining visual feast, and some seriously talented artists have performed on the Foreverland stage on their way to greatness. The sound of bass, grime and garage is the backdrop to a journey through Foreverland, so don't be surprised to see a high calibre artist step into the spotlight.
Foreverland delivers top quality production values, at a level you would expect from a festival, using CO2 and confetti cannons amongst the constant flow of live entertainment, to create an exciting and up-for-it atmosphere. In fact, Foreverland has been invited to be part of various festivals, from Budafest, to El Dorado to the forthcoming Bestival on 7th September.
Tickets are now on sale for Foreverland, (where venues are TBC, dates may still be subject to change). The rest of 2017 will see Foreverland will take place in Bristol, Glasgow, Southampton, Manchester, Birmingham, Brighton, Bournemouth and Leeds, while dates lined up for 2018 include Cardiff, London, Newcastle, Nottingham, Liverpool, Edinburgh and Exeter. Come join the fun at the world's most magical club night.
www.facebook.com/theforeverland
TICKETS
EVENT DETAILS
OCT 7th – BRISTOL / Lakota
OCT 14th – GLASGOW / Venue TBC
OCT 27th – SOUTHAMPTON / Venue TBC
NOV 4th – MANCHESTER/ Antwerp Mansion
NOV 10th – BIRMINGHAM / The Rainbow Venues
NOV 24th – BRIGHTON/ The Arch
DEC 9th – BOURNEMOUTH / The Old Firestation
DEC 31st – LEEDS / Venue TBC
2018 DATES TBC
CARDIFF
LONDON
NEWCASTLE
NOTTINGHAM
LIVERPOOL
EDINBURGH
EXETER