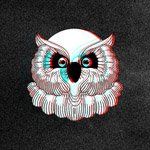 Forty Fings Dynamo – 615EP
La dame Noir Records has impressed with its first 6 EPs and now returns with a 7th from Forty Fings Dynamo – the new side project from Adrien (one half of Villanova) and Emmanuel aka Solofour.
The Paris and Berlin based producers have been coming up with dark, techy and indie influenced sounds that make a perfect match for the haunted, trippy dancefloor atmospherics that La dame Noir really aims for.
Up first, the excellent '615' is a shadowy bit of spine tingling house music with a gurgling bassline, plenty of unsettling late night atmosphere and a muttered vocal line that adds yet more tension to an already sensory stimulating track. The sweeping synths add a sense of scale and given the aesthetics it makes perfect sense that Canadian trio My Favorite Robot – who run the brilliant label of the same name – remix '615'. The results sound like a world falling apart to reveal another dimension of ghoulish synth action, spangled bassline trips and reflective metallic hues.
The next standout original is the fantastically creepy crawly 'Excuse Me'. A bubbling basslines sets the tone beneath squeaky alien sounds, freaky synth lines and plenty of dark cosmic energy. It's a prowling track that brings plenty of robotic, post apocalyptic vibes to the dancefloor. Remixer and Santiago de Chile native Alejandro Paz is one of Comème's spearheading talents. Ecstatic and powerful, the South American delivers a raw, muscular and jacking version of Forty Fings Dynamo's 'Excuse Me' that demands to be danced to.
With this EP La Dame Noir Records once again prove they have a singular sound and great ear for A&Ring talents who fit in with their vision.