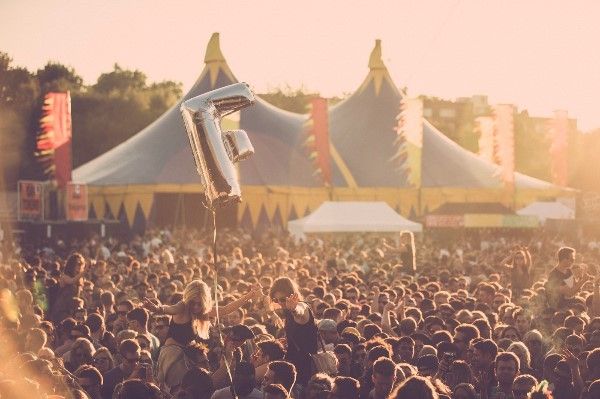 FOUND FESTIVAL 2015 LINEUP ANNOUNCED
Announcing the second of five festivals taking place throughout the summer, London promoters Found reveal the programme for the third edition of flagship event Found Festival. Taking place at a beautiful new, South London location on Saturday 13th June, Found Festival 2015 will expand across five stages at Brixton's Brockwell Park. 2015 is set to showcase leading figures in house and techno from across the UK, Europe and USA including Guy Gerber, Ellen Allien, Anja Schneider, Motor City Drum Ensemble, George Fitzgerald, Alan Fitzpatrick, Genius Of Time, Davide Squillace, Matthias Tanzmann, Ron Trent, Tevo Howard, Nick Curly, Dark Sky, Mosca, Marquis Hawkes.

Taking headline duties on the open-air main stage, Guy Gerber steps up for his Found debut. His unmistakable brand of deeply emotive, fluid techno, stunningly captured in his critically acclaimed Fabriclive 64 mix – released in 2012 – has seen him become one of clubland's most sought-after producers and the perfect choice to bring a euphoric climax to Found Festival's third edition. Representing two of Berlin's leading imprints, BPitch Control head honcho Ellen Allien returns after her stand-out set for Found's inaugural Halloween double-header last autumn as well as Found favourite and Mobilee label boss Anja Schneider.

Simultaneously retro and futuristic German house pioneer Danilo Plessow aka Motor City Drum Ensemble will also make his Found debut, whilst San Soda returns after his dancefloor pounding set at Found's Love Fever arena last year, with production partner Red D to bring their acclaimed FCL project to the Main stage. Ruthless analog bandits Genius Of Time are also set to appear, with Tresor stalwarts Zenker Brothers and founder of Moscow Records and Moss. Co, Archie Hamilton welcoming the gathering crowds at Brockwell Park.

Having curated day one of their Halloween event last October, Found welcomes George FitzGerald to Brockwell Park with an army of truly cutting edge house and techno purveyors set to serious future stars. Festival-goers can expect Alan Fitzpatrick's trademark tough grooves, the live sounds of Bob Moses' vocal deep house, the precise and calculated sound of Kompakt's Barnt, a set from famed festival powerhouse promoters, Dekmantel Soundsystem and Lobster Theremin head honcho Asquith. More special guests are still to be announced.

Nick Curly's Trust launched in early 2014 and has quickly gathered a reputation for exceptional music and wild parties. Bringing the project to Found, Curly has enlisted Conform record signing, Davide Squillace, Circo Loco resident, Matthias Tanzmann, Point G and his paired down house tools and a back-to-back set from Randall M and Bella Sarris.

A collective close to Found's heart, London based party connoisseurs, Feelings will curate an arena dedicated to house, soul, funk and disco. Heading proceedings, Ron Trent, is considered to be an architect of Chicago's vibrant music scene as founder of legendary nightclub Vinyl in downtown Manhattan and lead resident for Giant Step at NYC's infamous Shine. He is joined by an ensemble of vibe wielding heavywieghts including Detroit producer and DJ, Andrés, Chicago house maverick and founder of the Beautiful Granville Studios, Tevo Howard and The Black Madonna – known for her uplifting sets balancing timeless anthems with idiosyncratic selections. Adding to this formidable programme is Melbourne based DJ/Producer, Francis Inferno Orchestra's and his productions which join the dots between soul, disco and the sample based music that inspired him as a teenager as well as Love Fever's, Kasra V and the Feelings residents.

With a tagline like, 'Dont Assume', you can only expect the unexpected from VIP hosts, NTS. Founded in 2011, the independent online radio project has shot to fame, now broadcast worldwide with over 160 regular shows and won Mixcloud's award 2014 'Best Online Radio Station in the World'. They have assembled a lineup that doesn't disappoint with a hefty offering of edgy underground sounds from Dark Sky, Mosca, Marquis Hawkes, Bell Towers, Bradley Zero, Drakeford, Cheerystones, Debonair and Mr Wonderful set to entertain the crowds at Found Festival's beautiful VIP arena, also offering garden seating area, luxury toilets, exclusive cocktail bar and an offering of gourmet street food from the acclaimed Burger and Lobster, who will be serving their famous Nova Scotian Lobster Rolls all day in the VIP area.
Found Presents: FOUND Festival 2015
Date: Saturday 13th June 2015
Doors: 11am-9pm
Venue: Brockwell Park, Dulwich Road, London, SE24

Line-up:

FOUND MAIN STAGE

Guy Gerber
Ellen Allien
Anja Schneider
Motor City Drum Ensemble
FCL
Genius Of Time
Zenker Brothers
Archie Hamilton

GEORGE FITZGERALD PRESENTS

Alan Fitzpatrick
Bob Moses live
Barnt
Dekmantel Soundsystem
Asquith
and
George FitzGerald
plus special guests to be revealed

NICK CURLY PRESENTS TRUST

Davide Squillace
Matthias Tanzmann
Ryan Crosson
Point G
D'Julz
Bella Sarris b2b Randall M
and
Nick Curly

FEELINGS

Ron Trent
Andrés
Tevo Howard
The Black Madonna
Francis Inferno Orchestra
Kasra V
Feelings Residents

VIP presented by NTS

Dark Sky
Mosca
Marquis Hawkes
Bell Towers
Bradley Zero
Drakeford
Cheerystones
Debonair
Mr Wonderful
plus food by Burger and Lobster

TICKET INFO.

ALL FOUND FESTIVAL TICKETS ARE ON SALE NOW FROM:

http://www.foundfestival.com

FOUND Festival Tickets:

£20 Early Bird
£25 2nd Release
£30 3rd Release
£35 4th Release
£40 5th Release
£45 6th Release
£50 Final Release

VIP 1st Release – £35
VIP 2nd Release – £45
VIP 3rd Release – £55
VIP 4th Release – £65

VIP Tickets include:

– Fast track FOUND Festival event entry
– Access to the private VIP area hosted by NTS
– Exclusive VIP line-up
– Exclusive champagne & cocktail menu
– First class street food from Burger and Lobster
– Luxury Toilets
– VIP Garden & Seating Area
– Bespoke stage set-up & décor

USEFUL LINKS.
Found Festival 2015 official website: http://www.foundfestival.com
Found Festival 2014 official video: http://bit.ly/FF2014_Aftermovie
Found Festival EPK: http://bit.ly/FF2015_EPK
Found Festival Press Accreditation: http://bit.ly/FF2015_PressAccred
Found Facebook: www.facebook.com/foundseries
Found Twitter: https://twitter.com/foundseries
Found Series website: www.foundseries.co.uk