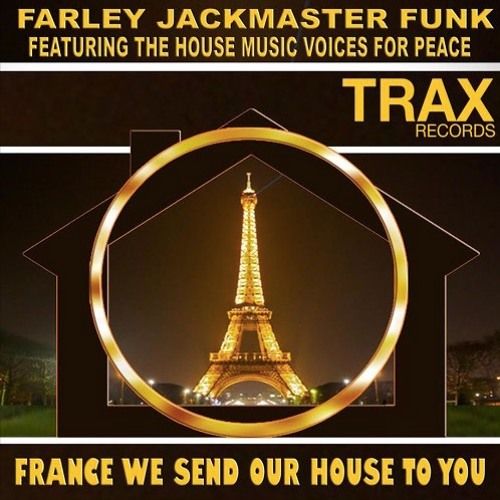 Farley Jackmaster Funk - France We Send Our House To You
'France We Send Our House To You' is the latest release on legendary Chicago-based label, TRAX Records, produced by house music royalty, Farley Jackmaster Funk. Released in digital format on 29 September, the track marks the first release on TRAX for Farley Jackmaster Funk since 2004 and what a statement record to return with. It features two widely recognisable voices of house music, Byron Stingily and TRAX Records original co-founder herself, Screamin' Rachael, as well as 12 huge voices from The Chicago House Music Voices For Peace. All monies raised through sales of the single will be donated to Give For France, a registered charity set up to support victims of the recent French terror attacks, as TRAX sends messages of hope and support to the people of France.
From its inception in 1984, TRAX Records was behind many of house music's defining moments, such as 'Move Your Body' by Marshall Jefferson, the first real 'house music anthem', 'Can You Feel It' by Fingers Inc, and Frankie Knuckles' seminal masterpiece 'Your Love'. As well as the aforementioned, TRAX Records was home to an incredible list of influential artists including, Phuture, Adonis, Joe Smooth, Farley Jackmaster Funk, Joey Beltram, Ron Hardy, Jamie Principle, DJ Pierre, Jesse Saunders, Larry Heard – the list goes on! The TRAX Records legacy is plain to see but far from resting on its laurels, and driven by original co-founder Rachael Cain (Screamin' Rachael), TRAX continues to release new music from the likes of James Curd, Little Boots, Nic Sarno, Tyler Stone, Carmelo Carone, Screamin' Rachael herself and more.
The label's next release, 'France We Send Our House To You', is vocal house music at its very best, and came about by fate. Screamin' Rachael explains:
"The last time Farley worked on a production for Trax was in 2004 when he produced 'Please Don't Go' for my album Extacy. Both Farley and I literally bumped into each other on the street in a crowd of about 40,000 people heading for the Chosen Few House picnic. When Farley told me about this production and asked me to participate, both as a vocalist and to produce it as a release for the label, I jumped at the chance. I've got to believe that God meant for that to happen as the timing was incredible."
'France We Send Our House To You' is brought to life by over a dozen powerful voices including the record's super producer, Farley Jackmaster Funk. Guest stars include Screamin' Rachael, named the 'Queen of House Music' by Billboard Magazine, and Byron Stingily, best known for his hit single 'Get Up Everybody' and 'Devotion' with his group Ten City; Stingily holds TRAX dearly as it was via TRAX that he put out his first ever recording on vinyl! A collective of Chicago's finest contemporary gospel artists called The Chicago House Music Voices For Peace also feature including Donny Donnel, Queenie Lenox, Marcus Morton and George Jackson. In spotlight solos and gospel union, the lyrics ooze love and unity, laid down over a groove-laden track that is as powerful as it is uplifting, thanks to the expert skills of Farley Jackmaster Funk, famed for hit singles, such as 'Love Can't Turn Around'.

'France We Send Our House To You' was debuted in Paris on 29th July when Screamin' Rachael spun to crowds at the Nuits Fauves nightclub, alongside Marshall Jefferson, Robert Owens and Joey Beltram at TRAX Records' first ever, official label night. The decision to donate all profits from the single to the victims of the French terror attacks was an easy one for the label. Screamin' Rachael said:
"France has been decimated by terrorist attacks, so it's my wish that 'France We Send Our House to You' will uplift these great people and their country. Through the years, France has been one of the strongest supporters of our music and so we want to bring others from around the world together to heal through the love of music!"
Widely recognised as the original and most influential label in house music, TRAX Records continues to deliver quality music to the masses. 'France We Send Our House To You' is yet another example of the credible sound this powerhouse label is internationally renowned for, delivering with it both compassion and conscience. TRAX will be donating any proceeds from this release to Give For France, a charity set up by the respected fundraising organisation, set up in 1969, Fondation de France.

LINKS
www.traxrecords.net
www.facebook.com/TraxRecords
www.soundcloud.com/trax-records
www.twitter.com/TRAXRECORDS
www.instagram.com/traxrecords
www.traxrecords.net/bandcamp.htm

For more info on TRAX Records live events contact MN2S Booking Agency.