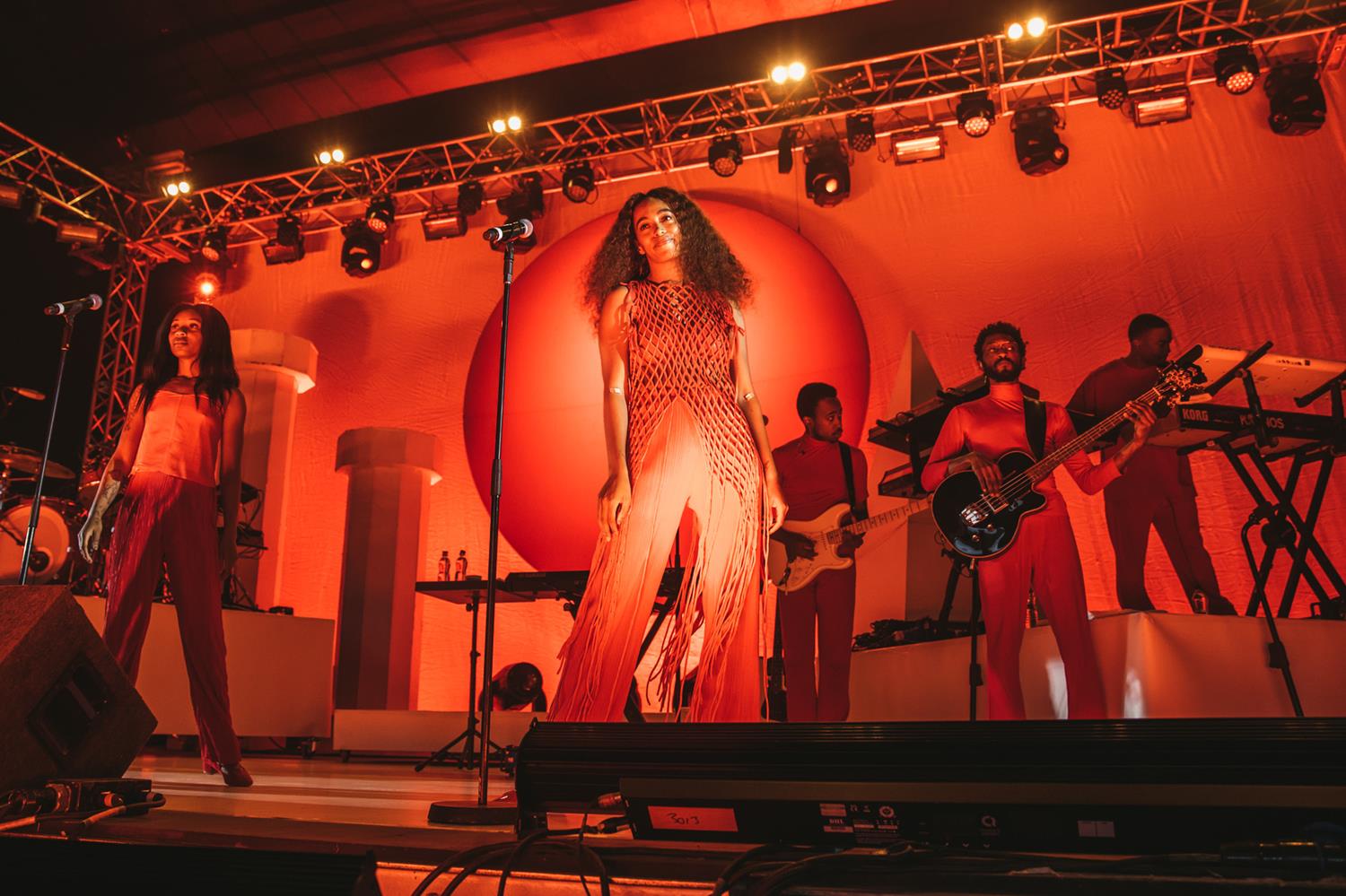 Frank Ocean Closes Day One of Lovebox
London's favourite festival Lovebox opened its doors today in Victoria Park, celebrating its 15th birthday in style with an awe-inspiring headline performance from the incredible Frank Ocean, and countless other unforgettable appearances.
A sold-out crowd took in sets from some of the best acts on the planet, spanning genres and eras, legends and new artists alike, from the aforementioned Frank Ocean to the peerless Solange, super-producer Jamie xx, the vibrant Kaytranada, and US rap star Mac Miller.
The Main Stage saw a series of crowd-slaying sets from a variety of artists. Home grown newcomers Tender, Punctual and Sälen kicked things off, closely followed by Australian alt-dance trio RÜFÜS. Rag'n'Bone Man took to the stage in front of a huge crowd to deliver his trademarked soul-soaked vocals, whilst Mac Miller and Jamie xx brought high energy to the masses, preparing them for the climatic headlining experience from Frank Ocean.
The Noisey stage arguably boasted the finest stage line-up of the festival season –
an expertly curated blend of soul, R&B and hip hop. Rising acts Tabanca, Raheem Bakaré, and The Fedz laid down the vibes, whilst the hotly-tipped Rex Orange County drew in the crowds. The sensational Ray BLK stepped up for a charismatic performance, followed by an explosive, high-energy set from Kaytranada. The mesmerising Sampha was the perfect set-up for Noisey headliner Solange. Her highly-anticipated, beautifully choreographed performance lived up to expectations – and then some.
London clubbing institution fabric brought their trademark impeccable sound to the Park thanks to Pioneer sound system. Dance heavyweights Hammer, Terry Francis, KiNK, BICEP and Seth Troxler kept the party going all day long and into the evening for another triumphant foray into the festival scene.
Lovebox's brand new stage, Transistor, made its debut in spectacular fashion. Taken over by house promoters Abode, it featured blistering back to back sets from Abode residents including GW Harrison and Ellie Cocks, plus appearances from Jack Swift and James Hype. As night fell over the Park, an awe-inspiring pyrotechnics display signalled the start of climatic sets from Hot Creations' wAFF and the headliner hero Eats Everything.
Corona SunSets brought Balearic beats to Victoria Park, with a varied and inspired line-up consisting of some world class DJs, including Gerd Janson, Fort Romeau, Jazzy Jeff and Hot Chip's Joe Goddard. Over at the Kopparberg Urban Forest, global music platform Soulection showed the Lovebox crowd what they're all about with soul, R&B and hip hop perfection spun by founder Joe Kay, plus Hannah Faith, Jarreau Vandal and more.
The JägerHaus made its debut at Lovebox with a high-energy line-up featuring the stars of tomorrow, including Krrum and Toyboy & Robin. Elsewhere, the Smirnoff House was yet another pocket of the Park filled with top DJs, and the Bandstand brought the reggae sound to the heart of the Park with Reggae Roasts, Global Local and Continental Drifts.
The VIP area, presented by gal-dem, was entertained by DJ sets from Mike Skinner, Motive and S4U, whilst revellers spun around to sets from MADAM X, Timanti and more at the Kia Roller Disco.
It wouldn't be Lovebox without some trademark eclectic experiences. Where else could you find love on rollerskates, slay a crowd with a rendition of a song by your favourite rapper or play disco-themed golf?
Day one drew to a close with the festival set that everyone has been talking about: Friday headliner Frank Ocean. The R&B star's performance featured standout tracks from latest release Blonde as well as his classic Channel Orange, including fan favourites 'Thinkin' Bout You' and 'Pink + White'.
Who's ready to do it all again tomorrow? We know we are…
Lovebox History
Back in 2002, Groove Armada and our own Jools were sitting in a pub, lamenting the London parties scene. They were playing gigs and clubs everywhere, but thought there might be a way to put on a different kind of show in London, with more exciting line-ups.
It started with a box of records and a pack of Post-its – heart-shaped ones were the only type to hand. The record box became the 'Lovebox', which became an album, and then the first party was thrown in an old strip club off Tottenham Court Road. Then followed a residency at 93 Feet East, succeeded by a stint in Ladbroke Grove, and Lovebox was selling out two weeks in advance with hundreds turning up at the door.
A year later, this success led to a one day special on Clapham Common for 10,000 people. The year after was 20,000. A combination of solid musical reputation and a complete lack of inner London park festivals proved a potent recipe. Then in 2005, Lovebox moved to Victoria Park, spread itself over two days and the festival you know was born.
#Lovebox17
www.loveboxfestival.com