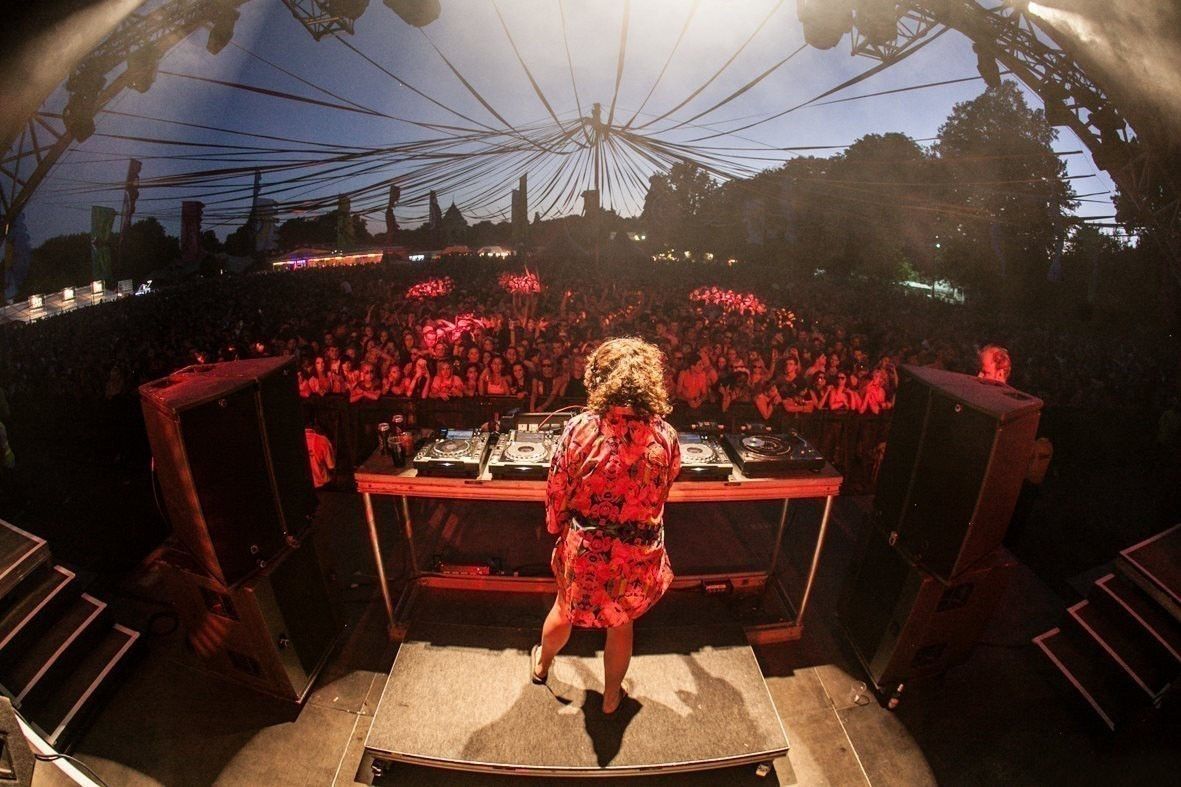 LOVEBOX 2014 ANNOUNCES FIRST ACTS!
Lovebox returns in 2014 with its first line-up announcement and its most vibrant celebration of self-expression and diversity to date. Renowned for delivering our city streets' manifesto for musical discovery, London's favourite festival is back this year with a first-rate event quite unlike any other.
This coming July, Lovebox is being joined by Secret Productions (co-organisers of Wilderness and Secret Garden Party 2009–2013), building a larger family to choreograph a new vision for Lovebox 2014. Now spanning two days, an urban revival is on its way. This year's Lovebox is a true celebration of festival culture. Laced with giant art installations and theatrical sets sourced from Secret Garden Party and Burning Man, discover an immersive and hedonistic realm which will be unrivalled anywhere else in the UK, let alone London.
Headlining Lovebox 2014 will be fearless queen of rap M.I.A. The Matangi warrior we know as Maya, will unleash her musical explosion of light and heat on our main stage this year. An embodiment of worldly pop, M.I.A.'s celebration of music and freedom of speech will be perfectly placed in what is our most colorful Lovebox to date.
Also headlining this year's Lovebox are drum'n'bass duo Chase and Status. Touching down in their home city, London boys Saul Milton and Will Kennard's storming and riotous live show and will set our main stage alight with their dusty trip-hop grooves and jungle infused garage- the duo said "we're excited to be headlining Lovebox this year, we both come from London so to play this festival in our hometown will be great. Plus you can always count on London crowds to bring it".
Landing in Victoria Park this summer will be Harlem rapper Rakim Mayers, A$AP Rocky. A$AP's magnetic live show of East Coast rhymes and dreamy hip-hop anthems will run alongside Brooklyn's lyrical dynamo Joey Bada$$ who we welcome to the show. Rapper experimentalist Madlib and London born Knytro will also grace proceedings.
Cutting-edge electronic producer Sub Focus will be hyping up crowds with his storming sub-bass laden stage show, along with Crystal Fighters whose unique blend of Basque influences and electro-pop will get the party going.
Chart-topping R&B girls of the moment Katy B and BANKS are out in force as is hotly tipped songtress Elli Ingram, while electronic experimentalists Mount Kimbie and long-renowned UK producer Bonobo will be wowing crowds. We welcome critically revered institution The Horrrors, who over the course of four albums have come to the fore of the most progressive British bands of our time. Moderat's gloriously compelling live show will be one of Lovebox's many atmospheric gems, along with the ambient electronica of Submotion Orchestra.
Back after his hugely successful Ram Jam at last year's Lovebox will be master selector and British institution Sir David Rodigan. Shy FX and Stamina MC will be hyping up crowds along with Joy Orbison, Gaslamp Killer and Cyril Hahn.
We're hugely excited to welcome back Red Bull Music Academy for their second year at Lovebox. A world-travelling series of music workshops and festivals, RBMA is a platform for those who make a difference in today's musical landscape. This year the 2014 Academy will be touching down in Tokyo, but not before we enlist RBMA to take up their rightful position in their arena to host another monumental party at Lovebox.
Also back to Lovebox this year with her fail-proof party formula will be arena hostess Annie Mac in addition to her hotly-tipped acts chart-topping Duke Dumont, Joey Badass and Cyril Hahn.
The house and techno heads can enjoy Hotflush head-honcho Scuba along with the label's duo of the moment Dense and Pika. House and techno boss Paul Woolford will play as well as performing under his critically lauded alias Special Request. Bronx boys The Martinez Brothers' tribal house and techno will bring the party, and be sure not to miss Visionquest, one of the most successful dance collaborations of our time.
Purveyors of electro-boogie and nu-disco producer Tensnake and the Horsemeat Disco guys will be spinning for us in the sun, along with Huxley who's unique and British take on house will be sure to set off Lovebox crowds alongside Birmingham bass-lover Hannah Wants.
This year's monumentally discerning line-up is only one element of the Lovebox experience. Secret Productions have joined forces with MAMA to carefully curate one of the most jaw-droppingly impressive parties in the UK. We are extremely proud to welcome to Victoria Park, infamous Burning Man camp DISTRIKT. Known for throwing furious & fierce parties deep in the desert, the DISTRIKT penchant for benevolent mischief resonates deep in the heart of the Lovebox ethos.
Also on-site will be outrageous collective Bearded Kitten who are creating their own house party experience, home for the weekend to some of the finest DJs in the game. Lovebox welcomes the funkiest boxing-ring on the festival circuit, The Dance Off to this year's party. The Dance Off have enlisted Breakin' Convention and East London Dance to ensure Lovebox 2014 will play host to some of the best special guest dancers in the land.
LINE UP SO FAR:
ANNIE MAC PRESENTS, A$AP ROCKY, BANKS, BEN PEARCE, BONDAX (LIVE), BONOBO, CHASE & STATUS (LIVE), CRYSTAL FIGHTERS, CYRIL HAHN, DAVID RODIGAN, DENSE & PIKA, DUKE DUMONT, ELLI INGRAM, GASLAMP KILLER, HANNAH WANTS, HORSE MEAT DISCO, HUXLEY, JOEY BADA$$, JOY ORBISON, KALEIDA, KATY B, KIESZA, KLANGKARUSSELL (LIVE), KNYTRO, MADLIB, M.I.A., MNEK, MODERAT (LIVE), MOUNT KIMBIE, PAUL WOOLFORD, ROOSEVELT, SCUBA, SHY FX & STAMINA MC, SPECIAL REQUEST, SUB FOCUS, SUBMOTION ORCHESTRA, TENSNAKE, THE HORRORS, THE MARTINEZ BROTHERS, VISIONQUEST
18th – 19th JULY 2014
VICTORIA PARK, LONDON
TICKETS FROM £35
http://mamacolive.com/lovebox/