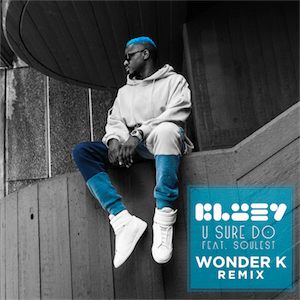 DJ Bluey ft Soulest - FriksjonU Sure Do(ft Soulest) (Wonder K Remix)
Following on from the release of the VIP & Makree remix of Bluey's 'U Sure Do', London based DJ and Producer Wonder K serves up his take on the 90's rework.
Beginning with echoed synth stabs and penetrating bass kicks, Wonder K flits between elements of the original record & Bluey's modern day rework – introducing garage twists fused with the contagious vocals throughout.
Listen to 'U Sure Do' ft here Soulest (Wonder K Remix)
With over 10 years of experience, there was no surprise that Bluey chose Wonder K to put his spin on the release. Wonder K aka Kay Atando is signed to Machine Made Records – founded by former BBC Radio 1 Drum&Bass international tastemaker Crissy Criss and deep house pioneer Sammy Porter.
'U Sure Do' comes at a time where nostalgia is key. Paired with the infectious record, the official video is set on homegrown turf and tells the tale of a lovesick couple who go through the notions of every relationship. Through the highs and lows, they are brought together by the sounds of Bluey – highlighting the deep connection between love and music.