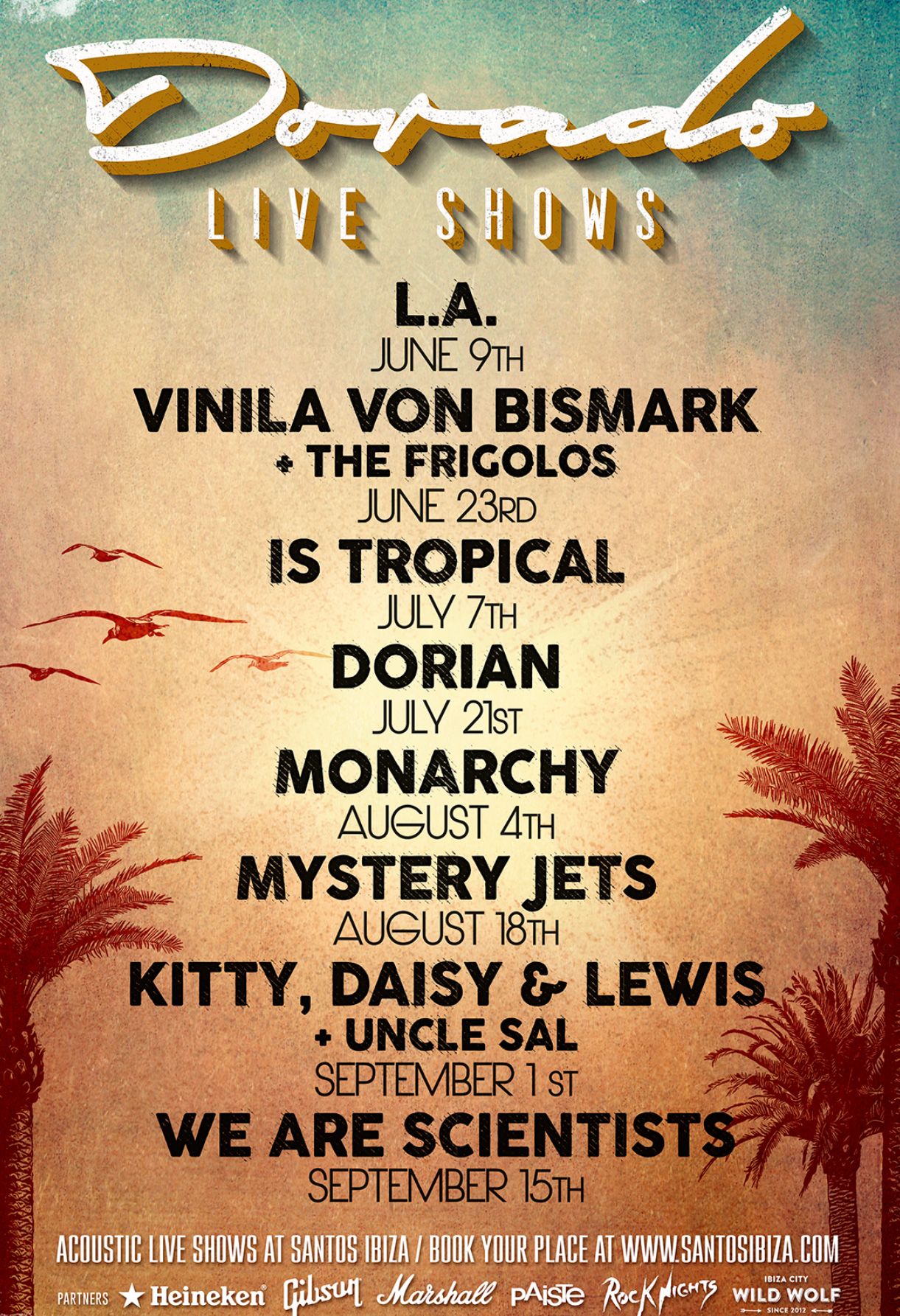 Full line up of Dorado live Shows at Santos Ibiza
Dorado Live Shows in Santos complex (Santos Coast Suites y Santos Dorado) by Concept Hotel Group takes off this summer, an event that will take place on eight Thursday evenings this summer. These concerts will feature a variety of stupendous artists performing acoustically. The artists confirmed are: L.A (9th June), Vinila Von Bismark + The Frigolos (23rd June), Is Tropical (7th July), Dorian (21st July), Monarchy (4th August), Mystery Jets (18th August), Kitty, Daisy & Lewis + Uncle Sal (1st September) and We are Scientists (15th September).
Dorado Live Shows begin at dusk, between 20:00 and 23:30 in the pool area, on the seafront with views of Formentera and Dalt Vila. In addition to the acoustic concert you can check out the DJ's, hot dog cart and vintage clothing corner. At 23:30, after the concert has finished, the party will move to the Backstage club where resident DJs Colin Peters, Wild Wolf and guests will be the hosts of the party.
Dorado Live Shows is a new event that adds to what is on offer in Ibiza, focusing on the guitar as the star. Inspired by the aestheticand atmosphere of Venice Beach in California and designed by local artist Marcos Torres, the new Santos Dorado hotel will become one of the "go to places" in Playa d'en Bossa. This new boutique hotel, prestigiously destined by Ilmiodesign, is situated on the seafront and each suite in the hotel is dedicated to gold certified records. The suites feature details such as refrigerators and Marshall speakers, a turntable that plays the song that the suite is named after when you enter, and pictures on the wall that pay tribute to the song and the artist. Suite names include: "Heroes" by David Bowie, "Love Me Tender" by Elvis Presley and "Heart of Glass" by Blondie.
Santos DORADO has a beautiful rooftop called Heaven's Door and a club called Backstage. Both areas are powered by Funktion One sound.
For guests staying at any of the three Concept Hotel Group hotels (Santos Coast Suites, Santos Dorado y Tropicana Ibiza), entrance will be free, for others, tickets will be on sale on the website – www.santosibiza.com.