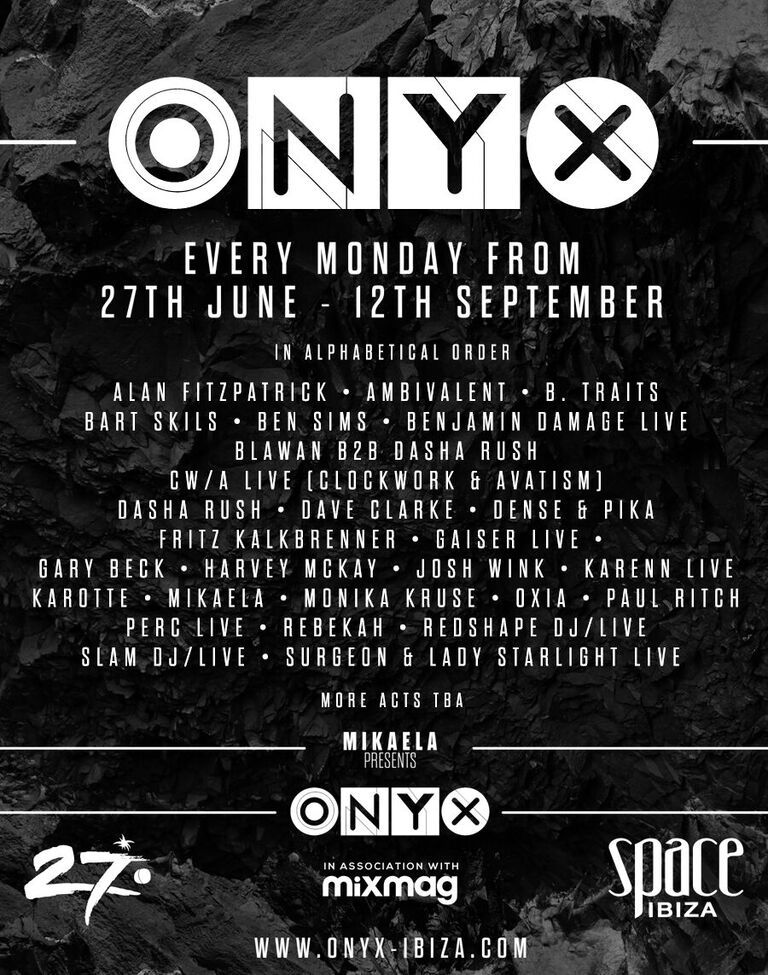 ONYX IBIZA REVEALS THE LINE UP
A discerned programme of pulsating techno, aptly curated for the final season at Space, Ibiza.

The 12-week series, spanning from June 27 to September 12, every Monday will exclusively host two rooms, both the Main Terrace and Sunset Terrace.

Commissioned by DJ/Producer Mikaela and assuming the helm in both Main Terrace and Sunset Terrace, ONYX today reveals the first phase of its eagerly anticipated line up.

Their discerned programme, designed to deliver techno music in the purest form, includes high-octane DJ-sets, explorative live shows, internationally awaited premiers, unexpected back to backs, exclusive performances, techno pioneers and an abundance of irrefutable talent.

Alan Fitzpatrick, Ambivalent, B. Traits, Bart Skils, Ben Sims, Benjamin Damage LIVE, Blawan B2B Dasha Rush, CW/A LIVE [Clockwork & Avatism], Dasha Rush, Dave Clark, Dense & Pika, Fritz Kalkbrenner, Gaiser LIVE, Gary Beck, Harvey Mckay, Josh Wink, Karenn LIVE, Karotte, Mikaela, Monika Kruse, Oxia, Paul Ritch, Perc LIVE, Rebekah, Redshape DJ/LIVE, Slam DJ/LIVE, Surgeon & Lady Starlight LIVE are the first ilk of acts to be named in the first phase line up for the Main Terrace at ONYX.

Techno legends Dave Clarke, Alan Fitzpatrick and Harvey Mckay will all make two appearances for ONYX this summer. Duos Karenn and Surgeon & Lady Starlight are both set to play their Ibiza debuts, whilst Blawan will be performing an Ibiza exclusive b2b with Berliner Dasha Rush. Slam will also play an Ibiza exclusive b2b with Gary Beck for the very first time on the island too.
Assuming centre stage four times this summer, will be the master Fritz Kalkbrenner, with Oxia and Panorama Bar resident Redshape providing the only other house music anomalies to an otherwise all star techno affair, with the latter holding down two dates, one of which will be his enthralling live show.

Last but no means least, the female quartet of resident Mikaela, UK's leading techno queen Rebekah (two dates), BBC Radio 1'S B. Traits and Terminal M's Monika Kruse, will most definitely add a special dimension to this innovative programme of musical deities.

With several more artists still yet to be announced for the Main Terrace programme, and the entire Sunset Terrace programme also due for release on May the 4th, it's fair to say that Mondays in Ibiza will definitely be a lot darker in Ibiza this summer…

ONYX IBIZA OPENING PARTY LINE UP
June 27th From 10pm
Tickets: From €20 euros
BUY HERE

Main Terrace
Dave Clarke, Surgeon & Lady Starlight LIVE, Rebekah, Benjamin Damage LIVE, Mikaela

Sunset Terrace
TBA 04.05.16