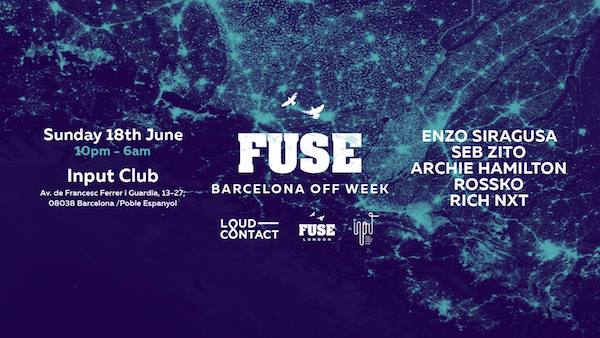 FUSE heads to Barcelona for OFF Weeks special event
Off Week is one of the most important weeks in the electronic music calendar and we are delighted to announce our third FUSE showcase in Barcelona. Following last year's sell-out at Input High Fidelity Night Club, we return to the Poble Espanyol based nightclub for a Sunday night rave on June 18.
The philosophy of FUSE is simple: to stand out from the crowd by hosting exceptionally high-quality raves, built around superior technical standards of sound design, and a close-knit core of residents.
This year at Off Week we will be giving Enzo Siragusa, Seb Zito, Archie Hamilton, Rossko and Rich Nxt plenty of time to express themselves inside one of our favourite spaces in the city. On the night Enzo, Seb and Rich will all put together individual sets, with Archie Hamilton and Rossko going B2B. This is the perfect opportunity for our residents to showcase why they have earned themselves a reputation as selectors across the world.
Our event at Off Week is the first event of what promises to be another incredible summer for FUSE. We will see you on the cobbled streets of Barcelona for some much-needed summer sun.
FUSE Barcelona – Off Week
Date: Sunday 18th June 2017
Time: 22:00 – 06:00
Venue: INPUT High Fidelity Dance Club – Poble Espanyol
LINE-UP:
★ Enzo Siragusa
★ Seb Zito
★ Archie Hamilton
★ Rossko
★ Rich NxT
TICKETS:
– Available now from Resident Advisor:
bit.ly/FuseBCNOffWeek
★ Early Birds: Sold Out
★ 1st Release: Sold Out
★ 2nd Release: Sold Out
★ 3rd Release: Sold Out
★ 4th Release: On Sale Now