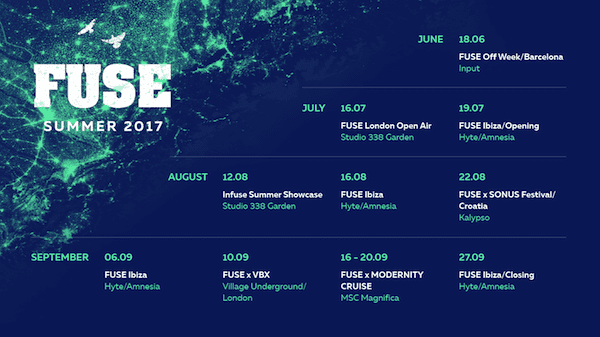 FUSE London announce NEW Open Air LDN dates
FUSE London have announced a massive summer schedule for 2017 including x4 exclusive dates with Hyte at Amnesia Ibiza, showcases at BCN OFF-Week and Sonus Festival Croatia and a stage at the inaugural MDRNTY Cruise. The crew is also proud to reveal a couple of very special Open Air raves at the newly opened Garden at Studio 338 in July & August, plus a collaboration with Amsterdam's VBX crew at Village Underground in September.
FUSE has already seen an impressive series of packed out events this year, ranging from the epic 'All Day Long' session with Enzo Siragusa to multiple Bank Holiday marathons at Village Underground, another memorable voyage on Berlin's Hoppetosse, Chapter Festival By Night and the #WeLoveSound Weekender in Zagreb. Cherry-picked International guests and extended family such as Jan Krueger, Guti, Molly, East End Dubs, Nima Gorji and Valentino Kanzyani have all delivered outstanding sets but FUSE has and always will be about the pulling power of its tight knit family of artists. With FUSE founder and chief resident Enzo Siragusa leading the charge, along with OG selectors Seb Zito, Archie Hamilton, Rossko & Rich NxT, the crew are set to tour the unique FUSE sound and philosophy around some of the hottest events around Europe this summer.
FUSE @ BCN OFF-WEEK
FUSE returns to Barcelona for their OFF-Week showcase at Poble Espanyol's INPUT High Fidelity Dance Club 18.07, for the third year running. Consistently one of the most important weeks in the electronic calendar, the whole FUSE family will be given free reign inside one of their favourite spaces in the city. On the night Enzo Siragusa, Seb Zito and Rich NxT will all put together individual extended sets, with Archie Hamilton and Rossko going B2B. This is the perfect opportunity for the residents to showcase why they have earned a reputation as world class selectors.
FUSE LONDON OPEN AIR
Back on home turf in London, 16.07, FUSE will kick off the first of their summer in the city Open Air specials, taking place at the newly opened Garden at Studio 338. The club was forced to close it doors indefinitely after a tragic fire destroyed the place last year and FUSE are proud to be part of its triumphant return. The impressive outdoor space will be blessed by the inimitable FUSE sound and you can guarantee the whole crew will be out in full force, laying it down for their dedicated family of London ravers.
FUSE IBIZA
Returning to the White Isle in 2017, FUSE is partnering again with HYTE x Amnesia IBIZA to deliver four exclusive club room dates on 19.07 [Opening Party], 16.08, 06.09 and 17.09[Closing Party]. Ibiza has for 8 years been a second home for FUSE, from free parties on the beach in 2009, to dates at Sankeys & Space, all the way through to their high profile residency with Hyte at Amnesia, which kicked off last year. Enzo Siragusa is also an exclusive HYTE resident for the whole season bringing his extended sets to every FUSE date along with two extra for HYTE, 2.08 and 4.10 (HYTE closing party). Guaranteed to deliver magic moments in abundance, Enzo is now deservedly recognised as a major force on the International circuit.
FUSE @ SONUS FESTIVAL CROATIA
Next stop on the tour is Time Warp's little summertime sister SONUS Festival, taking place on the stunning island of Pag and the unique setting of Zrce Beach. This time Enzo, Archie and Croatian scene key player Mariano Mateljan will be in charge of another unmissable sunrise session at the open-air Kalypso Club, Tuesday 22.08. This will be FUSE's fourth year at SONUS and this particular after-hours has become a bonafide highlight of the festival. Expect the secret weapons to flow freely from 6am onwards.
LONDON: INFUSE SUMMER SHOWCASE | FUSE x VBX
August in London, INFUSE will touch down in the Studio 338 Garden, 12.08. The Infuse party series launched earlier this year with a much-celebrated return to where it all began – 93 Feet East. Seb Zito & Rich NxT will be presiding alongside OdD and special guest Subb-an. In September a special FUSE x VBX showcase will takeover Village Underground on 10.09. Enzo & Rossko will welcome Amsterdam favourites Ferro and Mackim for a double showdown from these two like-minded collectives.
FUSE @ MDRNTY CRUISE
From 17th-20th September, FUSE are set to host an epic daytime party on the main stage at the inaugural MDRNTY Cruise – the first cruise 100% dedicated to electronic music. Setting off from Genoa Italy, this wild, 4-night Mediterranean voyage with stopovers at Barcelona, Mallorca and Ibiza will be the unique moving setting for an unforgettable party experience. Enzo, Seb, Archie & Rossko will be representing on the day along with special guest Guti [Live].
WWW.FUSELONDON.NET/SUMMER